As a result of debilitating Migraines and failed medical care, Teri Robert hit the Internet looking for information in the late 1990's. She soon discovered that no one site had everything she was looking for and that it's difficult to tell which sites to trust and which ones to avoid. In 2000, she joined an online network to build a new Migraine site for them, one that would offer Migraineurs accurate information written specifically for patients, support, and encouragement. That was the beginning of a new career for Teri, that of a patient educator and advocate.
Teri is a member of the International Headache Society, the National Headache Foundation, Mental Health America, the National Patient Advocate Foundation and other organizations. She currently serves as and advisor to ACHE, the American Headache Society Committee for Headache Education. In this capacity, she is working with the American Headache Society to build their patient education resources. In addition to being an advocate in the field of Migraine and other headache disorders, she is an advocate for the American Diabetes Association, You're the Cure, and the National Patient Advocate Foundation.
She has appeared on CNN Headline News, during Prime News Tonight, in an educational segment about Migraine disease. Her first book, Living Well with Migraine Disease and Headaches, was published by HarperCollins.
To stay up-to-date on information and research about Migraine, Teri is constantly studying medical journals and books and attends medical conferences on a regular basis. She has earned continuing education hours in this field from the American Headache Society, the Penn State College of Medicine, the Primary Care Network, the Annenberg Center for Health Sciences, and the Center for Health Care Education.
Teri sometimes works with pharmaceutical companies, marketing companies, and other companies seeking information or a better understanding of the needs of patients with Migraine and other headache disorders. In this type of situation, she feels that she is standing for patients, serving as their advocate, speaking on their behalf. She has never accepted any compensation from this type of affiliation with pharmaceutical and other companies.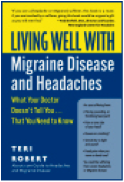 To read more about Teri's life with Migraines, you're welcome to read the first chapter of her book, Living Well with Migraine Disease and Headaches, free on our site.
You can find more of Teri's work on her sites:
Click here to see all of Teri's posts and entries on migraine.com.
Teri can be reached at trobert@migraine.com