This year's International Headache Congress (IHC) in Boston marked the launch of an impressive new Migraine Campaign. The 36 Million Migraine Campaign was announced and officially launched by Dr. David Dodick and the Campaign's chairperson, Cindy McCain, on June 27, 2013.
Dr. Dodick shared some statistics from a recent World Health Organization report:
Migraine is the third most prevalent medical disorder on the planet.
Migraine is the fourth most disabling condition among women.
Migraine is the seventh most disabling medical disorder.
Migraine accounts for more than 50% of all the disability that's attributed to all neurological diseases. He said that the purpose of the Campaign is, "bringing respect, dignity, and credibility to those who suffer with Migraine."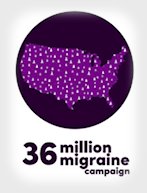 He said that the purpose of the Campaign is, "bringing respect, dignity, and credibility to those who suffer with Migraine."
Mrs. McCain told the IHC attendees, "I am here to raise public visibility, put pressure on the powers that be, to help the end one of the most disabling medical illness on the planet. Most importantly, it is time for this nation to stop, to listen, and to listen well."
The main points of the 36 Million Migraine Campaign:
The 36 MILLION MIGRAINE CAMPAIGN is the first of its kind ever in headache medicine — dedicated to increasing our nation's research investment in migraine and raising public visibility for one of the world's most disabling disorders.
36 Million Americans have migraine, one of the world's most prevalent and disabling medical disorders.
Migraine research is pitifully underfunded by government, industry, and the voluntary health sector — less than 1/20th of 1% of the budget of the National Institutes of Health – or about $16 million a year – should be more like $260 million.
The Campaign is chaired led by Cindy McCain and partnered with the American Migraine Foundation – both of whom are uniquely and ideally suited to lead the nation in this ambitious, much-needed effort.

Migraine is trivialized

. 
Although migraine has been a severely disabling disorder for at least the last 7,000 years, it is often regarded by non-migraine sufferers as "just another headache" that will respond quickly to either simple medications or the passage of time.  In other words, it is trivialized in the confusion between the two conditions

Migraine is seen as not important

.
Despite the severe disability and pain associated with migraine, people without migraine view the disorder as episodic and not usually fatal, therefore not a priority for funding

Migraine is stigmatized

. 
People with migraine often "play down" its pain and impact on their lives, fearing it will threaten their employability or reliability.

Migraine is not taught in medical schools

. 
Most physicians received little to no training in migraine which keeps it from being properly recognized as a serious medical condition and/or treated effectively.
Mrs. McCain also appeared on The Today Show…
You can find more information about the 36 Million Migraine Campaign in this brochure 36 Million Migraine Campaign Brochure.
Donating is easy. Donations can be made through the 36 Million Migraine Campaign web site or by texting 36mill to 50555. Raising just one dollar for every Migraineur in the Unites States is a goal that can be accomplished if everyone participates, not only by donating, but also by spreading the word.
Live well,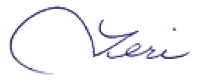 © Teri Robert, 2013