American Headache & Migraine Association: AHMA patient group officially launched
The wait is over! It is with great pleasure that I announce the official launch of the American Headache and Migraine Association (AHMA), the new patient branch of the American Headache Society and a 501(c)3 nonprofit corporation.
Our statement of purpose and mission statement do a great job of capturing the vision behind AHMA, I think:
Statement of Purpose: AHMA has been established to EASE the burden of Migraine and other headache disorders through Education, Awareness, Support and Engagement.
Our Mission Statement:Our mission is to help those affected by Migraine and other headache disorders find and use our voices to empower patients, family members, friends and care partners. Through education, support, advocacy and research we will bring hope and banish the feelings of hopelessness that too often accompany these disorders. We will work to dispel myths and misconceptions, thereby working to eliminate the stigma we face all too often and replace it with compassion and understanding.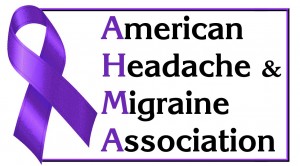 Our board of directors is comprised of headache disorders patients and doctors. The idea is for the patient board members to direct the organization and the physician board members to provide assistance.
Chair: Teri Robert; Co-Chair: Paul Winner
Chair Elect: Ellen Schnakenberg; Co-Chair Elect: Bert Vargas
Vice Chair: Bob Wold; Co-Vice Chair: Rob Nicholson
Treasurer: Julie Zellner McDonald; Co-Treasurer: Rebecca Wells
Secretary: Diana Lee; Co-Secretary: Rob Cowan
Please become an AHMA member today. AHMA membership is open not only to patients living with a headache disorder, but also to anyone concerned about Migraine and other headache disorders.
Membership benefits include access to a members-only online support forum, our headache disorders patient conference (November 24, 2013, Scottsdale, Arizona), patient advocate mentoring and other programs as determined by AHMA members. Your membership also strengthens AHMA's ability to advocate for better research funding and increase public awareness of the burden of headache disorders. Finally, you'll have the chance to help set the direction of this new enterprise and the programs it provides by joining from the beginning.

Annual AHMA dues are:
$15 per year - Standard Membership

$250 - Lifetime Membership

$0 - Active Duty Military and Immediate Family

$0 - Disabled Veterans and Immediate Family

$25 - Family Membership for two or more members in the same family at the same address
To join, please visit the AHMA website at: www.EaseHeadacheMigraine.com.
This article represents the opinions, thoughts, and experiences of the author; none of this content has been paid for by any advertiser. The Migraine.com team does not recommend or endorse any products or treatments discussed herein. Learn more about how we maintain editorial integrity
here
.

Community Poll
How much has your migraine disease changed or evolved over time?