An Interview With Migraine Advocate Serene Branson
On Tuesday afternoon I had the pleasure of speaking with a CBS reporter named Serene Branson. You may remember that I mentioned her on my Migraine.com page in February after she had a famous episode of aphasia while on national TV after the Grammys. My blog post called her an "accidental advocate for migraineurs," but I now need to update her title. You see, Serene is now an official advocate for us!
She has started working on behalf of the National Headache Foundation to help give voice to those with migraine and to push for better research and education for this debilitating disease.
We had planned to have a Skype chat, and I was going to upload the video of our talk directly to Migraine.com. Unfortunately, plans changed and we ended up just talking on the phone at the last minute, which means I don't have a transcript of our conversation. It would've been handy, though, as I got so involved with our talk that I neglected to take many notes.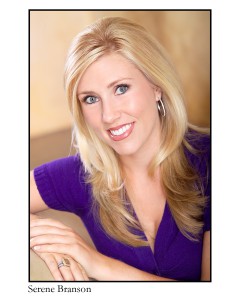 One thing that struck me the most about Serene was how real she was underneath her professional persona. Of course she is a well-spoken, polished reporter, so I wasn't surprised that our interview zipped by. What I wasn't expecting was her sheer honesty.
She confessed she hadn't seen my blog post from February, noting that she deliberately steered clear of the internet for awhile since she knew there were some mean-spirited people out there. But friends and family slowly started sending her more positive links online, and she started to feel a little better.
And then came the letters, notes, and personal messages. Serene told me that she's received hundreds—maybe thousands!—of letters of support. Some people thank her for speaking out about her condition ("thank you for talking about it and bringing awareness to it," Serene paraphrased); others are writing to commiserate and share their own stories about migraine-related issues. Still others are writing just to explain their own battles, grateful that there's someone out there who might know what they go through. She's heard from "college professors who would be in front of a class" during a bout with migraine-related aphasia; she's gotten messages from "moms who say it's hard to care for their children" while having a migraine.
So how did Serene get involved with the National Headache Foundation, I wondered. Again, Serene's honesty was refreshing. She said that, upon being approached by the NHF, her first reaction was to say no. She had a desire to put the whole complicated, embarrassing issue behind her and move on. But then she thought of those letters, those notes, those people who had reached out in support. And she knew what she had to do.
Despite the meanies out there, Serene has been embraced by the country at large and has helped give voice to this disease we all know so well. Unfortunately, most migraineurs aren't always met with the same compassion or understanding when their migraine sideswipes them in public. What words of wisdom did Serene have for those out there who don't get support or kind understanding when they are dealing with migraine? She thinks the answer is increased awareness of the disease and the reminder that "a lot of people out there suffer with this—especially women." Knowing you're not alone can really help you feel, well, less alone! (I will intervene here and urge you to keep exploring the resources and forums here at Migraine.com.)
This led into a chat about the millions of people out there who suffer in silence and don't ever seek help. Serene wants to ask them, "Why not get better options? You're losing valuable time, you're losing days of your life. There's no shame in this. It's hereditary—so don't be embarrassed!" I constantly try to think of ways to get people to seek more help for their migraine, but many people are too scared or embarrassed or ashamed. I hope that increased education and awareness change this—Serene agrees.
I asked Serene how she decides which personal stories and points of view get shared in her new spokesperson role, how she determines what medical and emotional details get shared and what don't. "I knew I had to be all in," she explained, saying that she wants to be as straightforward and honest as she can in talking to people about what her experience was like and how she came to better understand her own migraine disease.
Unlike many of us on Migraine.com, Serene is fortunately not plagued by frequent migraine attacks. She thinks she's had about one since her famous February episode, but since she now recognized its approach, she was able to fend it off with some medication prescribed by her doctor. Now that she has a diagnosis, she has taken more care with her routines, trying to get on a consistent eating and sleeping schedule and keeping an eye on her diet (she mentioned that she makes sure she doesn't overdo it on the caffeine).
Some of you gave me ideas of what you wanted me to talk with Serene about, and I thank you!
This article represents the opinions, thoughts, and experiences of the author; none of this content has been paid for by any advertiser. The Migraine.com team does not recommend or endorse any products or treatments discussed herein. Learn more about how we maintain editorial integrity
here
.

Community Poll
Do you prefer reading stories from others with migraine or informational content on our site?