Comorbidities - Migraine and Cardiovascular Risks
In recent years, there have been several studies and journal articles about the relationship between Migraine and cardiovascular disease (CVD) and events.
There have, in fact, been so many articles, that it's become somewhat confusing, especially because there are differences in the relationship depending on whether we're discussing Migraine without aura (MWOA) or Migraine with aura (MWA) and whether we're discussing men or women.
Before going into the details, I want to emphasize one point here: Please don't let the phrases "risk of cardiovascular events" or "stroke" risk upset you out of proportion of send you into a panic. The data don't warrant that. They warrant caution, not panic, so please read this article in its entirely to help keep the information in perspective.
Two studies stand out from the others in evaluating the relationship between Migraine and the risk of CVD events such as stroke and heart attack.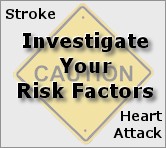 THE FIRST STUDY
The first study, by Shürks et. al.1, pulled the data from studies through January of 2009, reviewed and analyzed it, and published a study that puts it all together for us.
Twenty-five studies were reviewed:
Ten studies gave results for women only.
One study gave results for men only.
Eighteen studies gave results for any form of Migraine.
Sixteen studies gave results for Migraine with and without aura, separately.
Nine studies looked at the association between any form of Migraine and ischemic stroke.
Eight studies looked the association between Migraine and myocardial infarction (heart attack).
Five studies looked at the association between Migraine and death due to cardiovascular disease (CVD).
One study looked at the association between women who had Migraine with aura (MWA) and myocardial infarction and death due to cardiovascular disease.
Conclusions of this review
The authors of this study concluded:
Migraine is associated with a twofold increased risk of ischemic stroke among people who have Migraine with aura.
The risk is higher among women.
Risk is further magnified for

Migraineurs under 45-years-old,
Migraineurs who smoke, and
female Migraineurs who used oral contraceptives.
What they did not find was an overall association between any form of Migraine and myocardial infarction or death due to cardiovascular disease. They also concluded that too few studies are available to reliably evaluate the impact of modifying factors such as Migraine aura on these associations.
Authors' Summary
The authors summarized:1
WHAT IS ALREADY KNOWN ON THIS TOPIC
---
Migraine has been associated with an increased risk of ischaemic stroke
A meta-analysis reported a twofold increased risk of ischaemic stroke among people who had migraine both with and without aura
Subsequent large case-control and cohort studies investigated the association between migraine and various vascular events, including stroke subtypes, myocardial infarction, and death due to cardiovascular disease
WHAT THIS STUDY ADDS
---
In this meta-analysis the risk of ischaemic stroke was approximately doubled among people with migraine, which was apparent for migraine with aura but not migraine without aura
The risk was further increased by being female, age less than 45 years, smoking, and oral contraceptive use
There was no association between migraine and myocardial infarction or death due to cardiovascular disease
Implications of this review
The authors state implications for clinical practice:
"...in particular, young women who have migraine with aura should be strongly advised to stop smoking, and methods of birth control other than oral contraceptives may be considered. Some evidence shows that among women who have migraine with aura the combination of smoking and use of oral contraceptives leads to the highest risk estimates for ischaemic stroke.w4 Firm evidence on the association of migraine and other ischaemic vascular events is lacking. Therefore patients with migraine should be treated the same as any other patient without migraine: they should be screened for traditional cardiovascular risk factors, such as hypertension, adverse lipid profile, and increased risk of coronary heart disease and, if appropriate, these risk factors should be modified."1
Related editorial:
In an editorial published at the same time as this study, Dr. Elizabeth Loder, of the Department of Neurology, Brigham and Women's/Faulkner Hospitals and Harvard Medical School, added valuable perspective, saying:2
"Shürks and colleagues did not find a significant association between migraine and myocardial infarction or death from cardiovascular disease. Their findings should be interpreted cautiously, however, because the number of studies was too small to examine risks in subgroup. It is possible that when additional studies are available they will show that the size of the association between migraine and cardiac outcomes is different in people with and without aura."

"The clinical implications of these findings are that patients who have migraine with aura should be followed closely and treated aggressively for modifiable cardiovascular risk factors. Counselling patients about their increased risk of stroke may increase adherence to recommended treatment, but the information should be put in context-the absolute risk of stroke for most patients with migraine is low, so a doubling of risk is not cause for panic. At a population level, however, this risk deserves attention because the prevalence of migraine is so high."

"All of this suggests that clinicians need to identify young women with migraine, particularly those who are seeking oestrogen containing hormonal contraception. Those who have migraine without aura and are otherwise appropriate candidates for hormonal contraception should not be denied its benefits, because we have no convincing evidence of a clinically meaningful increased risk of stroke. For women who have aura, however, decisions about the use of hormonal contraception are more difficult."
THE SECOND STUDY
The second study, by Bigal et. al.3, had this stated objective:
"Although the relationship between migraine and cardiovascular disease (CVD) has been studied, several questions remain unanswered. Herein we contrast the rate of diagnosed CVD as well as of risk factors for CVD in individuals with migraine with and without aura (MWA and MWOA) and in controls."3
Study results:
Migraine overall and MWA were associated with myocardial infarction (heart attack),
stroke, and claudication (pain in the calf, thigh or hip muscle that occurs after walking)
MWOA was associated with myocardial infarction and claudication.
Participants with Migraine were more likely than control participants to have:

diabetes (12.6% vs. 9.4%)
hypertension (33.1% vs. 27.5%)
high cholesterol (32.7% vs. 25.6%)
Risk was higher in MWA, but remained elevated in MWOA

Migraine was significantly associated with:

myocardial infarction: occurred in 4.1% of Migraine group, 1.9% of control group
strokes: occurred in 2.1% of Migraine group, 1.2% of the control group
claudication: occurred in 2.9% of Migraine group, 2.57% of control group
Study conclusions:
"Both migraine with and without aura are associated with cardiovascular disease (CVD) and with risk factors for CVD. However, since our sample size is large, the clinical relevance of the differences is yet to be established."3
Related editorial
In an editorial published in the same issue of Neurology as the study, Diener and Harrer ask the question, "Is there a direct link between migraine and cardiovascular disease (CVD) risk factors, or is there a shared pathogenesis, or a shared genetic basis for both?"4
They also list three conclusions that can be drawn from the study:
The absolute risk of cardiovascular events in Migraineurs is still small, so patients should be given actual numbers rather than figures of relative risk increases.
The perception that Migraineurs have a healthier lifestyle is incorrect. They base this on the higher incidence of diabetes, hypertension, and high cholesterol.
Migraineurs, particularly those who have MWA, should be evaluated for CVD risk factors and taught how to reduce modifiable risk factors.
Diener and Harrer state:
"As neurologists, we must sharpen our diagnostic view when we see migraine patients by asking about and checking for vascular risk factors, and improve our treatment plans by advising not only about treatment of acute attacks and migraine prevention, but also about risk factor management."4
SUMMARY AND COMMENTS
Diener and Harris make a point relevant to my point at the beginning of this article - The increased risk percentage aren't where we should be concentrating because most of us don't know how many incidents the percentages translate to. It's far better to grasp what our risk truly is when we look at actual numbers rather than percentages.
We need to take a rational and methodical approach to this issue and sit down and discuss it with our doctors. Here are some questions that we can ask our doctors to put our risks in perspective and take care of ourselves:
How many people of my gender and in my age group have cardiovascular disease? (Age and gender make a difference.)
What risk factors do I have for cardiovascular disease?
Which of those risk factors can I modify?
What can I do to reduce those risk factors?
Again, while we do need to take the findings of these studies seriously, the are not reason for panic. They are reason for a conversation and working toward reducing our modifiable risk factors. No more; no less. Caution and precautions; not panic.
This article represents the opinions, thoughts, and experiences of the author; none of this content has been paid for by any advertiser. The Migraine.com team does not recommend or endorse any products or treatments discussed herein. Learn more about how we maintain editorial integrity
here
.

Community Poll
Do you prefer reading stories from others with migraine or informational content on our site?