Educating Congress About Migraine: Headache on the Hill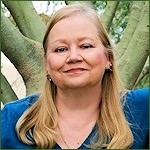 By Teri-Robert

·

June 27, 2011
There's no question that lack of understanding about Migraine makes life more difficult for people living with Migraine disease. This lack of understanding, unfortunately, is still pervasive throughout our society. Members of Congress are no exception.
On June 1, 78 people from 35 states — patients, doctors, nurses, researchers, and more — gathered in Washington for Headache on the Hill. Organized by the Alliance for Headache Disorders Advocacy, Headache on the Hill is a lobbying event during which we visit the offices of our Senators and members of the House to educate them about the impact of Migraine and other headache disorders and ask them to do certain things to help with awareness, research funding, and more.
This year, we had three "asks:"
We requested support for Congressional hearings about Migraine and headache disorders. Discussion in these hearings would include the severe personal, societal, and financial impact of headache disorders; the need for more research funding, and the potential roles of government and industry in conducting research. This "ask" was in the Senate and the House.
We requested full funding of the Cures Acceleration Network (CAN), which would provide grants and contracts for early stage research to bring innovative break-though drug therapies and promote American industrial competitiveness. CAN is part of the Patient Protection and Affordable Care Act of 2010, but is not yet funded. This "ask" was also in both the Senate and the House.
In the Senate, we asked for support for S.597 to add neurology to the list of medical specialties eligible for the primary care incentive created by the Affordable Care Act. This incentive is meant to cover doctors who provide services considered to be primary care — evaluating and diagnosing patients and working with them on their health issues — as opposed to performing surgical and other procedures. Many Migraine and headache specialists provide this type of care, and 85% of them are neurologists, so the concern is that the exclusion of neurologists will result in fewer doctors going into "headache medicine."
In visiting the West Virginia Congressional offices, I was with Dr. David Watson of the West Virginia University Headache Center and Brian Booth. We visited the offices of Senators Jay Rockefeller and Joe Manchin and Representatives David McKinley, Shelley Moore Captio, and Nick Rahall. As is usually the case, we met mostly with staff members rather than the Senators and Representatives. We did, however, meet with Shelley Moore Capito, who was very gracious and promised to support Congressional hearings. Representative Rahall's chief of staff also pledged support of Congressional hearings. We'll have to wait and see what comes of our visits to the other offices.
A true high point of this year's Headache on the Hill occurred they day before our Hill visits, during advocate training, when I met Julie Zellner McDonald and her husband in person for the first time. Julie is a Migraineur I met a few years ago in an online discussion forum. Julie has severe chronic Migraines, and when I first met her, she wouldn't have been able to even consider traveling to Washington and participating. She and her Migraine specialists still have a great deal of work ahead of them in bringing her Migraines under control, but they've made enough progress that she was able to be there.
Seeing Julie there was so very exciting! To me, it was a sign of hope for all Migraineurs and demonstrated the value of patient education and support. I asked Julie for some comments on attending Headache on the Hill. She wrote:
"I have so many friends who also suffer with migraines and feeling like I could advocate not just for myself, but also on their behalf gave me a great sense of pride and joy…
It was an honor to be asked to attend. It was exciting to be able to meet people that I had only communicated with online up until that point and who I considered heroes, such as Teri Robert and Nancy Bonk. It's all the information that Teri provides through the websites she manages that has kept me informed and given me even a remote sense of control over this illness. Plus, that information is how I found Dr. Young, who has finally given me a treatment plan that has provided enough relief that I felt comfortable traveling to DC in the first place…"
It was an exhausting, yet exhilarating and inspiring two days. We educated members of Congress and their staff about Migraine and other headache disorders while pursuing our "asks," working to increase understanding and awareness. It was a productive way to start the month of June, which is National Migraine Awareness Month.
In Representative Shelley Moore Capito's office:
Brian Booth, Teri Robert, Representative Capito, Dr. David Watson.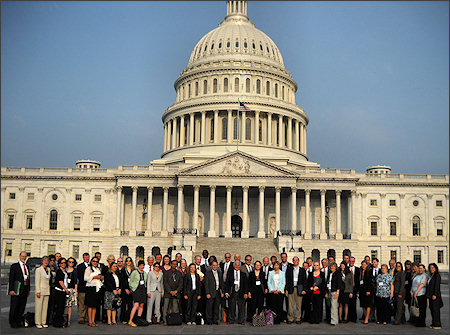 Headache on the Hill participants
This article represents the opinions, thoughts, and experiences of the author; none of this content has been paid for by any advertiser. The Migraine.com team does not recommend or endorse any products or treatments discussed herein. Learn more about how we maintain editorial integrity here.