Do you ever find yourself in the situation of having to seek emergency care for your Migraines in the emergency room or at an urgent care facility?
If so, you know that just getting yourself registered can be more than we can handle at such times. Then, once you get to see a doctor, you can encounter one of two issues:
A doctor who wants to help, but doesn't really know what to do for you.
A doctor who, because so many people fake Migraines and headaches to get "drugs," may think that everyone who comes to their facility with a Migraine is suspect.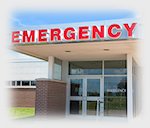 What's a person with a raging Migraine to do?
I've developed forms to help with this situation…
The first form is the Emergency Treatment Information form. This form is for use during the registration process. The top part of the form is for information that we can complete in advance of a Migraine:
Registration information:

your name
your date of birth
your address
your phone number
your employer
your emergency contact
your insurance information

Physician information:

your doctor's name
your doctor's phone number
The rest of the information on the forum needs to be filled out during the Migraine:
pain scale: rate your pain on a scale of zero – 10
the Migraine symptoms you're experiencing
the medications you've taken for the Migraine
other medications you've taken that day or take on a regular basis
known allergies
The second form is the Physician Supplied Emergency Treatment Information form. This form can, when ER and urgent care doctors will make use of it, let doctors know what your own doctor has already prescribed for you and what he or she recommends for you in emergency situations.
Take this form to your doctor, and ask him or her to complete it for you. Then, make copies of it and keep the original in a safe place. If you use it to seek emergency care, it will probably not be returned to you because it will probably be placed in your chart.
The Emergency Treatment Information form is always helpful. It lets you get the necessary registration information down so it's easier when you get to the ER or urgent care facility. It's also a good idea to make copies of both sides of your insurance card. Most facilities need copies, and taking your own can save time when you're feeling your worst.
The Physician Supplied Emergency Treatment Information form may or may not be very helpful to you, depending on the policies and attitudes of the facility you go to and the physician who treats you. I know some Migraineurs for whom it has been an enormous help, both to them and the treating physician; but I have also had reports from Migraineurs who told me that their treating physician at the ER or urgent care facility refused to even look at it.
Of course, the best case scenario is having abortive and rescue treatments available that make ER and urgent care facility visits unnecessary. Still, for some of us, there are times we need these facilities, no matter how good our at-home treatment is. These forms can help with at least the registration process and being able to tell the treating physician what medications we've taken, and if they'll use the Physician Supplied Emergency Treatment Information form, may be able to help us even more.
Here are the forms for you to download for your use:
Live well,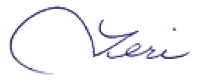 © Teri Robert, 2013