Follow Up Study Confirms Migraine Not Associated with Cognitive Decline
Women with migraine are more likely than others to experience brain changes as observed by MRI. Fortunately a nine year update to a previous research study confirms these changes are not linked to mental decline.
The follow up research study is called CAMERA-2 (Cerebral Abnormalities in Migraine, an Epidemiological Risk Analysis). In CAMERA-I the researchers used age-matched controls as a comparison to the women with migraine and conducted MRIs of all study participants to check for the presence of white matter abnormalities. In CAMERA-2 researchers assessed the MRIs of hundreds of participants in the original CAMERA-1 study to determine whether: (1) women or men with or without migraine with or without aura have a higher incidence of white matter brain lesions nine years after the initial MRI; (2) migraine frequency was associated with progression of white matter changes; and (3) progression of brain abnormalities was associated with mental deterioration.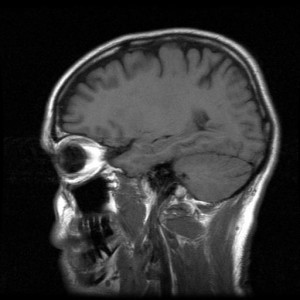 The women in CAMERA-2 were twice as likely as the control group to have an increase of white matter changes on their MRIs. However, these changes were very, very minor. Furthermore, researchers observed no correlation between increases in white matter lesions and cognitive decline using standard methods of measuring cognitive deterioration.
Interestingly, there was no correlation between frequency or intensity of the person's migraine attacks, type of migraine or method of treatment of those attacks and the observance of white matter changes. The researchers who conducted these studies said they believe this may be because the structural changes are due to an ongoing process that continues even between attacks in the brains of women with migraine disease rather than being related to acute attacks.
Not only are women with migraine more likely than women without migraine to develop these white matter changes, women with migraine are also significantly more likely than any category of men, including men living with migraine disease.
More research is needed to know whether these white matter lesions are related to ischemia and ischemic stroke risk. However, speaking recently at the 2012 American Headache Society Symposium, headache disorders expert Dr. Peter Goadsby of the University of California San Francisco said he doesn't think white matter lesions are related to the relationship between migraine with aura and the increased risk for stroke.
This article represents the opinions, thoughts, and experiences of the author; none of this content has been paid for by any advertiser. The Migraine.com team does not recommend or endorse any products or treatments discussed herein. Learn more about how we maintain editorial integrity
here
.

Community Poll
When was your last migraine check-up?