Headache on the Hill 2013: Migraine is Prevalent, Costly, Neglected
Last Tuesday, April 9, 2013, I was honored to represent myself and the rest of the Migraine and Headache Disorders community on Capitol Hill in Washington, DC, at the sixth annual Headache on the Hill advocacy event.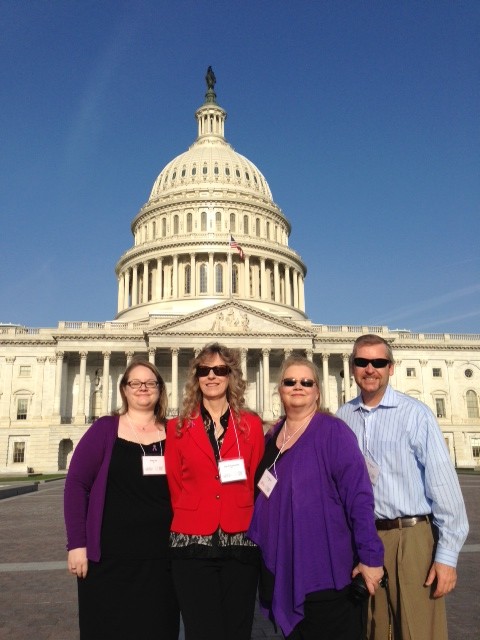 Headache on the Hill is sponsored by the Alliance for Headache Disorders Advocacy (AHDA), a coalition of groups focused on increasing the visibility of the burden of and getting more appropriate research funding for Headache Disorders. AHDA brings together health professionals, patients and people who care about Headache Disorders patients to lobby their Congressional representatives on a focused message.
Our central message was the notion that Migraine and other Headache Disorders are prevalent, costly and neglected. But rather than just focusing on the facts about the Headache Disorders community and problems experienced by patients, we told our Congressional representatives how they can help.
We asked our legislators for support on these specific issues:
(1) Encouraging the National Institutes of Health (NIH) to allocate more resources toward Migraine and Headache Disorders.
In recent years less than one-tenth of one percent of the NIH budget was allocated to Migraine and other Headache Disorders. Given that one in five people lives with a Headache Disorder and the level of debilitation among some of these people, a change is clearly justified.
(2) Encouraging the Social Security Administration to add a listing to the Social Security Blue Book for Migraine.
The Social Security Blue Book is filled with many conditions and lists criteria for determining whether an applicant is disabled for each of the listed conditions. Right now people living with Migraine can be approved for Social Security Disability benefits, but Migraine is not listed in the Blue Book. We believe the addition Blue Book listing with criteria for which Migraine patients should receive benefits would have two important benefits:
Fewer patients would have to go through multiple appeals and hearings to get a favorable decision they are entitled to, and decisions about patients living with Migraine would be less arbitrary.
Disability Examiners are encouraged to make their decisions by following the Blue Book, so this would allow them to make favorable decisions for deserving Migraine patients and not be penalized for making the right decision.
(3) Renewal of a program within the Department of Defense that funds research on Chronic Migraine and Post-Traumatic Headache.
(4) Support for a Congressional Hearing on the burden of Migraine and Headache Disorders.
Responses to these "asks", as they are called on Capitol Hill, varied widely from meeting to meeting. Some Headache on the Hill participants felt more positive about their meetings than others. My meetings went quite well, and I received a couple of very specific offers of help with our asks. In speaking with others at the end of the day, the overarching tone was quite positive.
Each year Headache on the Hill returns we build and solidify important relationships with members of Congress and their staff that will help us reach our goals. An effort like this is all about baby steps, relationship building and perseverance. I look forward to reinforcing our message again next year.
This article represents the opinions, thoughts, and experiences of the author; none of this content has been paid for by any advertiser. The Migraine.com team does not recommend or endorse any products or treatments discussed herein. Learn more about how we maintain editorial integrity
here
.

Community Poll
Do you prefer reading stories from others with migraine or informational content on our site?