Taking Migraine to Capitol Hill for HOH '14: What Can YOU Do?
Again in 2014 I had the distinct pleasure of attending the annual Headache on the Hill lobbying event in Washington DC to advocate for important changes for patients living with Migraine and other Headache Disorders. It always takes a lot out of me physically, but is so completely worth it.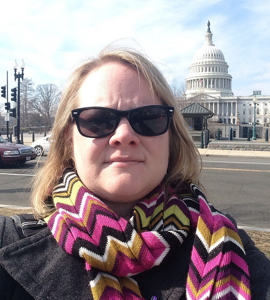 We are working hard to reinforce a consistent message each year to change the perception of Migraine and Headache Disorders. Migraine has never had a consistent message that adequate conveys its burdens the way other conditions like HIV/AIDS or breast cancer have. And we also know we're not considered a sympathetic condition.
So just as in 2013, we focused on sharing the message that Migraine is prevalent, disabling and burdensome. We also shared personal stories of representative patients living with Migraine and Headache Disorders to put a face to the challenges. In addition, we conveyed specific requests for changes we believe will improve these problems over time.
These were our "asks" (to use the term of art) for 2014:
Ask your Senators and Representative to send a letter to National Institutes of Health Director Francis Collins regarding peer review of Headache Disorders-related research grant proposals.
Ask your Senators and Representative to send a letter to Secretary of Health and Human Services Kathleen Sebelius regarding Medicare and Medicaid coverage of oxygen for Cluster Headache.
Ask your Senators to support continued funding for the Department of Defense Congressionally Directed Medical Research Program for Chronic Migraine and Post-Traumatic Headache in the Fiscal Year 2015 budget. (NOTE: This is a Senate-only request.)
You can reinforce the message from home by writing to those who represent you in Congress about these issues. I have uploaded electronic versions of two things for each request: (1) A sample letter you can send to your Senators and Representative about each issue; and (2) The draft letter we supplied at our meetings on the Hill to make it easy for them to support us. Please scroll to the end of this article for links to everything. I've uploaded them in both Word and PDF formats for your convenience.
The easiest way to locate the correct contact information for your Senators and Representative is to visit the official sites for each body:
You can either send an email or print out hard copy letters and mail them. Please make sure you include the draft language either way. (NOTE: Most offices use a web contact form that will not allow you to upload attachments the way you can with an email program. But you can get around this by providing the link where I've uploaded the file containing the suggested draft language in the body of your web form comment.)
Each U.S. citizen is represented in Congress by two Senators and one Representative. Therefore, you'll be writing to two Senators and one Representative.
Finally, I also highly recommend meeting with your Senators' and Representative's local staff members in the home office nearest you to speak directly with someone about these issues. They all maintain local offices in their districts to make themselves more accessible to their constituents. You can do exactly what we do at the Headache on the Hill event on the local level, but without the burden of travel expenses and the health issues exacerbated by travel for so many of us. Once you know for sure who represents you, head to that person's page on Senate.gov or House.gov to find the contact information for each local office.
Tips for In-Person Meetings:
Call ahead to schedule an appointment.
Bring business cards with you. They can be very simple and printed on your home computer if necessary. At a minimum, include your name, phone number and email address.
Bring two copies of the documents linked in this article with you: One set to leave with the staffer(s) and another for yourself. Put the set for the staffer(s) in an inexpensive folder with pockets.
Ask for the staffer's business card if you're not offered one.
Above all else, be professional and dress appropriately.
Follow up with a thank you for meeting with me email and an inquiry about whether the Senator or Congressman will support the requests.
Do you have questions about any of this? Please let me know in the comments.
LINKS TO IMPORTANT DOCUMENTS:
Issue 1 - National Institutes of Health Peer Review:
NIH Peer-Review Sample Letter (DOC)
NIH Peer-Review Sample Letter (PDF)
NIH Peer-Review Draft Request Letter (DOC)
NIH Peer-Review Draft Request Letter (PDF)
Issue 2 - CMS Coverage of Oxygen for Cluster Headache:
Cluster Headache Sample Letter (DOC)
Cluster Headache Sample Letter (PDF)
Oxygen Cluster Headache HHS Draft Request Letter (DOC)
Issue 3 (SENATE ONLY) - Defense Appropriations Chronic Migraine / Post-Traumatic Headache Report Language:
This article represents the opinions, thoughts, and experiences of the author; none of this content has been paid for by any advertiser. The Migraine.com team does not recommend or endorse any products or treatments discussed herein. Learn more about how we maintain editorial integrity
here
.

Community Poll
How much has your migraine disease changed or evolved over time?