Holiday Migraine Management: Entertaining, Cooking & Baking Tips
Entertaining and cooking are some of the things I enjoy most at the holidays. Unfortunately, as I'm sure many of you can easily relate to, living with chronic migraine disease has made it increasingly difficult for me to keep up with my day-to-day responsibilities, let alone take on hosting a family dinner or gathering of friends.
But I enjoy hosting, cooking and baking so much that over the past nine years I've come up with some useful tips and tricks for getting a holiday meal on the table or hosting a party that allow me to do the things I enjoy without burning myself out so badly I can't even be part of the event.
Plan way ahead
Everyone knows planning ahead is key to hosting a holiday dinner or party. But when you live with a chronic condition like migraine, you have to take planning ahead to the next level. I maintain a binder of holiday and party recipes so I don't have to search all over every year to find my favorites or new things I want to try. I start my grocery list at least a month ahead and start shopping little by little so I don't have to worry about doing one huge shopping trip that's sure to burn me out.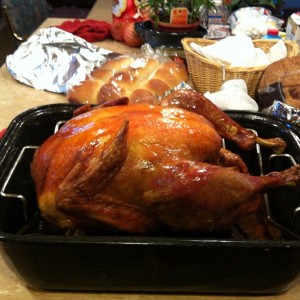 Cook ahead
Not only do I plan ahead, I also start preparing the meal in advance. For instance, my husband and I have been hosting his family for Thanksgiving the past few years. Thanksgiving is my favorite holiday, but the first year we hosted I had to go straight to bed after the meal because I was in migraine hell. So now I decide on what I want to make from scratch in advance, then start making dishes and desserts ahead the week of Thanksgiving. I make the pies on the Monday or Tuesday. Or both. Then on Wednesday I make the mashed potatoes and sweet potato casserole ahead. The potatoes reheat beautifully with this trick: Add a brick of cream cheese with your butter, milk, salt and pepper. It also helps to add more butter and a little more milk when you're reheating them. Once you try this method you'll never go back, whether you need to prepare them ahead or not.
Utilize convenience foods
While I know prepared and boxed foods can be difficult for migraineurs, if you can find boxed chicken stock, stuffing mix, frozen vegetables, etc. that you can eat without triggering a migraine attack, by all means rely on these items. Don't any of you tell Martha Stewart, but we like Stove Top stuffing mix just as much as homemade stuffing in our family, and it's so much easier. You just mix and microwave. It's a time and effort saver. This year I bought our pies from the grocery store bakery, too. I knew I wouldn't have the energy to make them myself, so I called upon the next best thing. There's no shame in that.
I have to confess that I had a raging, unrelenting migraine on Thanksgiving this year, but because I'd done so much planning ahead and enlisted my wonderful husband's help, we were easily able to get the meal on the table and enjoy lunch with his family. I was really proud of that because the knowledge that allowed us to accomplish it has been hard earned over the time I've lived with chronic migraine disease.
What tips and tricks can you share for getting a holiday meal on the table or hosting a party?
This article represents the opinions, thoughts, and experiences of the author; none of this content has been paid for by any advertiser. The Migraine.com team does not recommend or endorse any products or treatments discussed herein. Learn more about how we maintain editorial integrity
here
.

Community Poll
Have you noticed something that used to trigger your migraine no longer does?