June is National Migraine Awareness Month!
Today is the first day of National Migraine Awareness Month and there are many ways you can "Help Make Migraines Visible" - the theme of this year's event.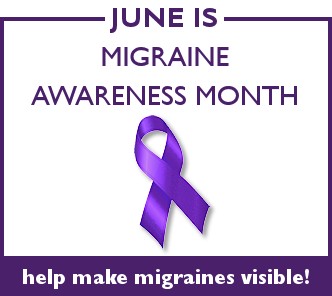 Participate in the Blog Challenge - Calling all bloggers! You can participate in this month-long event by posting a blog to coordinate with one (or all) of the daily prompts. Don't have a blog yet? Maybe this is a great way to start...
Take the Migraine in America Survey- The survey will be open through June 15th and we will be sharing results with the community very shortly via a live web event. Thanks to the 2,400 participants so far!
Sign the Alliance for Headache Disorders Advocacy petition - Urge Congress to hold hearings on the impact of Migraine and other headache disorders (friends, family, and colleagues are welcome to sign).
Share and Help Educate - One of the most important things we can do is help educate others about the true impact migraine can have. If a particular article or blog post seems interesting, please share it with friends and family by posting to Facebook, tweeting, emailing, or printing copies.
Here are a few of our most popular posts:
Don't forget, we will also be hosting the June Blog Carnival. Diana Lee will be accepting submissions through June 8th, and this month's' topic is "True Migraine Confessions: In honor of Migraine Awareness Month, give us your most personal, embarrassing or secret stories of living with migraine disease. Be as open as you dare."
Do you have other ideas for improving Migraine Awareness? Let us know!

Community Poll
When was your last migraine check-up?