Letter to Someone with Migraine – 2001, A Space Odyssey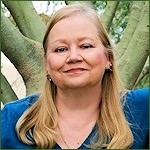 By Teri-Robert

·

June 30, 2013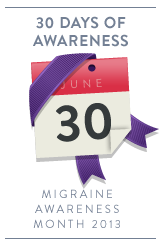 The prompt / topic for day 30 of the Migraine and Headache Awareness Month Blog Challenge is: 2001: A Space Odyssey: "I am putting myself to the fullest possible use, which is all I think that any conscious entity can ever hope to do.": Write a letter to a fictional Headache Disorders patient encouraging that person to be kind to him or herself. Use the ways you're too hard on yourself as inspiration.
Dear fellow Migraineur,
Doctors will talk with you about your medical treatment and the best ways to manage Migraine disease. One aspect of Migraine management that's too often overlooked is being kind to ourselves. This is important because Migraine can be very hard on us emotionally and mentally, not just physically; and to be well, we must care for every part of ourselves.
Please allow to to share some tips with you, tips based on having lived with Migraines for over 50 years…
Dump the guilt. It's natural to feel guilty when we miss an event, can't play with our kids, can't go somewhere with our friends, and so on. Well, just don't let yourself feel guilty. Start by admitting to yourself that Migraine is a disease, and you can't help it when you're not feeling well enough to fully participate in life. Feeling guilty is a negative expenditure of energy, and we need to spend our energy on more positive things.
Educate the people you can and disassociate yourself from those you can't educate. I know that's not as simple as it sounds, especially if those people are family or other people you're close to, but there's only so much you can do. In the end, it's our own opinion that counts because we ultimately have to live most closely with ourselves. One of the first principles taught in psychology is that only the person who owns a problem can solve it. If people don't understand us and our Migraines, it's their problem, not ours.
Keep learning about your Migraines. When we understand what's going on in our bodies when we have a Migraine, it's less frightening. That knowledge is also important when we get a Migraine and need to decide when to treat it and with what. We can't call our doctors every time we have a Migraine, and understanding Migraines is our best tool for making good, informed decisions.
Take some time for yourself daily. Taking time for ourselves can be difficult enough even for those with no health issues. For those of us who have Migraines or other health issues, it's even more important. Take some time for yourself every day to relax, think things through, pray, meditate, or whatever you need. Some people like to draw a bath and soak in it for this private time. I like to take 30 minutes every morning to pray, meditate, and get myself centered and focused for the day. Everyone is different, so try some different ways of doing this to discover what's best for you.
Stay positive and proactive, and never underestimate yourself. Another way we can be too hard on ourselves is by underestimating ourselves. We're more resilient than we give ourselves credit for. If we vent when we need to, then find a proactive way to handle the issue we need to vent about, that helps us stay more positive and have more faith in our resiliency.
Remember that being good to ourselves isn't the same thing as being selfish. If we're not good to ourselves, we're not going to be much good to other people. It's that simple. When we're exhausted, discouraged, and frustrated, or putting ourselves down, we're just not as fit to be good to the other people in our lives.
Sending you a gentle hug,
Teri
What would you add to this letter? Please post a comment and share it with us!
Learn more about the 2013 MHAM Blog Challenge and other MHAM events by visiting: 2013 Migraine & Headache Awareness Month Information Page
June, Migraine and Headache Awareness Month, is dedicated to Unmasking the Mystery of Chronic Headache Disorders. The Migraine and Headache Awareness Month Blog Challenge is issued by FightingHeadacheDisorders.com
This article represents the opinions, thoughts, and experiences of the author; none of this content has been paid for by any advertiser. The Migraine.com team does not recommend or endorse any products or treatments discussed herein. Learn more about how we maintain editorial integrity here.