Migraine Advocate Receives Distinguished Service Award from American Headache Society
At the recent 2013 International Headache Congress in Boston, a joint meeting of the International Headache Society and American Headache Society, our own Teri Robert was honored with a Distinguished Service Award by the American Headache Society (AHS).
This Distinguished Service Award was given to recognize Teri's "substantial, meritorious service as an advocate for headache sufferers." Although as advocates we typically shy away from using the word headache as a blanket term for all Headache Disorders, especially Migraine, among Headache Disorders specialists this is an accepted shorthand.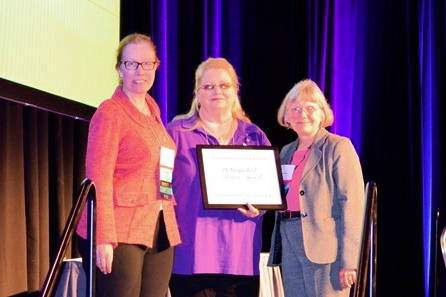 "Teri's award is indicative of all that she has done for AHS and patients with headache and migraine," said Elizabeth Loder, president of the American Headache Society. "Without her, there would be no American Headache and Migraine Association. Teri has worked tirelessly to make AHMA a success, and we owe her a tremendous debt of thanks for her efforts."
I'd like to give you some context for the importance of this award. Teri, Ellen and I are not eligible to be members of the AHS because we are not licensed medical professionals. This holds true despite our affiliation with the organization as members of the ACHE committee and AHMA board. It is almost unheard of for a professional organization like the AHS to give a nonmember an award of any kind. Their choice to do so gives you a window into their recognition and appreciation of the significance of Teri's contributions.
Like many of us who write here on Migraine.com, Teri's work in Headache Disorders patient advocacy and education arose out of personal need. Despite living with Migraine most of her life, when she developed Chronic Migraine she couldn't find the information she needed to be an educated, empowered patient. Starting with this personal need has led her places I know she never envisioned going in her life, but for which many of us are extremely grateful.
It's easy to be mistrustful of doctors and other health professionals when you've had as many negative experiences as so many of us have. But please know that in the AHS organization and leadership we patients have a group of true partners dedicated to bridging the gap between medical professionals and patients. They are working alongside advocates and educators to achieve better outcomes for Headache Disorders and Migraine patients. Their extreme dedication to making AHMA a success is evidence of this, as is this wonderful award they've given to Teri.
Please join us in congratulating Teri on this honor.
This article represents the opinions, thoughts, and experiences of the author; none of this content has been paid for by any advertiser. The Migraine.com team does not recommend or endorse any products or treatments discussed herein. Learn more about how we maintain editorial integrity
here
.

Community Poll
When was your last migraine check-up?