Migraine Awareness Month #13: You Are Beautiful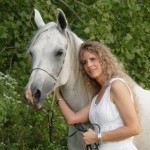 By Ellen Schnakenberg

·

June 13, 2012
Write yourself a love letter. Tell yourself how wonderful you are. Remind yourself of the things you have accomplished despite Migraines. There are times when we need to be reminded of the good things others see in ourselves that we may have missed.
A love letter to myself…
This is one of the most difficult posts to write for many reasons. Despite that, actually maybe more because of that, I think it is truly a lesson we should all take the time for. When we have an invisible illness like Migraine, we tend to kind of shrink into ourselves. We forget the best parts of ourselves because the pain takes us to deeper, darker parts we don't like to acknowledge. Some patients are stuck in those dark places like an animal in a tar pit, using every last ounce of energy just to breathe.
Affirming the best parts of ourselves is vital to keeping a balance in our minds and bodies that keeps us going when things are the hardest. We have Migraine, and although it may have changed our lives, it does not need to be the thing that defines us… unless we let it.
Dear Ellen,
Do the thing you fear the most child… go and stand in front of the mirror and look at yourself.
Look past the unkept hair and the dark circles under your eyes – leftovers of the latest Migraine attack. Beyond the imperfections you don't want to see. Seek instead what your loved ones see when they look at you. Look deeper. Look for the signs of your journey and who you are as a human being…
What do you see?
Every line, every mark on your body is there for a purpose. They tell your story – who you are, what you've been through and survived, what purpose your life has served on this earth…
~ Your swollen, purple hand tells the story of your fight to recover from a Migraine attack you couldn't control, reminding family that the attacks you battle are fought with your body and your mind. Your hands are the hands of your mother and grandmother who were stubborn and strong willed. You are stoic.
~ The lines on your face were imprinted by the sun while you were smiling, helping children teach their horses while one by one, they matured and were changed. You brought joy and have made dreams come true.
~ Those hazel eyes which sometimes fail you now, have revealed to you the brush strokes of Michelangelo and Monet, and still show you the beauty of a caterpillar, or a newborn foal. You are observant and in tune with your surroundings.
~ Your ragged hands that cradled infants, braided hair, wiped tears, hugged grandparents, gave CPR and reached inside mares to help them create life, also created artwork in collections around the world. You are creative and compassionate.
~ Your smile which was once crooked and jagged, reminds you that with determination, patience and pain there are rewards that can last a lifetime. You are blessed.
~ That trademark hair which once covered bald patches of pink scalp — the outward signs of an otherwise invisible disease which you conquer each day. You are strong.
~ The fat on your stomach which at once pleases you and repulses you is your future. It is the reserves you have carefully stored away for the next time you're sick. Your family worries less because of these new reserves. You are resilient.
The scars you hide tell the greatest tales:
~ The one above your eye, received when you were kicked by a frightened horse. Your bones were broken and a nerve was crushed, yet still you are able to grin and weep at the memories of the mare and foal you still loved with your whole heart. Your love endures great obstacles.
~ The stretch marks that ruined your beach ready body, but remind you that once you were told you would be childless, yet by some miracle blessing you gave life to two babies who became people you can be proud of. You are a mom.
~ The scar on your leg is all that remains of the tumor that might have crippled you as a child. You endured surgery and recovery alone. You are brave.
~ The broken bones in the hand that you used to protect a child. They healed all wrong and limit the use of a finger. But you persevered.
You've wondered about those people you've loved who have gone on before you. When they were prepared for burial, did anyone look at their features and their scars and wonder about their stories? Were those you love ever asked to tell their stories? Were they proud of them, or were they blinded by the cover of the book, forgetting the amazing journey inside?
All these things you don't like to look at illustrate your story — your journey through this life. They are the battle scars of a warrior who would not give up.
Stand up tall girl. You did not give in. Those parts of you that you try to hide are your greatest asset. You are winning this war because, although The Enemy may beat your body, it cannot beat your soul.
Use your body up! Go to the grave with nothing left but the stories your laughing, smiling family will tell to the shocked faces of others. Then you will know that you have truly LIVED!
Okay, now that you've read my letter, what will you say in yours?
National Migraine Awareness Month is initiated by the National Headache Foundation. The Blogger's Challenge is initiated by www.FightingHeadacheDisorders.com.
To help raise awareness about Migraine, please Tweet this post with the hash tags #NMAM and #NMAMBC and share it on your Facebook page. Thank you!
This article represents the opinions, thoughts, and experiences of the author; none of this content has been paid for by any advertiser. The Migraine.com team does not recommend or endorse any products or treatments discussed herein. Learn more about how we maintain editorial integrity here.