Migraine Awareness Month #27: In my Head and Heart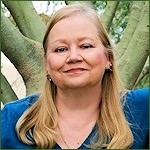 By Teri-Robert

·

June 27, 2012
Today's Migraine Awareness Month Blog Challenge prompt is:
Who inspires you to keep trying and not give up, despite your Migraines?
I'm glad this one didn't say it was limited to one person because that would be a problem for me. There have also been different people who have inspired me at different times during my life.
My Migraines started when I was six-years-old. I used to take my blanket and pillow and shut myself in my closet where it was dark and quiet. If my father was home, he bring me a glass of Coke to help settle my stomach, then he'd sit outside the closet with the door open just a bit and hold my hand. I didn't understand why my head hurt so badly and why I was so sick, but he'd talk to my very softly, encouraging me to go to sleep and telling me it would probably be gone when I woke up. Luckily, my Migraines weren't frequent when I was a child because that was 50 years ago, and they didn't do much in the way of prevention for children then.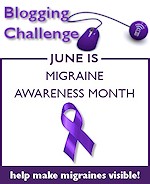 Things continued along these lines when I was in junior high and high school. By this time, I generally took over the bathroom, lying on the cool tile floor between bouts of vomiting. Again, it was my father who was there for me, holding back my waist-length hair and soothing my face and neck with a cold cloth. We'd both fall asleep in the bathroom.
In the late 90's, my Migraines became chronic for the first time, and I was in bed five or six days a week for nearly two years. For the first time since I was 16-years-old, I wasn't able to work. I never saw my friends. Our kids were on their own by then, so it was just John (my husband) and me here. Thankfully, he has always supported me and never doubted how debilitating Migraines can be. During that period, he was my inspiration to not give up and to keep looking for a doctor who could help me.
When I finally got to Dr. William Young at the Jefferson Headache Center in Philadelphia, one of the first things he said to me was,
"I won't give up on you if you don't give up on me. You don't have to live like this."
He didn't give up. I didn't give up. He inspired me to keep trying. He encouraged me when I got discouraged. It took over four years, but he treated me like a partner in planning my treatment and making decisions, and we got to the point where I sometimes got two pain-free months between Migraines.
Around the same time I started seeing Dr. Young, I got a job working from home with About.com starting, then running, their Migraines and headaches site. I worked for them for seven years, and it was the beginning of working as a patient educator and advocate in the field of Migraine and other headache disorders.
Today, my biggest inspiration comes from other advocates and other Migraineurs. It's impossible for me to not be inspired when I see other Migraineurs going through hell and other advocates working to help them. Migraine is misunderstood, underdiagnosed, and undertreated. Research funding from the NIH is abysmally low and not at all proportionate to the burden of the disease. Migraines drive some people to take their own lives. All of this is what inspires me to not give up on my own Migraines and not give up as an advocate.
Last summer, because of other health issues, I had to cut back on my primary preventive medication by half, and my Migraines became chronic again, a huge setback for me. I sat in my family doctor's office and sobbed, telling him I simply couldn't go back to being in bed with Migraines all the time. Then I realized I was whining instead of being proactive. There's now a good Migraine specialist here in West Virginia, so I made an appointment with Dr. David Watson in Morgantown. We added a new medication and have been gradually adjusting the dosage. I'm not back to where I was, but I'm better. I continue to be inspired by other Migraineurs, advocates AND Dr. Watson. We will prevail.
National Migraine Awareness Month is initiated by the National Headache Foundation. The Blogger's Challenge is initiated by www.FightingHeadacheDisorders.com.
To help raise awareness about Migraine, please Tweet this post with the hash tags #NMAM and #NMAMBC and share it on your Facebook page. Thank you!
This article represents the opinions, thoughts, and experiences of the author; none of this content has been paid for by any advertiser. The Migraine.com team does not recommend or endorse any products or treatments discussed herein. Learn more about how we maintain editorial integrity here.