Speak Out for Migraine & Social Security Disability Today
Many of you know first hand about the challenging process of applying for Social Security Disability benefits for Migraine. Improving this situation has been an active advocacy focus of the Alliance for Headache Disorders Advocacy since last year, and now there's something tangible you can do to speak out for reform.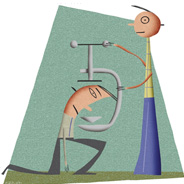 At the 2013 Alliance for Headache Disorders Advocacy (AHDA) Headache on the Hill event, we asked for support from members of Congress to encourage the Social Security Administration (SSA) to add a listing to the Blue Book for Migraine. (See Headache on the Hill 2013: Migraine is Prevalent, Costly, Neglected). Some members of Congress, including the highly influential senator from Montana, Max Bacchus, were supportive of our concern and wrote letters to the Social Security Commissioner in support of this request.
Unfortunately, the SSA has refused to do so despite the obvious and extreme need. And provided no explanation for this decision.
By way of background, applicants for Social Security Disability who meet the criteria for a condition listed in the Blue Book are automatically granted benefits. All of the well-known obstacles currently faced by profoundly disabled individuals with Migraine could be bypassed if we were to receive a listing for Migraine in the Blue Book.
As it currently stands, when they receive an application for benefits due to Migraine, SSA Disability Examiners try to apply the criteria for a similar condition that is listed in the Blue Book to make a determination on whether to award benefits for Migraine for a given applicant.
While it's certainly true there are similarities between conditions like Migraine and non-convulsive epilepsy, applying the characteristics of a different condition to Migraine creates major roadblocks that quite often lead to a lengthy, burdensome and expensive appeals process. For those who are unable to maintain employment due to living with Chronic Migraine, a better option is warranted and long overdue.
Here's the silver lining: For the first time since 1985 (29 years), the SSA is currently revising neurological disorders listed in the Blue Book. This is the perfect opportunity to raise our voices as one and insist they make this highly necessary change.
Please take action by submitting a comment to the SSA at this link: http://1.usa.gov/1gQS89a.
You must take action by Monday, April 28, 2014, for your comments to be taken into consideration in decision making about revision of the neurological disorders portion of the Blue Book. Please feel free to adapt what I've written here if it helps you compose your comment to the SSA.
Don't forget to share this blog post with others in your life who care about the status of things for Migraine patients so they can make comments, too.
This is a huge opportunity for us to make things less burdensome on ourselves and other Migraine patients who are legitimately disabled by the condition such that they're unable to hold employment. Please don't miss this chance to make your voice heard on such an important issue.
Any questions about what all this means? Please share them in the comments and I'll do my best to answer them.
This article represents the opinions, thoughts, and experiences of the author; none of this content has been paid for by any advertiser. The Migraine.com team does not recommend or endorse any products or treatments discussed herein. Learn more about how we maintain editorial integrity
here
.

Community Poll
When was your last migraine check-up?