Looking for a meal that doesn't trigger a Migraine or take a long time to prepare? Served with a salad and some fruit, this is a great light meal that is well balanced nutritionally and can be prepared in only about 15 minutes, start to finish.
Since it's prepared in just one skillet, clean-up is quick too. Tilapia is a good choice for this recipe, and it doesn't leave a fishy smell in the kitchen from cooking it.
Do you live far from the coast where grocery stores don't offer much in the way of fresh fish? No problem. I buy bags of tilapia fillets at our local Sam's Club. The fillets are individually vacuum sealed in plastic, so it's easy to keep a bag in the freezer and get out just enough for a meal.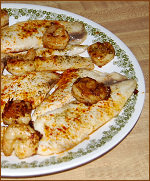 Ingredients:
Fish fillets of your choice. White fish tends to work best — tilapia, perch, etc. (Salmon and tuna don't work well and are potential trigger foods.)
Butter
Ground sage
Thyme
Paprika
Garlic powder (optional)
Directions:
In a skillet on medium heat, melt just enough butter to cover the bottom.
Place fish fillets in a single layer in the skillet.
Sprinkle on seasonings to taste.
Cook three to five minutes on each side, depending on size of fillets, or until fish is lightly browned and flakes easily with a fork.
Notes:
Cooked and peeled shrimp can be prepared the same way and are a great addition if shrimp isn't a trigger for you.
Fish fillets can be stacked on a plate and warmed a bit in the microwave or set in a warm over to be kept hot when cooking more fish than will fit in the skillet in a single layer.
In some stores, you can find "seafood and poultry" seasoning in the spices section. This works very well in place of the sage and thyme.
Live well,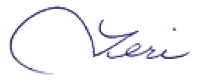 © Teri Robert, 2011