Migraine Friendly Recipes – Easy Homemade Chicken/Veggie Stock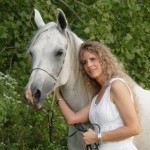 By Ellen Schnakenberg

·

September 5, 2011
This recipe is designed for storage and pre-assembled recipes. It makes about 2 -4 gallons of stock, depending on how long it is cooked.
You will need:
8 – 10 pounds of washed chicken w/ skin – no breast meat or liver. The liver is extremely high in tyramines – a major trigger for many Migraineurs. Dark meat is preferrable. If you're using a whole chicken, cut it into pieces and save back the breast meat for later. The more bones you include, the better – this is where the flavor comes from. Make sure the chicken is chicken only and not packaged with any type of "solution" or injecting, no matter how "natural" they say it is (How do I Locate Hidden MSG Triggers?) When in doubt, visit the butcher and make your request there. It may cost a few extra pennies, but you'll be using this stock for months, so it is a wise investment to be sure you're eating clean. Otherwise you may as well use bouillon or store bought stock.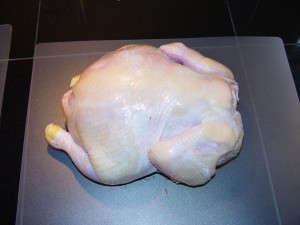 6-10 large unpeeled whole carrots, washed and sliced vertically in quarters
4 – 6 bunches washed green onions whole
1 bunch washed celery with leaves, cut in 3-4″ pieces. If no leaves, add 1 tsp celery seed instead.
1 washed green pepper, or 1/2 red, 1/2 green, sliced vertically into chunky 'fingers'
1 large handful of whole baby spinach leaves – carefully washed
1 cup corn
1 handful of washed, chunked potatoes with the skin on – optional
1 washed tomato, chunked – optional. This is a trigger food for many people, especially if it is very ripe, so only add it if you are sure tomato is not a problem for you.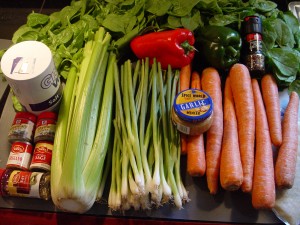 1 tsp ground oregano
2 tsp rosemary
2 tsp ground sage
2 tsp ground thyme
3 bay leaves
3 tsp salt (or to taste) don't use sea salt as it may contain hidden msg.
fresh ground pepper to taste
2 Tbs roasted garlic infused olive oil (plain is ok too)
1 tsp minced garlic (roasted or plain)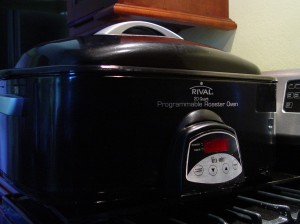 In a very large roaster (20 quart), fill 2/3rds with water. Add spices and minced garlic and heat.
While water is heating, slowly brown 2/3 of your chicken in olive oil. Normally healthy olive oil burns at low temps making it very unhealthy, so take your time. While browning the chicken, prepare veggies and place into heating water. Bigger pieces of vegetables will be easier to remove later. As the chicken is cooked, place into water and stir the mixture well. When finished browning, add the remaining olive oil/chicken fat mixture to the roaster with the chicken and vegetables. Cover.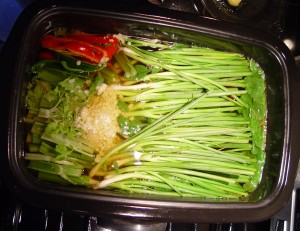 Cook mixture at 300 degrees, stirring occasionally until chicken easily falls from the bone. If you wish, you can remove some of the chicken at this time to chunk into small bits for soup or other dishes to be made later. Leave at least 2/3rds of the chicken in the mixture with the bones and skin, veggies and spices. Stir mixture until chicken pieces fall apart and meat has come off the bone. If this is difficult, cook the mixture longer. Fill the roaster with hot water until nearly full. Reduce the heat to 200 degrees.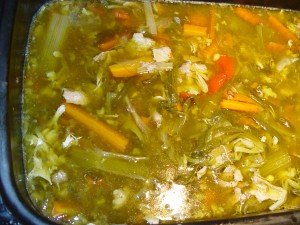 You may leave the mixture overnight at this point, so long as the roaster doesn't have an automatic shut-off. If you have removed and diced some chicken, you'll want to add enough of the broth (strained) to the diced chicken to cover it and refrigerate. (Adding the broth helps to reduce any "day old" reheated chicken flavor later)
After several hours mixing occasionally, taste the stock to see if you want to add any seasoning. I frequently add more salt, pepper and sometimes some sage or ginger. To add extra flavor, fiber and nutrients and give it extra body, remove some of the vegetables and run them through the blender until it looks like smooth baby food, then stir it to the stock. If the stock is too strong, you can add some water for a lighter, more brothy flavor. If it is too weak, take the lid off the roaster and simmer lightly, reducing the mixture until its flavor has more body and suits your taste. Remember that soup gets better (and stronger!) the longer it is left on the stove.
When the stock has a tasty, fairly strong flavor, you can strain it through cheese cloth or a strainer, then cool it and package it in pre-labeled zipper type freezer bags for freezing. Don't forget to date the package.
If you are going to use the stock in frozen dump recipes, now is the time to add your other ingredients, then freeze them all together.
Stock can be frozen in any amount. I store mine in zipper type freezer bags with the air removed. Frozen flat, they can be stored neatly like a deck of cards for many, many months.
To thaw, place the frozen bag into a warm water bath with the top up and out of the water. When the correct amount has thawed, open the bag and pour it into your bowl or pot and add your other ingredients. Any remainder may be refrozen (don't forget to remove the air!) for the next time you need it.
Note: Many other types of vegetables and spices can be used in this recipe. In the old days, cooks used whatever veggies were leftover from the previous week, or were in season. Cooks would sometimes save the bones and leftover meat from a roast chicken meal and freeze them until there was enough to make a batch of stock – just be sure the chicken was safely cooked with no Migraine trigger seasonings etc. Additionally, the remaining bones and meat from your first batch of stock can be used immediately again with 1/4 -1/2 the amount of new veggies and water to make even more stock. Just repeat the applicable steps above. I have routinely made 5 gallons of stock from this recipe using 10 pounds of chicken. This is usually enough to last a hungry family several months.
Ready for some Migraine friendly recipes using your chicken/veggie stock? Stay tuned!
Got some Migraine friendly recipe ideas that include this stock? PLEASE share them here or send us a note at contact@health-union.com (Subject Line: Recipes)!
This article represents the opinions, thoughts, and experiences of the author; none of this content has been paid for by any advertiser. The Migraine.com team does not recommend or endorse any products or treatments discussed herein. Learn more about how we maintain editorial integrity here.