Migraine Research: Do you have a dog? - Deadline extended!
Based on the overwhelming response from our community, we've extended the deadline to January 31st! Thanks to everyone who already participated in this study, we look forward to sharing results.
Do you get migraines? Do you live with a dog? Then we're looking for YOU to help out with an online survey Migraine.com is conducting with the University of Pittsburgh asking about your migraines and your dog.
The survey is completely anonymous and should take approximately 15 minutes to complete. You will be asked to answer questions about your background (age and migraine frequency) and questions about your dog.
Click on the image below or the following link to participate: http://www.surveymonkey.com/s/migrainedogstudy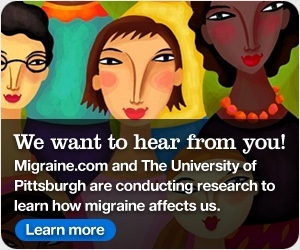 Community Poll
When was your last migraine check-up?