Migraine Spell - Harry Potter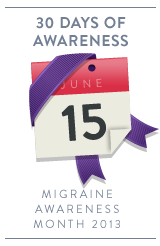 The prompt / topic for day 15 of the Migraine and Headache Awareness Month Blog Challenge is: Harry Potter: Write & name a spell for getting rid of a Migraine/Headache attack.
This one looks like great fun to me. No matter that the Harry Potter books were intended for children and young adolescents; I loved them all - and the movies! So, let me take a crack at a spell. The spells in Harry Potter always sound as if they're in Latin, so there's some Latin here, but don't hold me to it all being in Latin or translating correctly!
Migrainium et Capitis Dolores NuncRemoveatur
phonophobium, photophobium...
Eliminare!
malum abdominum et allodynium
Eliminare!
cephalgium ad nauseum...
caecus maculis et liquescit naribus...
omnes signa...
Nunc recesserimus - numquamne reverti!
Eliminare! Eliminare! Eliminare! Numquamne reverti!
If only it were that easy! We all know, however, that it's not. So, until I find a map to Hogwart's, I'll have to depend on Muggle remedies when a Migraine strikes. For me, that means Zomig to try to abort the Migraine, something for nausea, and my dear sweet comfort measures - cold packs, peppermint tea, my aromatherapy blends, dark and quiet.
Want to try your hand at a spell, just for fun? Post it in a comment below!
This article represents the opinions, thoughts, and experiences of the author; none of this content has been paid for by any advertiser. The Migraine.com team does not recommend or endorse any products or treatments discussed herein. Learn more about how we maintain editorial integrity
here
.

Community Poll
When was your last migraine check-up?