Expert Answer: White Matter Lesions Related to Migraine
A vitally important question often asked by people who have Migraines is whether Migraines damage our brains. The answer is that scientists aren't really sure what long-term impact Migraine disease has on the brain. There needs to be more research into this issue.
We do know that Migraines can cause white matter lesions, also called white matter hyperintensities (WMH), to form on the brain. White matter is the whitish part of the brain that is made up of cells called axons. Axons facilitate nerve communication. White matter hyperintensities are sections of the white matter that appear as brighter white patches on the white matter on MRIs. They're small infarcts (areas of tissue that undergoes tissue death due to cessation of the blood supply) and indicate damage to the axons.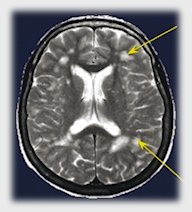 WMHs can have causes other than Migraine. They can be due to age or conditions such as multiple sclerosis and Alzheimer's Disease.
There have now been several studies on Migraine and WMHs, and they're produced some interesting information:
"White matter lesions and posterior circulation strokes were more likely to occur in persons with migraine, particularly migraine with aura and in individuals with high attack frequency."

1

Analysis of data from 186 patients with Migraine showed significant associations between the presence of WMHs and longer disease duration and higher Migraine frequency.

3

One study used MRI to evaluate changes in the WMHs in participants with Migraine with aura. The
participants were followed over a period of nearly three years and evaluated for cerebrovascular risk
factors. White matter lesions were present in 63.4% of the patients on scans performed at the beginning of the study. At follow up, 19.5% of the participants exhibited new lesions. Researchers found a significant correlation between aura duration and the number of new white matter lesions and between the number of migraine attacks with aura and new white matter lesions. This indicated that in Migraine with aura, the number of abnormalities in white matter may progress over time and suggests an association between aura features and the progression of WMHs.

3

"WMHs can be the consequence of a microvascular ischemic (related to interruption of blood flow) disturbance in Migraine."

4
At this point, it seems that the impact of WMHs for Migraineurs isn't as serious a matter as the definition of WMH sounds. So far, studies are finding WMHs to be subclincial, meaning that they don't cause any symptoms.
Wrapping it up:
Let's distill this information into some simpler points about Migraine and WMHs:
People with Migraine, particularly Migraine with aura, are more likely to develop WMHs.
WMHs are more likely when we have Migraine disease for a longer period of time and when our Migraines are more frequent.
There is also a correlation between WMHs and the length of the Migraine aura.
There seems to be a connection between aura and the progression of WMHs.
WMHs can occur as a result of disturbances in the blood flow in the areas of the brain where they occur.
To date, research has not found that WMHs cause any symptoms.
Although WMHs haven't been shown to cause any symptoms, it stands to reason that these small areas of dead tissue aren't healthy, and we should take any steps we can to minimize their occurrence. Given their tie to the frequency of Migraines and the length of Migraine aura, it's logical to work with our doctors to prevent as many Migraines as possible and to stop our Migraines as early in the attacks as possible.
____________
Resources:

1 Lipton, Richard B., MD; Bigal, Marcelo E., MD, PhD." Ten Lessons on the Epidemiology of Migraine. Headache 2007;47 [Suppl 1]:S2-S9. • 2 Lakhan, Shaheen E., MD, PhD, MEd, MS; Avramut, Mihela, MD, PhD; Tepper, Stewart J., MD. "Structural and Functional Neuroimaging in Migraine: Insights from 3 Decades of Research. Headache 2013;53:46-6. • 3 Kruit, MarkC.; Launer, Lenore J.; Ferrari, Michel D.; van Buchem, Mark A. "Brain Stem and Cerebellar Hyperintense Lesions in Migraine. Stroke. 2006;37:1109-1112. • 4 Aradi, Mihaláy, MD; Schwarcz, Atilla, MD, PhD; Perlaki, Gábor; Orsi, Gergely, PhD; Kovács, Norbert, MD, PhD; Trauninger, Anita, MD, PhD; Kamson, David Olayinka, MD; Erdély-Bótor MD; Nagy, Ferenc, MD; PhD; Nagy, Szilvia Annet; Dóczi, Tamás, MD PhD; Komoly, Sámuel, MD, PhD; Pfund, Zoltán, MD, PhD. "Quantitative MRI Studies of Chronic Brain White Matter Hyperintensities in Migraine Patients." Headache. Article first published online : 26 DEC 2012, DOI: 10.1111/head.12013 • 5U. C. Davis Medical Center. "White Matter Matters." Science Today. October 23, 2007. • Photo: National Institutes of Health.
This article represents the opinions, thoughts, and experiences of the author; none of this content has been paid for by any advertiser. The Migraine.com team does not recommend or endorse any products or treatments discussed herein. Learn more about how we maintain editorial integrity
here
.

Community Poll
When was your last migraine check-up?