Despite Migraines – A Breathtaking and Needed Vacation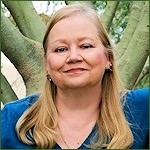 By Teri-Robert

·

September 26, 2013
Has concern about Migraines, cluster headaches, or other headache disorders prevented you from taking or even planning vacations?
Although Migraines weren't my only reason for not having taken a true, get-away-from-it-all vacation for many, many years, they've certainly been a primary consideration. Those of you who know me may remember that my Migraines have gone from episodic to chronic and back, more than once. Last November, I had 25 days of Migraines and headaches – definitely chronic Migraine.
It was heart-breaking that the preventive regimen that had kept my Migraines down to about one a month had failed because of changes to it that had to be made due to other health issues. I sat in my Migraine specialist's office one day and cried, telling him that I couldn't go back to living like that again. Being chronic again had made me upset, frightened, and royally ticked off at Migraine disease. On the plus side, being ticked off usually makes me more proactive, which is really good.
This year, friends strongly encouraged me to take a real vacation, by which they meant going away somewhere and staying away from the Internet, work, and my telephones. One even bet me $50 that I couldn't do it for a week. Hah! He owes me $50. Not only did I manage it for a week, I managed it for a full nine days. The laptop that went with me was used only to look at the photos I'd been taking on my digital cameras. My iPhone was taken out each evening to call home and check in and to set the clock to get up the next morning. In the morning, the phone was turned off and put in the safe for the day.
This vacation was a first – my first cruise, the first time I'd traveled outside the United States, and the first time I'd gone snorkeling. It was a seven-day cruise to the Bahamas. Planning ahead, Migraine trigger management, and Botox are the three things I most credit for this vacation going so well…
Planning ahead:
Planning ahead included:
Listing all of my medications – prescriptions, supplements, and over-the-counter medications – and comfort items that I'd need or want.
Checking to see that I had an adequate supply of all of my medications and comfort items (aromatherapy and cold packs).
Asking my Migraine specialist about motion sickness medications when I saw him. He prescribed scopolamine patches.
Getting fragrance-free sunscreen products.
Getting a passport.
Making a check list of absolutely everything I needed or wanted to take with me.
Trigger management:
Travel can include trigger issues for me…
Dehydration can be an issue when I'm not home and on my regular schedule, so I was careful to stay well hydrated.
Bright sunlight and other bright lights are not my friend, so I made sure I had my dark sunglasses and my Axon Optics Migraine glasses with me – and a straw hat with a huge brim to keep sun off my face and neck.
Being out in the heat is also an issue. The straw hat helped. It also helped that this trip was in September, late enough in the year that the summer temperatures were on the way down. Shade and dips in the pool and ocean also helped prevent becoming too hot and the Migraines that could have resulted.
Botox:
Botox treatments have gone a long way in reducing both the frequency and severity of my Migraines. An added benefit is that it's reduced my photophobia even between Migraines.
All in all:
It was a great nine-day vacation with only two Migraines, probably no more than I would have had at home. Zomig did its job and aborted those two Migraines. There was far less nausea than usual with these two Migraines, probably an added benefit of the scopolamine patches I wore for seasickness. I took my own advice about travel with Migraines, and it paid off. If you're planning to travel, take a look at 10 Tips for Migraines and Travel. Hopefully, some of those tips can pay off for you too.
Truly getting away from everything was very good for me, and I need to keep that in mind and do it more often. Cruises are far less expensive than I'd have ever dreamed. The cruise ticket included everything but alcohol and soda when on the ship. It broke down to just a bit over $100 per day. You can't book a good hotel for that, let alone have all the extras that came with the cruise:
The dining room was open for all meals.
The lido deck had a sort of food court with buffet lines of different types of food. Food was available there most of the day until about 10:00 p.m. The pizza spot there was open 24 hours a day. Want a pizza? They'd make you one however you wanted it.
There was 24-hour room service, and there were no extra charges for room service.
Beach towels were provided to take with us on shore excursions.
The cabin stewards were great. Need something? Just pick up the phone and call the steward.
Anyway, this isn't a commercial for cruises. I was just amazed by it. Going to three port cities was so much easier. No changing hotels, no driving or flying between them. It was like a hotel on water, and the ocean was beautiful and calming.
Do you have vacation experiences or suggestions to share? Please leave us a comment so we can talk about them!
This article represents the opinions, thoughts, and experiences of the author; none of this content has been paid for by any advertiser. The Migraine.com team does not recommend or endorse any products or treatments discussed herein. Learn more about how we maintain editorial integrity here.