Mission Impossible: Children & Chronic Migraine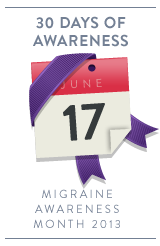 Today's 2013 Migraine & Headache Awareness Month Blog Challenge prompt is: Mission Impossible.
At this point in my life and my journey with Chronic Migraine, starting a family with my husband feels like Mission Impossible. As much as we want kids, the idea also seems crazy. Some days I feel like I can barely take care of myself. How in the world would I care for a child?
On the other hand, I've lost so much in my life that mattered a great deal to me due to Chronic Migraine. I'm unwilling to give up the idea of becoming a mother without a fight.
I've done all the background work to be as prepared as possible health wise. I have a great ob/gyn. She sent me for a consultation with a perinatologist (an ob/gyn with special expertise in maternal/fetal medicine). He looked over all my medications and treatments and helped us determine what I can and cannot stay on.
While we are trying to conceive I'm not trying any new medications for prevention because those I haven't already tried wouldn't be safe for a growing fetus.
If we're lucky enough to get pregnant, I have absolutely no doubt I'll be terrified when we get the news. But doesn't everyone feel that way to a certain extent? Having kids is a big deal. It's completely life changing. If you're not at least a little bit afraid of what it will be like you're probably not being realistic about what you should expect.
What feels like Mission Impossible in your life given the constraints of Migraine and Headache Disorders?
Learn more about the MHAM Blog Challenge and other MHAM events by visiting:
June, Migraine and Headache Awareness Month, is dedicated to Unmasking the Mystery of Chronic Headache Disorders. The Migraine and Headache Awareness Month Blog Challenge is issued by FightingHeadacheDisorders.com.
This article represents the opinions, thoughts, and experiences of the author; none of this content has been paid for by any advertiser. The Migraine.com team does not recommend or endorse any products or treatments discussed herein. Learn more about how we maintain editorial integrity
here
.

Community Poll
When was your last migraine check-up?