My Migraine Care Team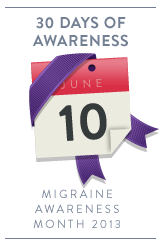 Today's prompt for the 2013 Migraine & Headache Awareness Month Blog Challenge is: Ocean's Eleven: Who's part of your Migraine/Headache Disorders care team? What essential roles still need to be filled?
My Migraine care team is pretty good in its current form. When I hear about what other patients are dealing with, I always feel incredibly lucky. Still, there are some holes on the team roster that I'd love to be able to fill someday.
Current team members
Primary care physician: I've been seeing my PCP about 14 years. She's seen my entire journey with episodic and chronic Migraine. Her support, assistance and willingness to learn more about my condition to help me get better care have been essential.
Psychotherapist: Like many people, I had trouble finding the right fit the first four or five times I saw therapists to get help coping with my situation and my increasingly debilitating depression. But I finally found the right fit and that relationship has helped me enormously in this journey.
Local neurologist: My local neurologist is not a Headache Disorders Specialist. That being said, he's done research to try to find appropriate options for me to try for prevention. He referred me to the local pain management clinic so that my PCP didn't need to keep prescribing my rescue medications. Perhaps more importantly, or at least reassuringly, he has a relationship with the local hospital. This means that if I need IV therapy to break an intractable Migraine attack during hospital business hours, he can get me an appointment at their infusion center. If it's after hours and I need to get care at the emergency room, being his patient facilitates that process. Though I must admit they're wonderful there regardless.
Pain clinic: Since I have yet to respond in any form or fashion to a preventive therapy, I receive treatment from a pain management clinic for a daily pain medication. Using pain medication this way for Migraine patients is incredibly controversial. But the benefits have outweighed the risks so far in my specific situation. They also prescribe my rescue medication. I hate the process of being treated in this setting, but I'm glad my PCP no longer needs to bear the responsibility of prescribing my rescue meds.
The missing element
I used to see a Headache Disorders specialist in another state. It was a wonderful experience and I have no regrets about having made that choice of doctor. Quite the contrary, actually. Although that clinic was not able to help reduce the frequency of my Migraines, they gave me my hope back and treated me with respect.
But I stopped going to that clinic to two main reasons:
(1) My husband & I are trying to have a baby, so I am not trying any new preventive therapies for the foreseeable future. It wouldn't be safe if we are successful in conceiving.
(2) They stopped taking Medicare.
So at some point I'll need to reevaluate my lack of relationship with a Headache Disorders specialist and do something about that. My dream would be for someone to come into my local area with the appropriate knowledge to treat me. But I'm not holding my breath.
What does your Migraine care team look like? Who is missing? Please share in the comments.
Learn more about the 2013 MHAM Blog Challenge and other MHAM events by visiting: 2013 Migraine & Headache Awareness Month Information Page
June, Migraine and Headache Awareness Month, is dedicated to Unmasking the Mystery of Chronic Headache Disorders. The Migraine and Headache Awareness Month Blog Challenge is issued by FightingHeadacheDisorders.com
This article represents the opinions, thoughts, and experiences of the author; none of this content has been paid for by any advertiser. The Migraine.com team does not recommend or endorse any products or treatments discussed herein. Learn more about how we maintain editorial integrity
here
.

Community Poll
Do you prefer reading stories from others with migraine or informational content on our site?