What is Migraine? Too many people don't know what a Migraine is or that Migraine is really a disease. June is National Migraine Awareness Month (NMAW), sponsored by the National Headache Foundation. The goal of this year's campaign, More Than Just a Headache, is educating the public on the personal and societal costs of Migraine while providing resources for the 37 million American Migraineurs and their families.
Serene Branson, the CBS reporter whose on-air episode of Migraine-induced aphasia while reporting the Grammy Awards attracted a great deal of attention, has partnered with the National Headache Foundation to help raise awareness and is speaking candidly and passionately about her own Migraines and increased awareness. For more about Serene and her involvement, see An Interview with Migraine Advocate Serene Branson
Consider these facts:
Every day approximately 430,000 people are unable to work due to Migraines, equaling about 157 million workdays lost annually.
Nine out of 10 migraine sufferers report they can't "function normally" during days in which a migraine strikes, and nearly three in 10 require bed rest.
Industry loses $31 billion per year due to absenteeism, lost productivity and medical expenses associated to this neurological disorder.
According to a World Health Organization analysis, migraine alone is responsible for at least one percent of the total US medical disability burden, and severe migraine attacks are as disabling as quadriplegia.
Migraine is the 12th most disabling disorder in the US.
The stigma that remains attached to Migraine is so strong that participants in a study about Migraine and stigma scored higher on the Stigma Scale for Chronic Illness than a mixed panel of patients with chronic neurologic diseases – stroke, epilepsy, multiple sclerosis, Alzheimer's, ALS and Parkinson's disease.
Helping ourselves:
All of us who have Migraines or care about someone who does have a vested interest in Migraine awareness. Increased awareness and reduced burden and stigma would improve our lives significantly. Sometimes, it seems as if one person can't possibly make a difference, but we can. Here are some things we can do on a daily basis:
Don't call a Migraine a "headache." Call it what it is, a Migraine or "Migraine attack."
When you encounter people who don't understand, take a few minutes to explain to them that Migraine is "More Than Just a Headache," that's it's a genetic neurological disease that has many implications for us, including increased risk of stroke. Then refer them to resources for sound information such as Migraine.com.
Reach out to other Migraineurs who need help. Let them know they're not alone and encourage them to find a good doctor to work with so they get the help they deserve.
This month:
In addition to the suggestions above, take a minute to go to the NHF site and share your "Migraine Moment." While you're there, check out the information on their regional conferences, and consider becoming a member of the NHF. Just visit their NMAW page.
Migraine is absolutely More Than Just a Headache. During National Migraine Awareness Month, let's make a special effort to share that face with others and raise awareness of Migraine and its impact.
Live well,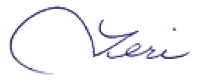 © Teri Robert, 2011