The newbie's guide to Migraine.com
Migraine.com is a pretty big website. It's easy to get lost and overwhelmed when searching for information.  So I'd like to give you a brief tour.  Bookmark or print this page and keep it close by for handy reference until you familiarize yourself with the site. When you first visit the home page, you will see a dark blue bar near the top of the page. This is our navigation bar and it can help you find what you are looking for.
---
Migraine Basics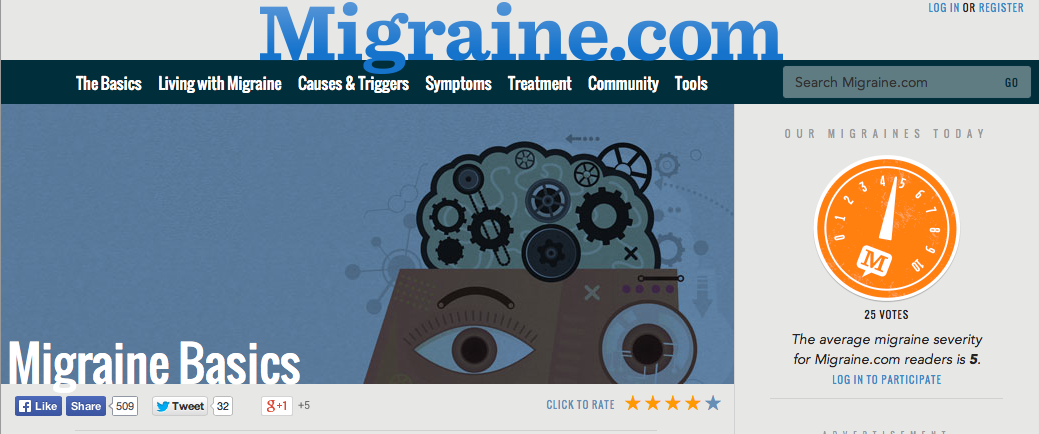 To start with, you can learn more about the basics of migraine by clicking on "The Basics". Here you will find a definition of migraine, statistics about migraine, the results of our Migraine in America studies, descriptions of various types of migraine, a description of the phases of migraine, and an explanation of how migraine is diagnosed.
---
Living with Migraine
Want some practical tips on day-to-day coping? Click on "Living with Migraine" to discover how to get help. Learn more about the genetics of migraine, the unique impact of migraine on women, children, and teens, and the link between mental health and migraine. Review the latest research and even find out more about insurance and disability.
---
Migraine Causes and Triggers
While there is no known cause of migraine, there are several factors that contribute to the development of migraine. Learn more about these factors by clicking on "Causes & Triggers". Discover more about potential triggers that can set off an attack, too.
---
Migraine Symptoms
Wondering if what you experience is actually a symptom of migraine? Click on "Symptoms" to discover our comprehensive listing and description of a wide variety of symptoms. We get it -- migraine isn't "just a headache" – and we back it up with detailed descriptions of proven migraine symptoms.
---
Migraine Treatment
Stuck on treatment options? Not sure what else to try? Click on "Treatment" to discover the many prescription, over-the-counter, and natural remedies available to treat migraine. We even have tips on the relative effectiveness of various treatments.
---
Migraine Community & Articles
When you click on "Community" you will find opportunities to read other patients' migraine stories and tell your own story. You can also search our extensive database of articles and meet our Patient Advocates and Physician Experts. To ask a question or get support, feel free to join our Forums, too. While you are here, please review our Community Rules, too.
---
Registration
Participation in our forum requires you to create an account. It's fast, easy, and free to register. Simply click on the "Register" link at the top right of any page. Complete the form and submit.  The next time you visit, just click the "Login" link at the top right of the page. It's okay if you forget. Our system will remind you if you need to login to access some of our features.
---
Forums
When accessing our Forums, you will find that the opening page is a listing of all the available forums. Feel free to browse all the listings. You may view the forum without registering. Once you decide to post a comment or question, you will need to complete the Registration form.
---
Site Search
When all else fails, try doing a search. At the top right of each page, there is a search box. Just enter the term you are looking for and watch for the results.
---
Search Results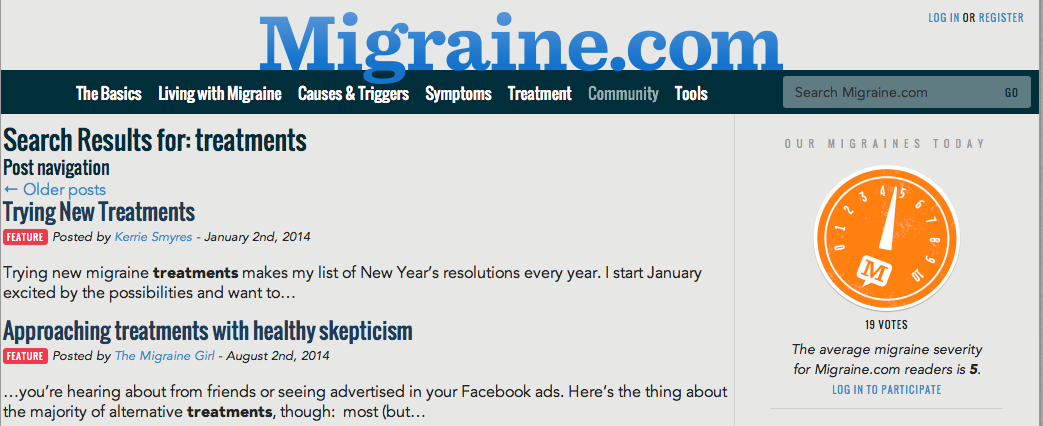 When the page reloads, you will find a list of results ordered by date, from most recent to oldest. Take your time reviewing the results. You may have to expand or narrow your search results to get just the right information. Many times there is more than one page, so make sure to click on the "Older posts" link at the bottom left of the page.
---
Subscribe

Don't forget to Subscribe to our weekly email newsletter to receive updates on our latest publications. Simply enter your email address and click the "Susbscribe" button at the bottom of any page.
---
This article represents the opinions, thoughts, and experiences of the author; none of this content has been paid for by any advertiser. The Migraine.com team does not recommend or endorse any products or treatments discussed herein. Learn more about how we maintain editorial integrity
here
.

Community Poll
When was your last migraine check-up?