Panama week 1
As some of you know, I went to Central America for a couple of weeks; I got back this past Saturday. Before getting there, I looked up reviews on our hotel on TripAdvisor.com and was alarmed to note that customers had problems with the service, the mold, the humidity, and the dirtiness of the hotel. Great. Before leaving for Panama City, I emailed the hotel and requested a clean, dry room with incandescent bulbs. Got no response.
Oh, the room was even worse than I'd expected! The pages of the novel I brought were wrinkly within fifteen minutes of my taking it out of my bag--that's how humid the room was. I asked for incandescent light bulbs at the front desk TWICE. I'd understand if they didn't have any, but what I didn't understand was the fact that there was utterly no response to my request. Nothing. No "I'm sorry, we don't have them," or "We'll see what we can do." Nothing. My friend/roommate/coworker was in the midst of a horrific sinus infection, so the humid and dirty room made her sick, too. The hotel problems go on and on, my friends. On and on. The second night onward we stayed in another hotel (as arranged by our very understanding boss).
The entire first week of the Panama trip had us in a conference room for up to eight hours a day looking at a projected Power Point presentation talking about editing. The sessions were informative but tedious. My coworkers were kind enough to turn off the fluorescent lights much of the time, but sitting in a desk chair looking at, in essence, a gigantic flickering computer screen on a white wall helped intensify my Migraine. Combine those workplace triggers with stress, daily thunderstorms (shifts in barometric pressure), having my period, having stayed in a mold-infested room, and really loud construction & traffic noises whenever I stepped out doors and you have a week-long Migraine attack! Ugh.
Most days I was run-down but felt better with my triptan therapy. Once I ran out of chances to take my Maxalt, I had to drug up with Lortab and hope for the best. Wednesday we left the workshop around 3:30 to take a city tour. The tour guide was a Panamanian coworker who is, indeed, a professional tour guide. Too bad I felt HORRIFIC and ended up with my head between my legs in the back of the van for the last hour of the trip. My roommate (who's also one of my very best friends) guided me up to the hotel room.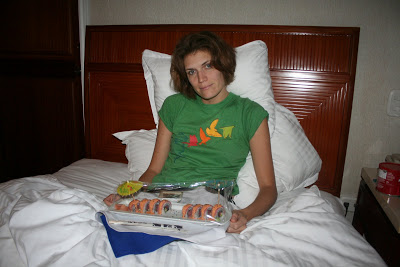 Here's a photo of me after receiving my food tray in bed. Look how nicely the chef arranged and packed the sushi for transit after hearing that the diner was ill! (In the photo, I am making an extra-sick face for show. All the same, you can see how pale I am--it's rare that I see photos of myself taken during a migraine attack. I think they're kind of scary.
This article represents the opinions, thoughts, and experiences of the author; none of this content has been paid for by any advertiser. The Migraine.com team does not recommend or endorse any products or treatments discussed herein. Learn more about how we maintain editorial integrity
here
.

Community Poll
When was your last migraine check-up?