Rhinitis Common Among Migraine Patients
Research about the association between rhinitis and Migraine was recently presented at the 2013 American Headache Society Scottsdale Headache Symposium by Dawn C. Buse, a researcher and psychologist who practices behavioral medicine.
Clinic-based studies had suggested rhinitis is associated with high Migraine attack frequency and severity. Therefore, researchers wanted to utilize the 2008 patient survey for the ongoing, groundbreaking American Migraine Prevalence and Prevention (AMPP) Study to ask about rhinitis status to learn more about the possible connection between rhinitis and Migraine attack frequency and severity.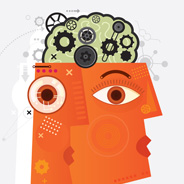 An explanation of the definition of rhinitis used in this study is extremely important for understanding the research. Patients participating in the AMPP Study survey were considered to be living with rhinitis if they answered "yes" to both of these questions:
1. Do you have nasal allergies, seasonal allergies or hayfever?
2. Do you have more than two rhinitis symptoms: Runny nose, stuffy nose, sneezing, itchy nose or post nasal drip?
Through analysis of survey participant responses, researchers learned 67% of patients experience both rhinitis and Migraine. Patients living with mixed rhinitis (a combination of allergic and non-allergic) and Migraine were more likely to be living with chronic Migraine (15 or more days per month of headache) and to experience more attack-related disability in all areas of their lives.
"An attack of either of these conditions can be debilitating on its own and together they are even more impairing," said Buse, PhD, Associate Professor, Albert Einstein College of Medicine, and Director of Behavioral Medicine at the Montefiore Headache Center in Bronx, NY.
"People who experience either of these conditions should talk with their doctor to design a personalized, optimal treatment plan for each condition. This may include acute and preventive medications as well as behavioral interventions, such as relaxation exercises and trigger avoidance."
Buse also suggests that even patients who live with rhinitis and Migraine but experience infrequent attacks speak with their doctors to determine which treatments can help reduce impairment and discomfort.
Researchers believe the finding that patients with mixed rhinitis were more likely to live with chronic Migraine and to experience greater attack-related disability may suggest these patients live with a more severe version of Migraine Disease than some other Migraine patients.
Although the ability to determine any cause and effect relationship is beyond the scope of this study, researchers believe rhinitis might decrease a patient's threshold for Migraine attacks due to inflammation or other phenomena that have been linked with Migraine by researchers.
This article represents the opinions, thoughts, and experiences of the author; none of this content has been paid for by any advertiser. The Migraine.com team does not recommend or endorse any products or treatments discussed herein. Learn more about how we maintain editorial integrity
here
.

Community Poll
When was your last migraine check-up?