Still Life: Chronic Migraine in pictures
Rachael Jablo got her first camera at age 6 and her first migraine at age 15. Since receiving her MFA in Photography and New Genres from the San Francisco Art Institute in 2003, she has exhibited solo and group shows across the country. Her first book, My days of losing words, documents her experience with chronic migraine. Help Rachael publish My days of losing words, by supporting the Kickstarter campaign
I've been dealing with chronic migraine since high school, but wasn't diagnosed until 2008. Most of the time, I was "lucky" and the headaches would only last a few weeks at a time, but in 2006, one started that lasted four and a half months, which terrified me, and then in the beginning of June 2008 another started that is still ongoing. That's when I finally got diagnosed and started seeking treatment.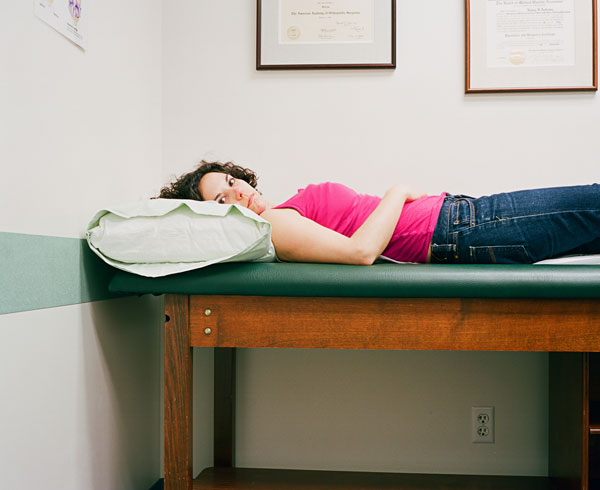 About nine months into this headache, after a failed hospital treatment, I came to accept that this headache probably wasn't going anywhere anytime soon and my photographic work was going to have to change. I had been a landscape and urban landscape photographer before then, and in fact was about to open my first solo show in San Francisco at the time (a major feat for someone so ill!). I knew that I wasn't about to give up shooting altogether, so I figured I'd make lemonade out of the lemons I was given, and make art out of my illness. Often the only time I was leaving the house was to go to see my doctors, so those were the two places I started shooting.
At the same time, I was put on a new daily medication that brought my pain level down, but made me forget words. This was a horrible irony for me, as one of the symptoms I had of migraine had been that I couldn't speak- the thoughts would be there but the synapses between my mouth and brain were fried. So to be able to speak but lose my vocabulary was heartbreaking to me. I started keeping a list of lost words, and was using that as the basis for my photographs. The images were like visual mnemonics for me, using the words as one-word titles. This became the basis for the series, My days of losing words. Eventually, I realized that the still life and medical imagery wasn't enough, so I began photographing myself, when I was in pain and later on, as I began to heal, and that rounded out the work.

Right now, I'm in a really good place, and you can see it in the work. In the earliest photographs, they're shot super tight, with the tunnel vision that comes with the extreme pain of migraine. There's no natural light in those early images. As I started to heal, the images naturally started to open up, and light started to come in.
The exciting news is that I'm working with a German publisher, Kehrer Verlag, and a book of My days of losing words will be coming out at the end of the year. A curator with chronic migraine, Robert Wuilfe (www.RobertWuilfe.com) will be writing an introduction about the artwork, and Dawn Buse, a researcher in chronic migraine, will be contributing an essay. Because we want the book to be accessible to as many people as possible, it will be released at a lower price point than normal art books. It's important to me that this not stay in the rarified art world. This is my first book, and to have it be about something so personal, and yet so much bigger than me means a lot to me. There are a lot of us with chronic migraine in the world, but we're invisible. We're hidden indoors, and we have "just a headache" and so our pain is often ignored. It's not taken as seriously as a lot of other ailments- by people around us, but also by organizations that fund research, for example. It's not a "sexy" disorder that brings in a ton of money, and we suffer for it.

This is, as far as I know, the first photo book about chronic migraine. I'm hoping I can reach as many people as possible.
This article represents the opinions, thoughts, and experiences of the author; none of this content has been paid for by any advertiser. The Migraine.com team does not recommend or endorse any products or treatments discussed herein. Learn more about how we maintain editorial integrity
here
.

Community Poll
Do you prefer reading stories from others with migraine or informational content on our site?