Top 10 Myths About Migraine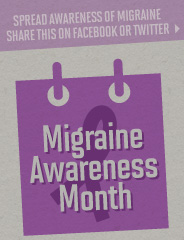 We've said this about Migraines before, and we'll say it again — Myths and misconceptions still abound. And those myths and misconceptions cause us a great deal of trouble. They perpetuate themselves and feed the stigma associated with Migraines.
Let's take a look at some of the most prevalent Migraine myths and the corresponding truths. Let's arm ourselves with the truth so that when we hear these myths, we can do some myth busting.
Myth #1: A Migraine is just a bad headache.
Truth: Migraine is a neurological disease characterized by flare-ups most commonly called simply, "Migraines," or "Migraine attacks." The headache, when there is one, is only one of many possible symptoms of a Migraine attack. Migraine attacks can and do sometimes occur with no headache at all. When this occurs, they're described as "silent" or "acephalgic Migraines." There are four possible phases of a Migraine attack, and many possible symptoms. In fact, for a diagnosis of Migraine, there must be symptoms other than headache.
Myth #2

: Migraines don't last for days, and nobody has a Migraine every day.
Truth: The "typical" Migraine lasts from four to 72 hours, but Migraines can last longer. They sometimes last days, weeks, or even months. When they last longer than 72 hours, we need to contact our doctors. Unfortunately, some people do have Migraines nearly daily and even daily. Chronic Migraine (CM) is all too real. By definition, CM is having Migraines or tension-type headaches 15 or more days per month. The reality is that many people with CM have a Migraine or headache every day. Although the symptoms and pain levels of CM are similar to those of episodic Migraine (less than 15 days per month), studies have shown that the frequency of the Migraines dramatically increases the burden and causes CM to have significantly higher impact than episodic Migraine. Other studies have shown that the stigma associated with CM is also higher.
Myth #3: Migraines aren't life-threatening, just annoying.
Truth: Although a Migraine itself may not be life-threatening, complications of Migraines and risk factors associated with Migraine can be. Studies have confirmed a link between Migraine and stroke and other cardiovascular diseases and events. Studies have also confirmed a link between Migraine and suicide. There is much that could be written on this topic, but consider just these two statistics.

"Greater than 1,400 more U.S. women with Migraine with aura die annually from cardiovascular diseases compared to women who do not have Migraine."4
"Based on a sample of Americans, suicide attempts are three times more likely in individuals with Migraine with aura compared to those with no Migraine, whether or not major depression is also present."4
Myth #4

: Any doctor will recognize and properly treat Migraine.
Truth: Mainly due to a lack of adequate physician education, this is definitely a myth. It's also a misconception that all neurologists are Migraine specialists. They're not; nor are all Migraine specialists neurologists.

In a 2011 report, the World Health Organization stated, "Lack of knowledge among health-care providers is the principal clinical barrier to effective headache (including Migraine) management." This same report revealed that non-specialist physician undergraduate medical training included just four hours about headache and Migraine; specialist (neurologist) training included 10 hours.5
Myth #5

: Only women have Migraines.
Truth: Women and men both have Migraines: 18% of women and 6 to 8% of men.
Myth #6

: Only adults have Migraines.
Truth: People of all ages have Migraines. Some children have Migraines while very young, before they're even old enough to tell anyone what's wrong. With children that young, diagnosis is achieved by reviewing family medical history and observing the child's behavior.
Myth #7

: If you don't have auras, you don't have Migraines.
Truth: Only 25 to 30% of Migraineurs have Migraine with aura, and few of them have aura with every Migraine attack. Most people who have Migraine with aura also have Migraine without aura.
Myth #8

: People who get Migraines are intelligent, highly-achieving, high-strung people with a "Migraine personality."
Truth: At one time, there was a theory that there was a set of "personality features and reactions dominant in individuals with migraine" that included "Feelings of insecurity with tension manifested as inflexibility, conscientiousness, meticulousness, perfectionism, and resentment" that became referred to as the "Migraine personality."6

These "notions regarding the generalizability of the migraine personality have not withstood the test of time; in fact, current research suggests that there is no one dominant personality profile among those with migraine."6
Myth #9

: There's nothing that can be done about Migraines. We have to "just live with them."
Truth: This is far from the truth. Although there is no cure for Migraine disease at this time, we do not have to "just live with them." With the help of a doctor who truly understand the disease, we can work on trigger identification and management and treatments toward effective Migraine management. There are many options for Migraine prevention, more than ever before. There is a small percentage of Migraineurs, approximately 5%, with chronic and intractable (Migraines that don't respond to medications) Migraines who continue to struggle, even with these options. The need for increased awareness and research funding on a federal level is largely responsible for the lack of progress in this area.
Myth #10

: A Migraine is a Migraine is a Migraine. They're all alike.
Truth: To begin with, there are several different types of Migraine. The two main types are Migraine with aura and Migraine without aura. Then there are subtypes of Migraine with aura: basilar-type Migraine, sporadic and familial hemiplegic Migraine, There's also retinal Migraine; abdominal Migraine; complications of Migraine such as chronic Migraine, and more.

On top of that, one person's Migraines can be dramatically different from another's and even one person's Migraines can vary from one to the next.
What other myths about Migraines have you heard? Please post a comment and share them with us.
This article represents the opinions, thoughts, and experiences of the author; none of this content has been paid for by any advertiser. The Migraine.com team does not recommend or endorse any products or treatments discussed herein. Learn more about how we maintain editorial integrity
here
.

Community Poll
Can you tell when a migraine attack is coming?