True Migraine Confessions: June 2012 Headache & Migraine Disease Blog Carnival
Welcome to the June 2012 edition of the monthly Headache & Migraine Disease Blog Carnival. I'm thrilled to have the opportunity to bring you the Headache Carnival here on Migraine.com so many new people can learn about this project and benefit from the experiences of other migraine patients.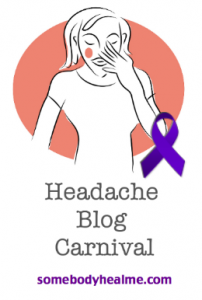 For June our theme is: "True Migraine Confessions: In honor of Migraine Awareness Month, give us your most personal, embarrassing or secret stories of living with migraine disease. Be as open as you dare." As they do every month, our contributors opened up and shared some great stories in their carnival submissions.
There is no doubt that living with migraine disease can be demoralizing, embarrassing and even downright hard to believe. But there are also some awesome people in our lives who take care of us and fight for us. The stories shared by this month's participants definitely demonstrate both things.
Katharine Hope shared You Might as Well Live, a raw, honest post about the desperation of living with unrelenting migraines, at her blog Healing My Migraines.
Kelli Smith shared True Migraine Confessions: Embarrassing Stories at her blog Kelli's Migraine Daily. For Kelli, just like me, many of her embarrassing stories involve that frequent companion of most migraineurs: extreme nausea & vomiting.
Gretchen Rautman at There Be Migraines Here shared a story about how one of her teachers handled her migraine disease in My Embarrassing Migraine Moment. Quite poorly, might I add. Reading this post made me wish I could reach back through time and comfort that little girl somehow.
We also had an off-topic submission this month.
James Cottrill shared What is migraine "worse than"? at his blog Headache & Migraine News Blog.
Thank you all for your amazing, honest and inspiring contributions!
* * *
The theme for the July 2012 Headache & Migraine Disease Blog Carnival will be: "Fun in the Sun: Summer is all about vacations, parties and concerts for most people, but when you live with migraine disease, triggers complicate all of these activities. How do you find ways to enjoy the fun without ignoring your migraine triggers? How do you cope when migraine takes away your fun plans?" If you wrote about these issues during the National Migraine Awareness Month Blogging Challenge, feel free to submit one of those posts for the July carnival.
Submissions are due by midnight (the end of the day) on Friday, July 6, 2012. The carnival will be posted on Monday, July 9. For more information, please visit: Headache & Migraine Disease Blog Carnival. Please don't hesitate to contact me personally with any questions! You can reach me by email through my Migraine.com profile or my personal blog.
* * *
A blog carnival is a collection of links to blog posts on a central topic or theme. The Headache & Migraine Disease Blog Carnival provides headache disorders patients and people who blog about them with the opportunity to share ideas on topics of particular interest and importance to us. The carnival is held monthly and published on the second Monday of each month. For more information visit: Headache & Migraine Disease Blog Carnival.
This article represents the opinions, thoughts, and experiences of the author; none of this content has been paid for by any advertiser. The Migraine.com team does not recommend or endorse any products or treatments discussed herein. Learn more about how we maintain editorial integrity
here
.

Community Poll
When was your last migraine check-up?