Using Humor to Cope with Migraine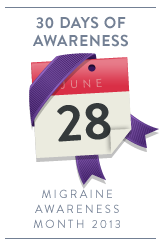 Today's 2013 Migraine & Headache Awareness Month Blog Challenge prompt is:Saturday Night Live: How does humor help you cope?
I've often read about how laughing helps our bodies release stress and anxiety. I can definitely tell you it works this way for me. Humor is one of the most important techniques I rely upon in coping with Migraine.
Whether I'm in pain, experiencing severe nausea, angry about my situation or about missing out on something, scared, annoyed with myself or someone else, feeling sorry for myself or trying to cope with any of a million other things we all deal with, laughing helps.
I feel so lucky to live in a time and place where technology allows me ready access to TV shows, movies and silly stuff on the Internet that make me laugh and help me cope with Migraine.
I'm able to fire up episodes of my favorite funny shows like Parks & Recreation, Arrested Development, The Office (in its heyday) or The Big Bang Theory on my TV, laptop, tablet or phone. Anywhere, really. It seems less necessary all the time to buy physical DVDs given the availability of shows and movies through legal, affordable sources online.
I've started using the social site Pinterest to collect, share and provide myself with ready access to links to everything online that most amuses me. After having the experience of seeing and loving something, but not being able to find it again one too many times, I finally thought to save those links in an organized place. Pinterest is perfect for this, especially since I can access it on my laptop, tablet or phone.
Something about laughing just helps me let go of whatever thoughts I'm hanging on to. Even when cracking a smile is all I can muster. Does humor play this role for you? If so, what do you turn to when you need to laugh?
Learn more about the MHAM Blog Challenge and other MHAM events by visiting:
2013 Migraine & Headache Awareness Month Information Page
June, Migraine and Headache Awareness Month, is dedicated to Unmasking the Mystery of Chronic Headache Disorders. The Migraine and Headache Awareness Month Blog Challenge is issued by FightingHeadacheDisorders.com.
This article represents the opinions, thoughts, and experiences of the author; none of this content has been paid for by any advertiser. The Migraine.com team does not recommend or endorse any products or treatments discussed herein. Learn more about how we maintain editorial integrity
here
.

Community Poll
Which are you most sensitive to?