Kudos to my caretakers
"The Wisdom of Crowds is considerably greater than any one person working alone." Truer words never spoken. It's been four years since I've been diagnosed with Chronic Migraines. Without the help of a host of people, I couldn't get through my everyday life. Last year, I did a photo journal called "Images of an Invisible Illness," that discussed the treatments that I tried in order to manage my illness. This year, I want to show you all the people that are vital in taking care of me. I recognize that I am incredibly blessed to have so much support in my daily life. There are so many of us who struggle to get proper treatment or even to get their family to understand their pain. I want to give Kudos to My Caretakers, because it's not an easy road to love or treat someone who has Chronic Pain.
Georgetown University Headache Clinic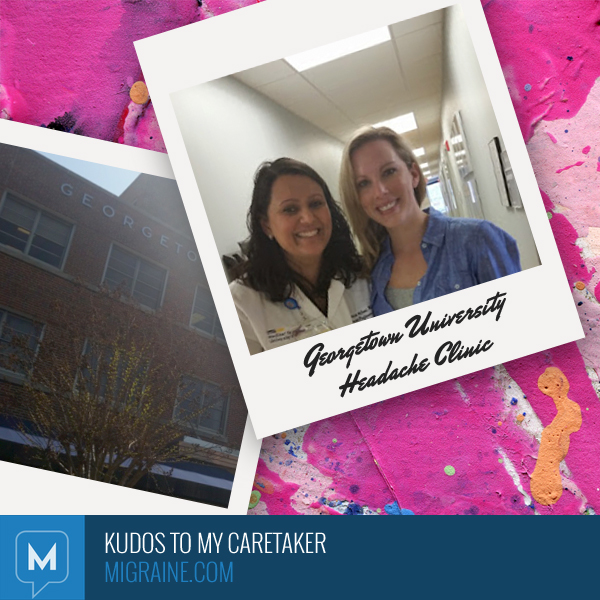 Having a doctor that listens, believes and collaborates with me better positions me to manage my Chronic Migraines. I am pictured here with Dr. Jessica Ailani, Headache Specialist at Georgetown University's Headache Clinic.Every time I leave her office, I say that I want to bake her brownies because she makes me feel so good (and I don't bake, so that's high praise!). Even if she wasn't able to physically make my pain better during an appointment, I always feel better knowing that she is on my side. She takes the time to address my concerns, explain options and create a treatment plan I am comfortable with. I couldn't ask for a better doctor.Years of countless appointments and ER visits, I realized that I don't always show my doctors how bad it really is. I go into "Faking It" mode, which we all use as a defense mechanism so people don't judge us in our pain. I'm sure I've faked it for Dr. Ailani before, but she knows me too well. While "Faking It" helps us get through life, don't ever fake it for your doctor. Learn more here.
Jefferson Headache Clinic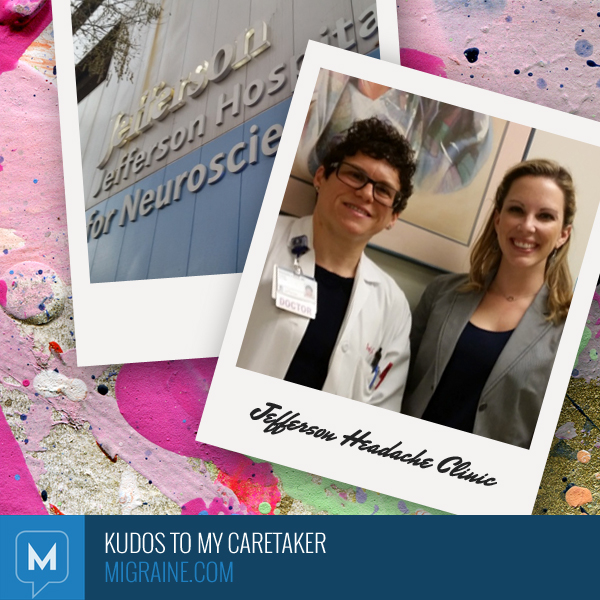 I'm so special that I need TWO Headache Specialists. I'm pictured here with Dr. Stephanie Nahas-Geiger at the Jefferson Headache Clinic in Philadelphia. When Dr. Ailani at Georgetown realized I wasn't improving, she sent me to Jefferson who coordinates my care with her. Dr. Ailani completed her residency at Jefferson and felt I could benefit the cutting edge treatments that they offer. The doctors at Jefferson agreed that I qualified for in-patient treatment, which I fondly refer to as Headache Camp. During my hospital stay I receive infusions of heavy medications in the hopes that my pain will decrease and my brain will forget to keep firing constant Migraines. I have found that these hospitalizations have become important in managing my Migraines. About once a year, I go back for a "tune-up."The doctors at Jefferson are just as caring and concerned as my doctor at Georgetown. They are also passionate about advocacy and research. I know I am in good hands at Jefferson.
Headache Camp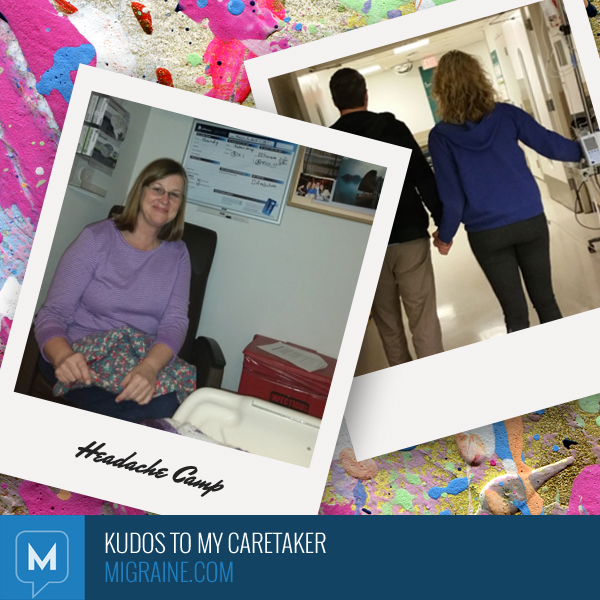 I've been through Headache Camp at Jefferson three times now. The doctors, nurses, residents and interns are top notch. But it's always nice to have someone you love with you in the hospital. My stays can range from 6 to 9 days, which is a long time to sit in a hospital bed alone. Since I live in DC and Jefferson is in Philadelphia, my family rotates babysitting me in the hospital. I am typically so drugged up that I have a hard time communicating or remembering what the doctors said, so I rely on those close to me to take notes and be my advocate.Above is a picture of my boyfriend helping me take a walk around the hospital and then there's my Mom who knits as I sleep. She even made a blanket for one of my nurses who was pregnant! She wrote about what it was like to watch me in the hospital. To read, click here.
Medical Staff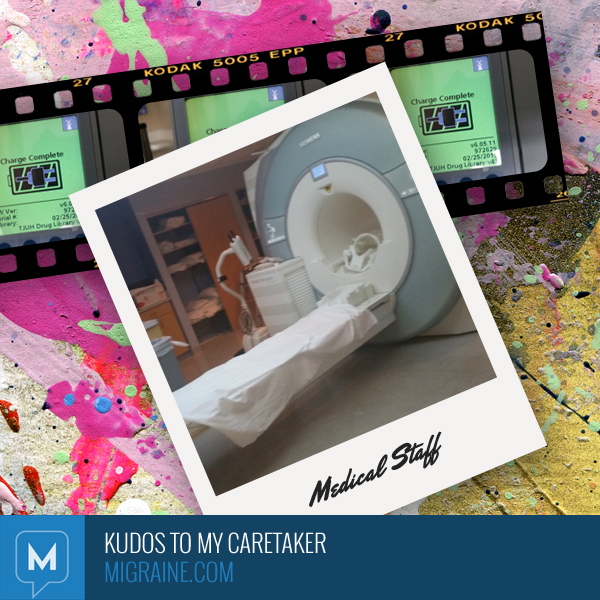 I can't discuss my caretakers and not mention all the medical staff that operate the MRI machine, check me in to appointments, change my IV bags, bring me food, help me figure out my hospital bill, take my vital signs, or tag along to learn as part of their medical training. If I counted all the people I encounter during a hospital stay or even just at the doctor's office, I think I'd be astounded at the number of people who coordinate my care. I may only see these people once or twice in my life, but what they do impacts my health just as much as my doctors.
Insurance & Disability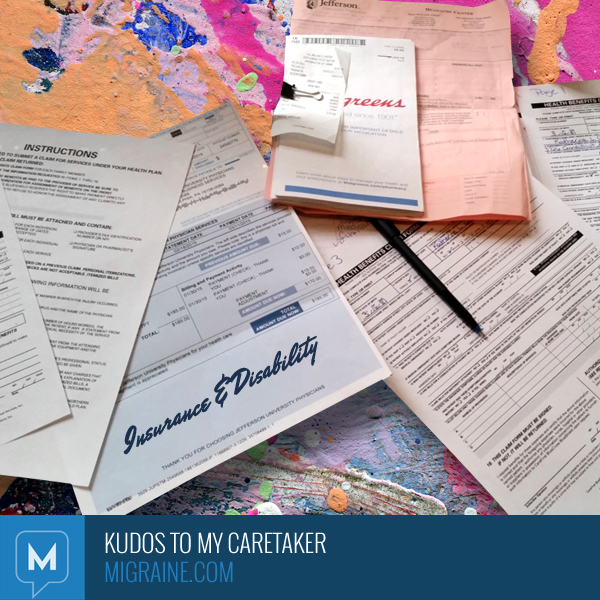 I'll admit, this one seems odd, but without good health insurance and disability coverage, I might be living in a cardboard box. Most of the time, I'm cursing one or the other due to mistakes, questions on coverage or follow-up issues. I bet I've cumulatively spent a solid month of my life on the phone with representatives for both insurance and disability. I receive Social Security Disability Insurance (SSDI), which requires constant paperwork. Staying on top of the requests for updates from my health insurance and SSDI can seem like a full-time job, but I'm glad to have the coverage.Here are three articles I wrote about my experience with the Affordable Care Act, what it means (and doesn't mean) to be on Disability and how to prepare financially if you ever need income while taking time to focus on your health.
Medications & Treatments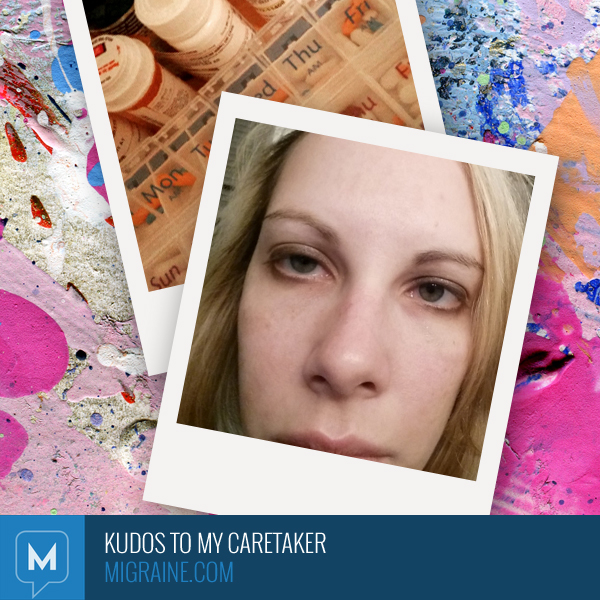 If health insurance and disability income help me manage my Chronic life, then so do my medications and treatments. I take nine medications and supplements every day to prevent Migraines. I also have five different abortives to use when an attack flares up. Every 3 months, I get Botox injections as well. The picture above shows how my eye was drooping after Botox, a potential side effect. It was annoying and I looked like a weirdo, but it cleared up after a week.You may be saying to yourself, "that's A LOT of medication!" True. I absolutely believe in a balance of medication and self-healing (like exercise, yoga and meditation). Last year I inadvertently detoxed from ALL medications, even Botox, and it was beyond awful. That showed me that the meds I take do help me.
These two articles describe my unintentional detox as well as a pondering of why my body hates me.
Family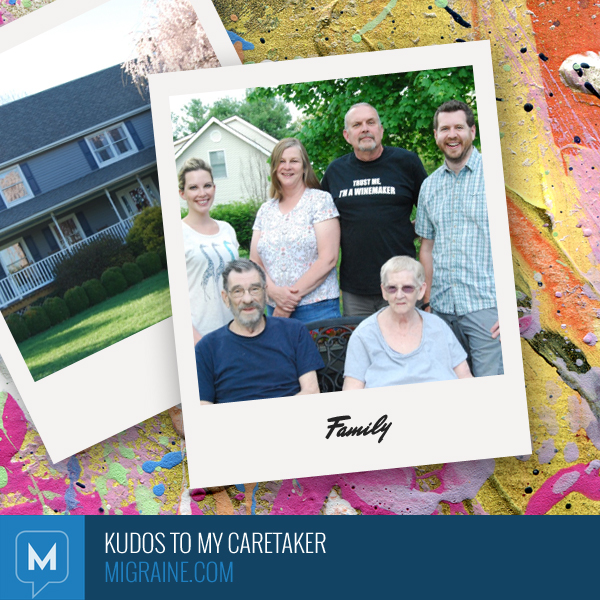 My brother and I grew up in this beautiful house that my parents built in my hometown in WV. The house, the gardens and family meals always makes me feel better. Being there means naps during baseball games, playing with the dogs and visiting with my grandparents who recently moved in. Besides the Migraines, I have always been a bit sickly. My family steps up whenever I encounter another medical roadblock. They've traveled great lengths to be with me during times of severe illness. They've been my caretakers from day one.
Furbabies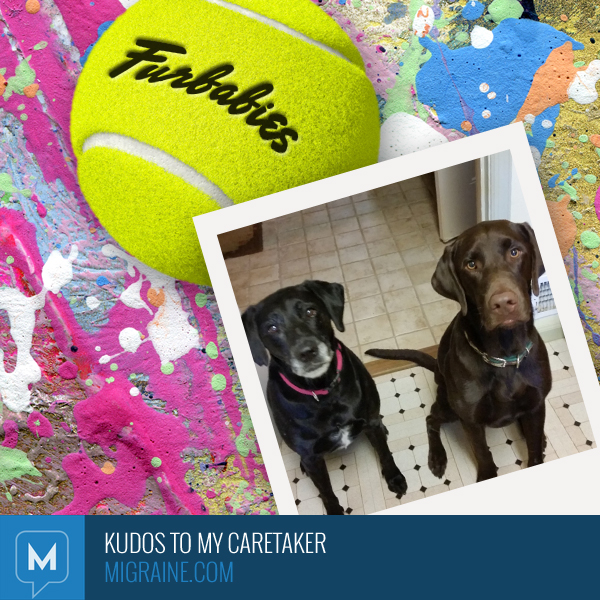 If you've never heard of a "furbaby," it refers to having pets instead of children. I grew up with dogs and they bring me so much joy. The dogs I rescued when I became an adult have now passed away. In my current condition it would be very hard to give a dog the proper home it deserves (plus my building doesn't allow dogs). So in order to get my furry fix, I play with my parent's dogs, Murphy and Gabby.
West Coast Family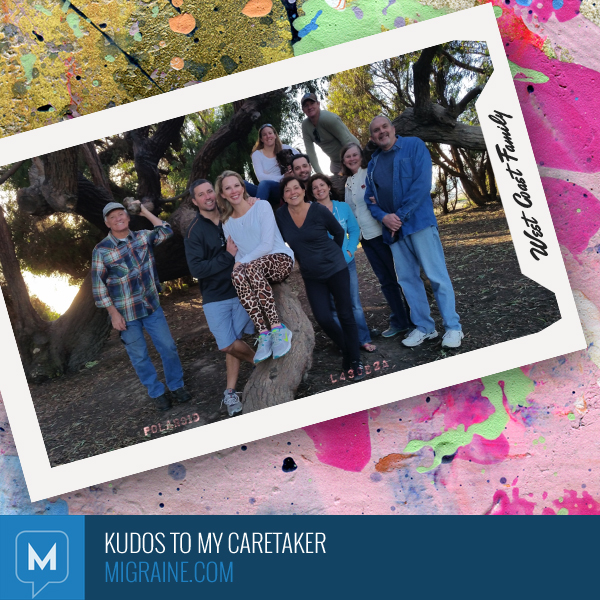 My boyfriend is from Santa Barbara. Over the past five years, his family has taken the time to understand my illness and to make accommodations for me when we visit. Having an extended family that helps take care of me is a blessing. Most of his family and my parents are pictured here. We all spent last Christmas together in California and took this picture while hiking on Christmas Day. And yes, I'm wearing giraffe leggings.
Pharmacists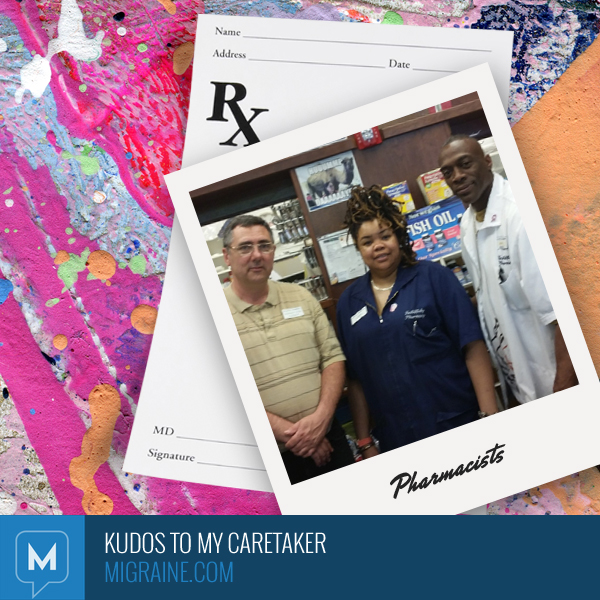 I use a local, family owned pharmacy in DC. They are able to compound medications, which I need for my ketamine nasal spray. Most of the chain drugstores aren't able to do this. The pharmacist and his team are very knowledgeable and helpful.To learn about using ketamine for Chronic Migraines.
Therapist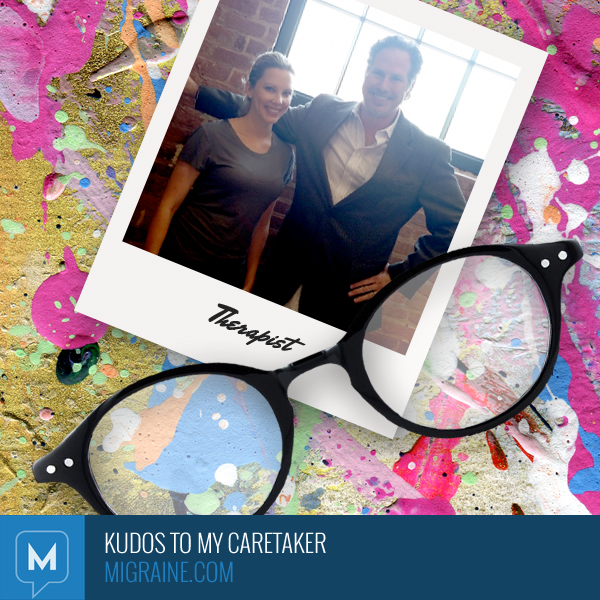 My therapist and I have been through a lot together. I began to see him eight years ago during a very difficult crisis in my life (not Migraine-related). When I needed to slip out for a therapy session during work, I told my colleague "I'm off to see the Wizard." I wasn't ashamed of needing to talk out my issues, I just didn't feel the need to let my co-workers know what I was going through.He taught me skills that have helped me to handle anything that life throws my way. He has also pushed me to pursue writing, a passion I'd always had but never made time for. We don't have regular sessions anymore, but he's there if I'm struggling with anything, checks in on me and suggests new treatments if he comes across something that may be beneficial to my health. He's a neutral third-party that offers healthy advice. I believe every Migraineur needs a good therapist as we tend to spend too much time in our own heads.
Girlfriends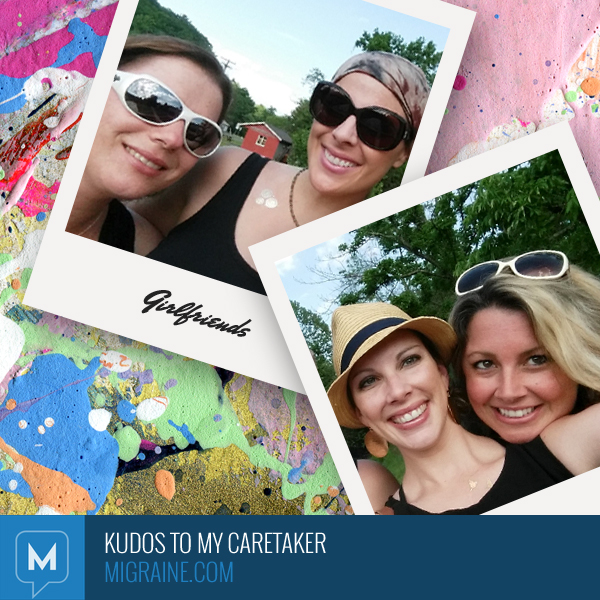 Divorce, marriage, babies, moving, family strife, personal success and failures and especially in sickness, the four of us have been through it all together. I know that all I have to do is call if I need help and they would come running. I know this, because they've all done it before. One friend specifically keeps dark curtains in her guest room so that I have a place to sleep if a Migraine overwhelms me. While in a medication stupor, they've taken me grocery shopping. They've kidnapped me to get out of the house if I'm ever alone and in a bad Migraine cycle. I never have to apologize or explain myself if I have to cancel. Their vocabulary has changed when inviting me to events, "IF you can make it, we'll do this…" Just that small change in wording allows me to not feel guilty because I know they get it. These girls are so very dear to me.
My Boss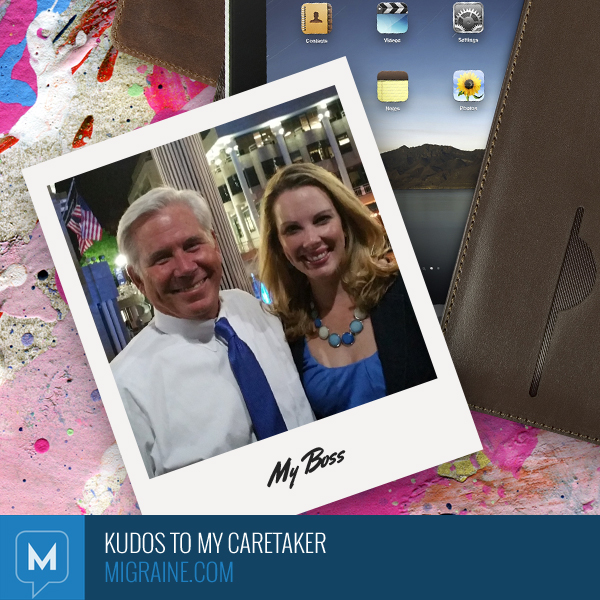 Technically he's not my boss anymore. After 9 years of working with him, I'll always consider him my boss and more importantly, my friend. When my Migraines became Chronic in 2011, he advocated for me and bent over backwards to make accommodations so that I could work and have time to pursue a remedy for my Migraines. He could take one look at me and know that a Migraine had taken over.With his support, I went on disability in 2013 with the hopes that I would get better and return to work. Sadly, going back to work was not an option. It broke my heart to say goodbye to my job. Although I don't see him every day in the office anymore, I stay in close contact with my boss. His mentorship on the job was better than any formal education. Even now I seek his approval and counsel. And although I hate to admit it, he's usually right. It's good to have someone like that in your corner. Click here to read more.
My Personal Trainer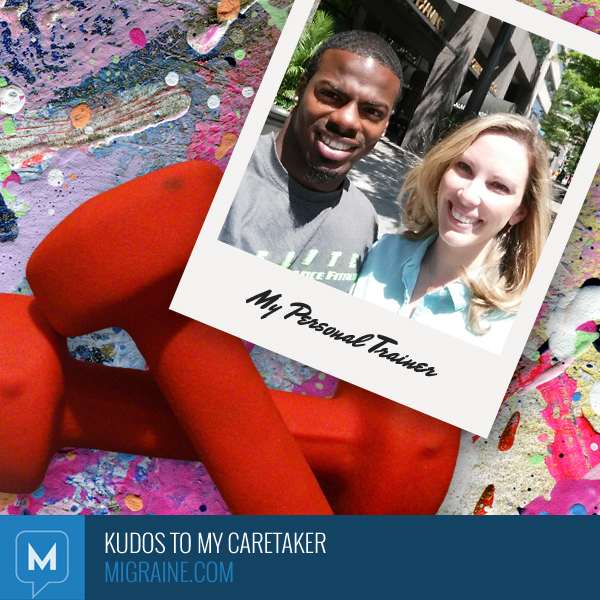 I've never been a very athletic person. Exercise was not part of my daily routine. I knew that exercise could help manage my Migraines, yet it seemed a daunting task. By the time I was ready to hit the gym, it had become hard to walk even a few blocks before I became exhausted. I knew I could not do this alone. My personal trainer helped me get stronger. He did his research on my condition to customize my workouts. He pushed me but knew when to back off if the pain became too severe to continue.As much as it seems impossible, I try to return to working out as soon as possible after I've had a bad cycle of Migraines. It makes me feel stronger and gives me energy to fight the monster in my brain. I do most of my work-outs solo now because he gave me the tools I needed to get fit. Don't get me wrong, exercise can exacerbate the Migraines as much as it can help. I've learned to listen to my body through this process. Click here to read more.
Yoga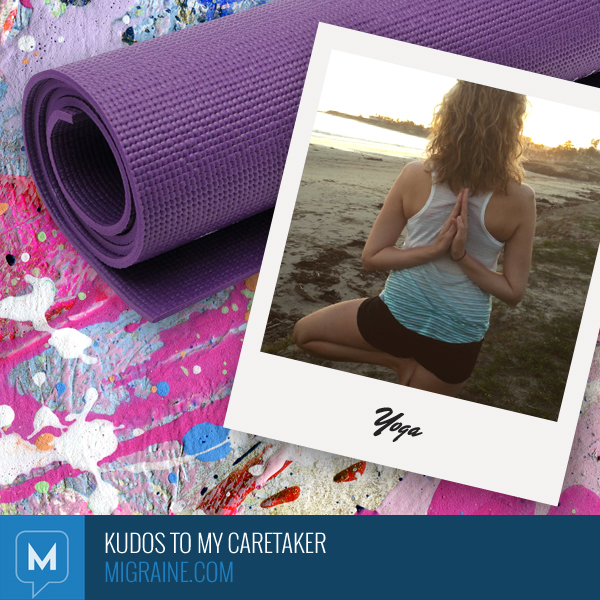 Once I worked on my balance and endurance with my trainer, I returned to yoga in the hopes it would be one more thing I could use to help manage the Migraines. The practice is peaceful, reflective and soothing, yet challenging at times. Similar to exercise, it can help bring me out of a pain funk if I am consistent with it during an attack. It may be a 20-minute gentle practice in my living room or an advanced 90-minute class. The breathing techniques I've learned help me as I explore meditation. My favorite place to practice is on the beach. No matter where you are in life, I believe that the practice of yoga can do wonders for what ails you.
My Love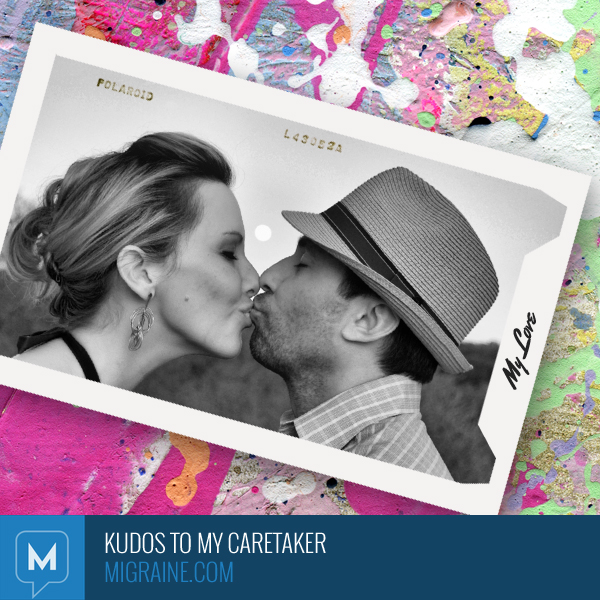 He's kinda cute, I think I'll keep him. My boyfriend is always the life of the party. His friends turn to him for advice. He excels at his job. He's passionate about politics and playing Ultimate Frisbee. He's crazy good at communicating in our relationship. He's annoyingly optimistic and obnoxiously so chill and cool about everything. We're very similar in all of those ways…except I have a chronic illness and he doesn't. Oh yeah, and I don't play Frisbee, I'm not coordinated or athletic in any way- he calls me a giraffe because I have a long neck and long limbs. Graceful in poise, but kinda awkward.
My Biggest Cheerleader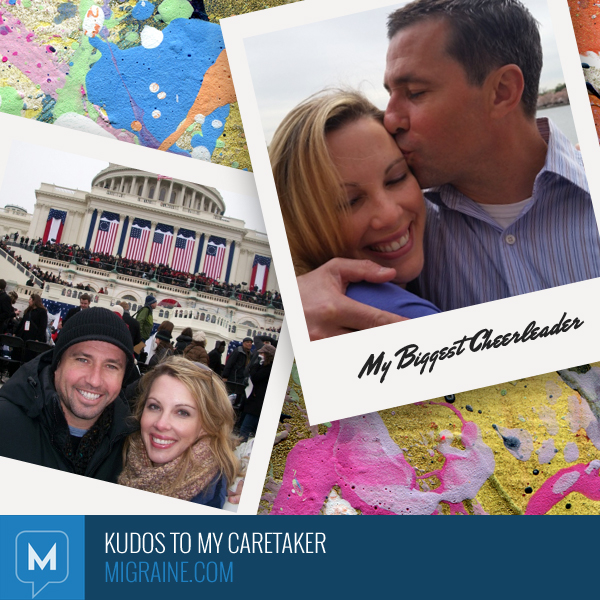 We met five years ago. Nine months after we started dating, I got a Migraine that never went away…and still hasn't. He was been with me at every step of this journey. He continues to research this disease, helps me prep for every doctor appointment and attends whenever he can. He pushes me over each medical hurdle I encounter, whether I like it or not.There have been bumps along the way. Who expects to be taking care of their 30 year-old girlfriend when she suddenly is struck by illness? It took us both awhile to accept my new reality. In the past, I felt guilty because I couldn't be the partner I wanted to be. I eventually realized that feeling guilty doesn't help you to get better. And he stuck around, despite how much Chronic Migraines affects my life and his. My mother wrote in a Christmas card, "thank you for taking care of our defective daughter." It's so true and that about sums it up.
Roommates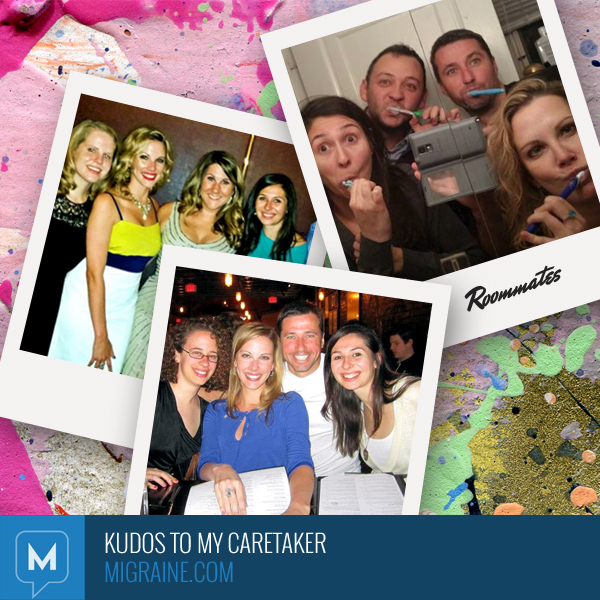 My boyfriend and I live in a large apartment in DC. Since we've been together, there have always been roommates and even honorary roomies for time spent on our couch in between jobs or cities. We have a very open door policy. Financially, this set-up helps me tremendously. Over time, however, those who live with me have also become my caretakers. When I'm really down for the count, they'll help with anything I need. Each one has taken me to the ER, picked up prescriptions or grabbed groceries. Their extra help makes a big difference. More importantly, there is always laughter and shenanigans in the house, something I would miss if I lived alone. These pictures represent roommates past and present. Click here to read more.
Friends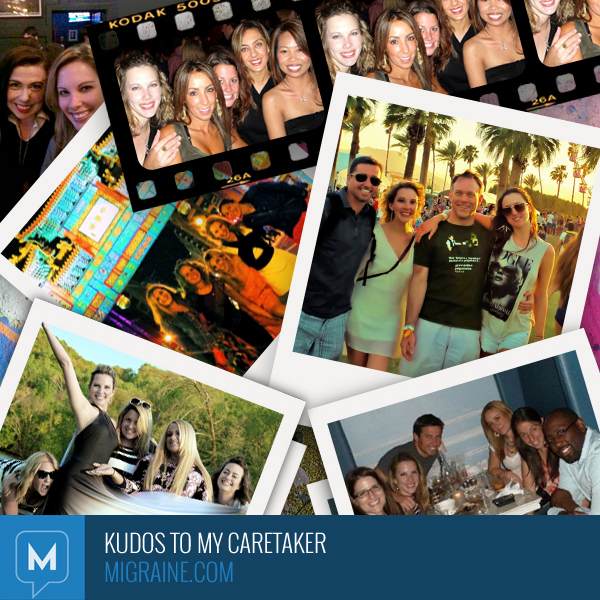 How do I even begin to thank all my friends? I realize friendship is a luxury that not all Migraineurs don't have. I've had friends fall off the radar since becoming Chronic and I miss them, but also understand that it's a cycle of life and growing. I'm guilty of not keeping up with friendships that were solid before I became sick. It goes both ways. But those special people who constantly keep in touch or even just send me a text every once in a while make my day.
Headache on the Hill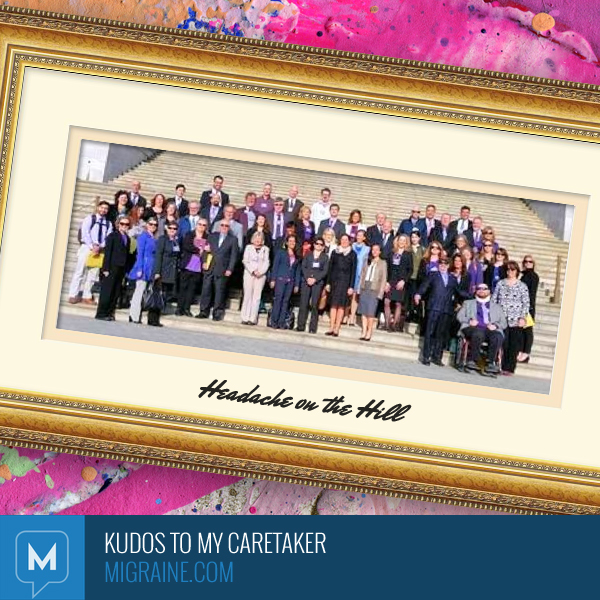 When I started working at Migraine.com, I became part of an amazing community of people who know exactly what I'm talking about. There's no judgement, only support. At first I thought writing would help me in my transition from working to being disabled. Yet, it has become so much more than that. It's not about me. It's about the people who are looking for understanding and acceptance. I'm still amazed that anyone other than my family reads what I write, let alone thousands of people across the globe.The feedback, the conversations and new friends I've made has been incredible as we all go through this together. I take it seriously that my voice has the ability to speak for so many. Advocacy is in my vocabulary now, a role I never thought I would be interested in. Migraineurs need more research, more participants in clinical trials, more funding!
In this photo, I attended an annual event called "Headache on the Hill." This crazy group of people decided we should tell lawmakers to their face how our disease is just as important as any others who get more attention. We lobbied on Capitol Hill for better allocation of NIH research funds and for them to understand the increased risk of Migraines in returning soldiers who have suffered a TBI.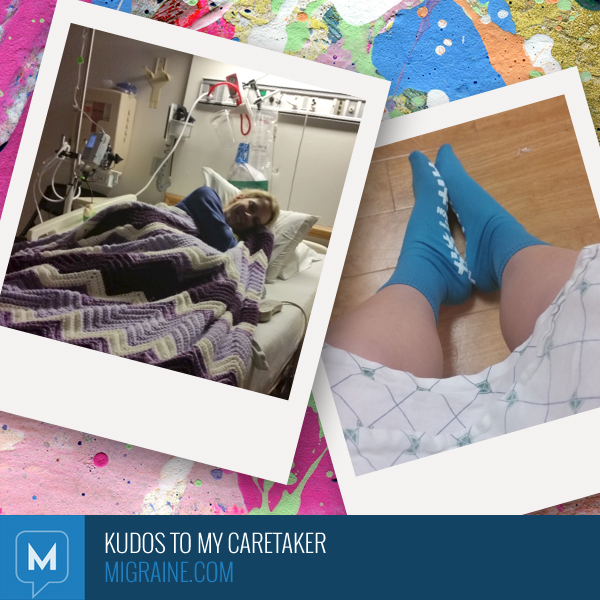 While I've been sharing pictures of the wonderful people who I consider my caretakers, I don't want there to be a misconception that life with Chronic Migraines is always rosy. It takes a tough person to handle their illness and not to crawl into a ball and never move…although we've all done it before. In order to get better, it takes strength, determination and the never-ending quest for answers. It's hard both physically and emotionally.To get through the rough times, our caretakers are vital in our fight. Each Migraineur needs a team who are invested in you just as much as you are invested in yourself. I am fortunate to have a large support system and receive great medical care. I know that this is not always the case for those in pain. I've learned the importance of surrounding myself with those who have my best interest in mind. We all deserve that, even if that means finding a new doctor or dropping a friend who brings us down. From the bottom of my heart, thank you to all of those who take care of me. I would not be as optimistic as I am about living life with Chronic Migraines without them.
Take the time today to thank those in your life who take care of you!

This article represents the opinions, thoughts, and experiences of the author; none of this content has been paid for by any advertiser. The Migraine.com team does not recommend or endorse any products or treatments discussed herein. Learn more about how we maintain editorial integrity
here
.

Community Poll
Do you prefer reading stories from others with migraine or informational content on our site?