Kudos to my caretakers
"The Wisdom of Crowds is considerably greater than any one person working alone." Truer words never spoken. It's been four years since I've been diagnosed with Chronic Migraines. Without the help of a host of people, I couldn't get through my everyday life. Last year, I did a photo journal called
"Images of an Invisible Illness,"
that discussed the treatments that I tried in order to manage my illness. This year, I want to show you all the people that are vital in taking care of me. I recognize that I am incredibly blessed to have so much support in my daily life. There are so many of us who struggle to get proper treatment or even to get their family to understand their pain. I want to give Kudos to My Caretakers, because it's not an easy road to love or treat someone who has Chronic Pain.
Georgetown University Headache Clinic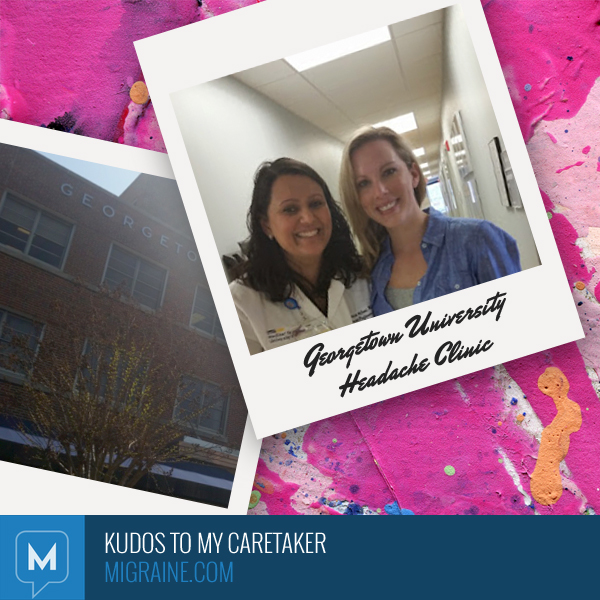 Having a doctor that listens, believes and collaborates with me better positions me to manage my Chronic Migraines. I am pictured here with Dr. Jessica Ailani, Headache Specialist at Georgetown University's Headache Clinic.Every time I leave her office, I say that I want to bake her brownies because she makes me feel so good (and I don't bake, so that's high praise!). Even if she wasn't able to physically make my pain better during an appointment, I always feel better knowing that she is on my side. She takes the time to address my concerns, explain options and create a treatment plan I am comfortable with. I couldn't ask for a better doctor.Years of countless appointments and ER visits, I realized that I don't always show my doctors how bad it really is. I go into "Faking It" mode, which we all use as a defense mechanism so people don't judge us in our pain. I'm sure I've faked it for Dr. Ailani before, but she knows me too well. While "Faking It" helps us get through life, don't ever fake it for your doctor. Learn more
here
.
Jefferson Headache Clinic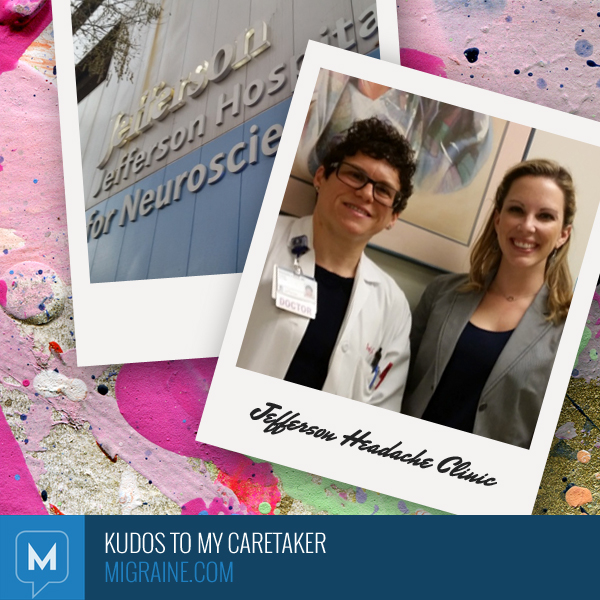 I'm so special that I need TWO Headache Specialists. I'm pictured here with Dr. Stephanie Nahas-Geiger at the Jefferson Headache Clinic in Philadelphia. When Dr. Ailani at Georgetown realized I wasn't improving, she sent me to Jefferson who coordinates my care with her. Dr. Ailani completed her residency at Jefferson and felt I could benefit the cutting edge treatments that they offer. The doctors at Jefferson agreed that I qualified for in-patient treatment, which I fondly refer to as Headache Camp. During my hospital stay I receive infusions of heavy medications in the hopes that my pain will decrease and my brain will forget to keep firing constant Migraines. I have found that these hospitalizations have become important in managing my Migraines. About once a year, I go back for a "tune-up."The doctors at Jefferson are just as caring and concerned as my doctor at Georgetown. They are also passionate about advocacy and research. I know I am in good hands at Jefferson.
To learn more about my experience at Headache Camp.
This article represents the opinions, thoughts, and experiences of the author; none of this content has been paid for by any advertiser. The Migraine.com team does not recommend or endorse any products or treatments discussed herein. Learn more about how we maintain editorial integrity here.