Migraine in America: Treatment

The Migraine In America 2015 online survey was conducted to gather insights from over 4,500 individuals currently diagnosed with migraines in hopes of better understanding their symptoms, life impact and treatment experience. Respondents were primarily female and over the age of 40, as well as being married with children and located across the U.S. Over half of respondents experienced 8 or more migraine attacks each month, and almost half experienced migraine symptoms on 15 or more days a month.

The 2015 survey continued to illustrate the challenges and impact of migraine, building upon findings from previous surveys:
Migraine has been a long-standing challenge, with most having experienced migraine symptoms for at
least half of their lives
Migraine is more than headache pain, it is a myriad of migraine symptoms that vary from one attack to
another
Migraine was most often described as "debilitating" and impacted all areas of patients' lives
Many reported feeling as if they had tried everything to manage their migraines – with prescription
medications, OTC drugs, complementary and alternative therapies – they continue to seek out new approaches to treat and prevent migraines, and are willing to keep trying new options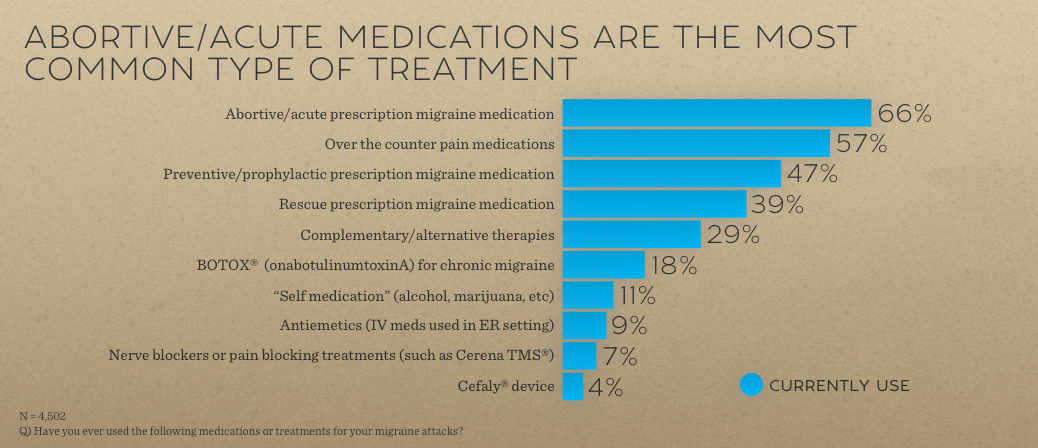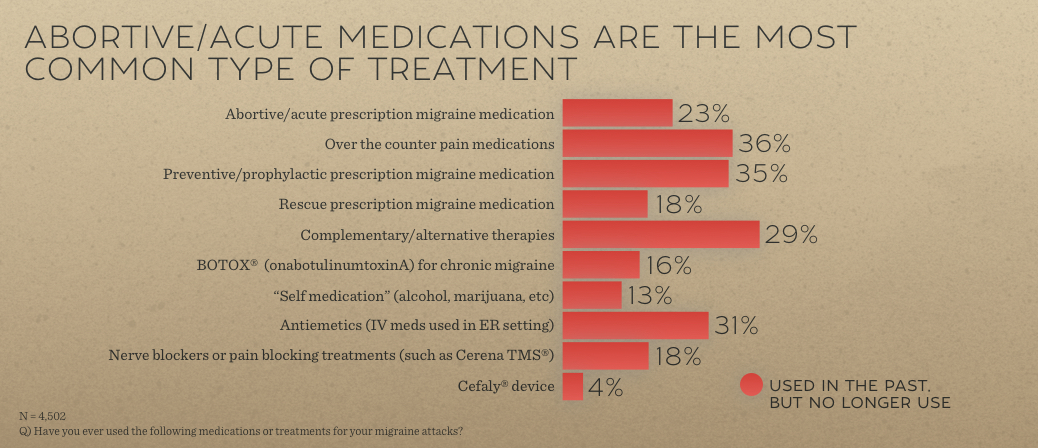 Abortive / acute prescription migraine medications were the most commonly used (66%), followed by OTC pain medications (57%), preventive prescription migraine medications (47%) and rescue prescription migraine medications (39%).

This article represents the opinions, thoughts, and experiences of the author; none of this content has been paid for by any advertiser. The Migraine.com team does not recommend or endorse any products or treatments discussed herein. Learn more about how we maintain editorial integrity
here
.