Bridesmaid-ing with Migraine Part 1
Friendships that withstand migraine are the best kind of friendships.
I had always gotten by with migraine. My symptoms were common in my family and not necessarily recognized as symptoms. During college, I started to struggle with symptoms that clearly my roommates and peers were not having. I became less and less active, less involved, and removed myself socially. The nights of staying in my dark room with ice over my eyes, vomiting, crying in pain as I listened to my friends pregame for that nights' party, started to add up.
Hard for other students to understand
I was missing out on so much and I felt my girlfriends getting annoyed and drifting away from me. We joked about my symptoms; my fatigue, inability to drink alcohol, the epic hangovers that would ensue when I did, and how the dining hall foods made me nauseous. I wasn't totally clear in my diagnosis at that point so it was hard for me to explain to people what was wrong. Migraine is not an easy circumstance for college kids to understand and be truly supportive of.
Brushing off migraine symptoms
Humor seemed like an easier way of coping, so I laughed with my friends and brushed off my symptoms and went on being as "normal" as possible. The time I had invested into building friendships felt very much wasted when I was constantly canceling on friends and rescheduling. I was struggling to keep up with a life I was normally able to manage. I became overwhelmed and felt like I was juggling more than I could actually manage and was disappointing people left and right as my symptoms became something I couldn't hide -especially living in close quarters like dorms or in an apartment with my friends. I eventually had to quit organizations, jobs, volunteering, and even school for extended periods of time.
Forming meaningful friendships in spite of migraine
I feared that migraine would keep me from forming meaningful friendships in college. I could hear echos from sorority recruitment, constantly being told over and over that "the girlfriends you make in your sorority will be the bridesmaids in your wedding". This just added to my anxiety of living life on the sidelines and I worried over how I would meet people when all I could do was lay in a dark room. Although, I missed out on sororities and many quintessential 'college experiences', I am lucky enough to have made some really solid friends who were incredible to me, especially during my sickest times. These lifelong friendships mean more to me than I could possibly have fathomed. I'm also proud to report that since being diagnosed with chronic migraine, and even while having daily intractable migraine, I've successfully been a bridesmaid four times!
Bridesmaid duties with daily migraine
The first time I was a bridesmaid (with daily migraine) was for my best friend from college, Kristen. Krissy and I have been planning our future weddings (she's an event planner and I'm a freak) since we met our Sophomore year. It's been an unspoken agreement that we would be each other's bridesmaids, as Kristen is like a sister to me. She called me when her husband proposed and I knew 'bridesmaiding' was coming and promptly ordered an engagement gift! Before I was able to give it to her we had holiday break and I was home with my family in Chicago. My migraine attacks were at an all time high and I was severely struggling day to day. My mom was grappling with allowing me to go back to school in this condition, and we were desperately waiting for months on the wait-list of another migraine clinic.
Finally, the clinic had a room available and I forfeited my graduating semester to be inpatient. I was crushed. I remember laying in a hospital bed in Michigan, looking on Facebook at pictures of the whole wedding party together at a dinner Kristen threw to ask each of the girls to be in her wedding and crying. Kristen told me I was invited a week before and many of the girls messaged me sweet tokens of encouragement to get well. Even though I knew Kristen planned to include me and ask me, I felt like I was failing her as a friend and was heartbroken to miss out on memories that I had looked forward to since before I was debilitated by migraine. I worried that she would rethink including me, out of concern to burden me with obligations, and I was actually nervous to go to lunch with her when I was home from the clinic. Luckily, the picture below is from Kristen's wedding, shot by Moonshadow Studio.
Feeling robbed by migraine
Migraine has taken my ability to show people my worth as well as celebrate with the people I hold near and dear which is what I believe life is all about. Prior to being at this clinic and missing Kristen's dinner, I was in a different migraine clinic and missed my cousin's wedding to be treated inpatient. I felt like migraine was robbing me of so much and that I was living my life on the sidelines and watching via social media all these moments that I was supposed to be part of. It broke my heart to miss a family wedding, but the reality was it was one of many life events that I was missing.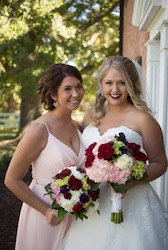 Gaining confidence
After pulling off being a bridesmaid with daily intractable migraine, I gained some confidence in my abilities. I was able to survive traveling, partying, late nights, and even made it to all of the events leading up the wedding! The anxiety around missing out on special occasions shifted to embracing and celebrating every moment that I was able to, even with a migraine. I've really gotten the hang of being a bridesmaid after being in four wedding parties and I would love to share my tips for thriving as a bridesmaid with migraine! Keep an eye out for Part 2 of "Bridesmaid-ing with Migraine"!
This article represents the opinions, thoughts, and experiences of the author; none of this content has been paid for by any advertiser. The Migraine.com team does not recommend or endorse any products or treatments discussed herein. Learn more about how we maintain editorial integrity
here
.

Community Poll
When was your last migraine check-up?