Fighting for Migraine
Many advocates and I have taken to heart a new way of speaking about migraine, and so I felt compelled to make a graphic to show a few examples: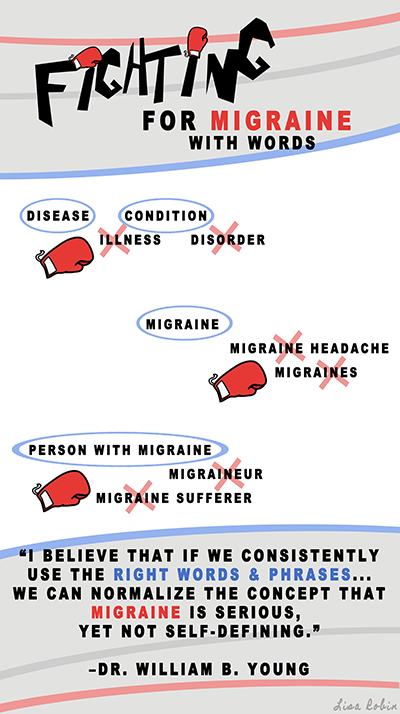 This graphic is based on a powerful article from last June outlining how to talk about migraine by Dr. William B. Young, a specialist at the Jefferson Headache Center and contributor for migraine.com. He said, "I believe that if we consistently use the right words and phrases then over time we can normalize the concept that migraine is serious, yet not self-defining. This will bring what we all want:  more research, more treatments, less hostility, and less stigmatization." He shared the words we can use to shape the way people think about migraine.
The power of words
The community response was impressive. Here are just a few of the comments:
"Words are powerful, so I will revise my own vocabulary in accord with this article. The societal belief that a migraine is simply a headache caused me endless trouble by delaying treatment for 6 months after my condition became chronic."
"It's easy to say 'I have a headache' when my head is killing me, but lots of people get the occasional headache that they can knock out with a couple of Tylenol, and I don't want to conflate the symptoms of my chronic migraine w/ that."
"Thank you Dr. Young. I am printing and handing out your post… To healthcare professionals in my health care network. Having been only recently actually diagnosed with migraine (although I now realize I have been experience migraine most of my lifetime), I am acutely aware in my brief dealings with healthcare network professionals, how many of them are not well informed when it comes to treating migraine.
You can read the full article and discussion here. Please share the graphic and article this June! Let's end stigma now!
This article represents the opinions, thoughts, and experiences of the author; none of this content has been paid for by any advertiser. The Migraine.com team does not recommend or endorse any products or treatments discussed herein. Learn more about how we maintain editorial integrity
here
.

Community Poll
When was your last migraine check-up?