I Ran a 5K with Miles for Migraine
January 2018 Update: Check out the 2018 Miles for Migraine run and walk series here. Miles for Migraine is headed to the Midwest in April with Chicago's race day on Saturday, April 14th 2018 and Cleveland's race day is the following Saturday, April 21st, 2018.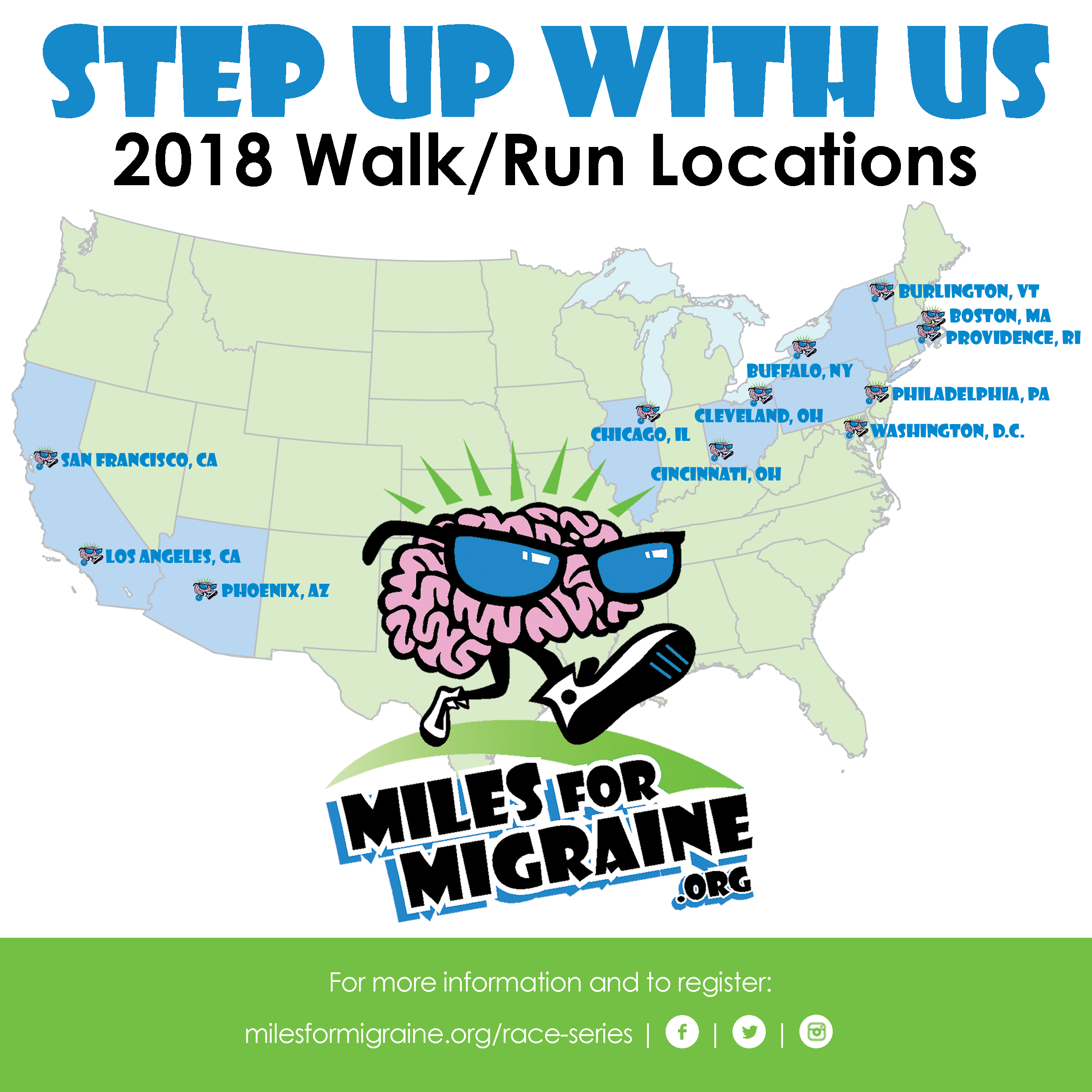 ____
Miles for Migraine hosted a fundraising event on Saturday, October 7thth in Philadelphia. This was the fourth of five races of the year for this organization whose goal is not only to raise funds for migraine research, but also aims to raise awareness of this debilitating disease. The other four races were held in Phoenix, San Francisco, Chicago and DC.
The race featured a 2 mile walk, a 5K run and a 10K run. The Philadelphia race was the most attended in the eight year history of Miles for Migraine, with almost 500 participants.
Race director, Shirley Kessel, has a specific vision for all Miles for Migraine races. "Our mission is to create a community where people with migraine and headache disease can come together and be in relationship with one another. We want to create conditions so that people will feel supported enough to self-advocate for migraine since it's such an isolating and stigmatized disease."
This mission was felt as soon as participants began the sign-in process. The race zone created an immediate sense of community before the main event even began. There was a group yoga session to loosen up participants. Free massages were offered before and after the race. An area was set for people to take selfies with cardboard cut-outs of celebrities throughout the ages who experienced migraine. Marilyn Monroe, Thomas Jefferson, Napolean and Elvis were all present.
Sponsors had tents to provide education and discuss the newest drug developments, while also offering to take some pics with your group. It's not every day that so many people with migraine gather and can easily connect with strangers who are really part of the same community.I personally have had a goal of running a 5K most of my adult life. Besides the fact that I'm not very athletic, cardio exercise can be difficult with migraine. I'd be more than happy to do yoga for 5 hours straight than run. I took the Miles for Migraine race as a challenge to reach my personal goal while raising money for migraine research.But I wasn't alone in my endeavor. Health Union, the parent company of Migraine.com, came out to form our own team. The Migraine.com Racers raised the 2nd highest amount for the Philadelphia race at over $2300!When it was show time, I remembered words of wisdom from my boyfriend who often runs long distances; start your pace slow and when you feel like walking just reduce your pace instead. So I turned up the music on my special Spotify playlist and began the run.  And run it I did. When I needed energy, I would high-five fellow runners or shout out words of encouragement. It gave me a boost and hopefully they felt it too. It may have also helped that I dressed in all purple with purple shoes, jacket, leggings and make-up to really feel festive.I stopped to walk probably a combined total of two minutes and I finished 5 minutes faster than my goal. I'm pretty proud of myself. That was the first time I had every run that far or that long. At the finish line, I celebrated with my team who all did an amazing job!In 2018, Miles for Migraine will expand their reach even further. Races will be held twelve cities. To see pictures from all races and a video from the Philadelphia race, visit http://milesformigraine.org/.Soon I should also have my own video to share that I recorded while I was actually running. I also want to make you aware that another migraine research race, Runnin' for Research, held 3 races in different cities on the same day. To learn more about their races go to https://ahma.memberclicks.net/runnin-for-research. 
This article represents the opinions, thoughts, and experiences of the author; none of this content has been paid for by any advertiser. The Migraine.com team does not recommend or endorse any products or treatments discussed herein. Learn more about how we maintain editorial integrity
here
.

Community Poll
When was your last migraine check-up?