Pet Therapy and the Healing Power of Pets
As someone who has dealt with migraines throughout my life, one of my biggest triggers is stress. My pets provide me an endless supply of emotional support and comfort  which help me reduce stress. As a result, I'm become interested in learning more about how to get involved in pet therapy. Animal-assisted therapy, or pet therapy, is a type of therapy involving dogs or other animals to help people recover from or better cope with health issues. Recently, I had the opportunity to sit down and chat with Amrita Bhowmick, Chief Community Officer at Health Union, LLC, and her certified therapy dog, Biscuit (pictured below), about their work in pet therapy.
Pet Therapy Certification
How did you get Biscuit certified as a therapy dog?
There are multiple organizations that oversee the therapy dog certification process. After my dog, Biscuit, passed the AKC's Canine Good Citizen exam (a prerequisite for therapy dog training), we took the next steps for becoming a therapy dog with Canines for Therapy, which is an organization based in North Carolina. The program included a 6-week training course, and a final test for certification. Other popular programs for therapy dogs include Therapy Dogs International, and PetPartners.org. Depending on the program, the process may be long, but it is in everyone's best interest (dog, handler, and all the people you visit) to make sure that the training is thorough. Most of the training really focuses on the handler - helping you better understand and respond to your dog's signals. I'm just thankful Biscuit is better at taking tests than I am!
What inspired you to get Biscuit certified as a therapy dog?
I can honestly say I've always wanted to do this since I learned that it was even possible to get your own dog certified to be a therapy dog – and that was 15+ years ago! I have always loved dogs and the unique relationship they have with humans. Healthcare is also a passion of mine, so combining dogs with making people feel better is a match made in heaven for me.
What qualities/traits does Biscuit have that make him a good therapy dog?
Biscuit is incredibly social – he's actually the only extroverted member of our family! He loves to meet new people and has a great mellow temperament when "working" (of course, he still loves to run around like a puppy when he knows it's time for play). Like many dogs, he seems to have a knack for knowing when people need a little extra attention and he's extremely patient with young children who might be nervous around larger dogs.
The Healing Power of Pets
How does it all work?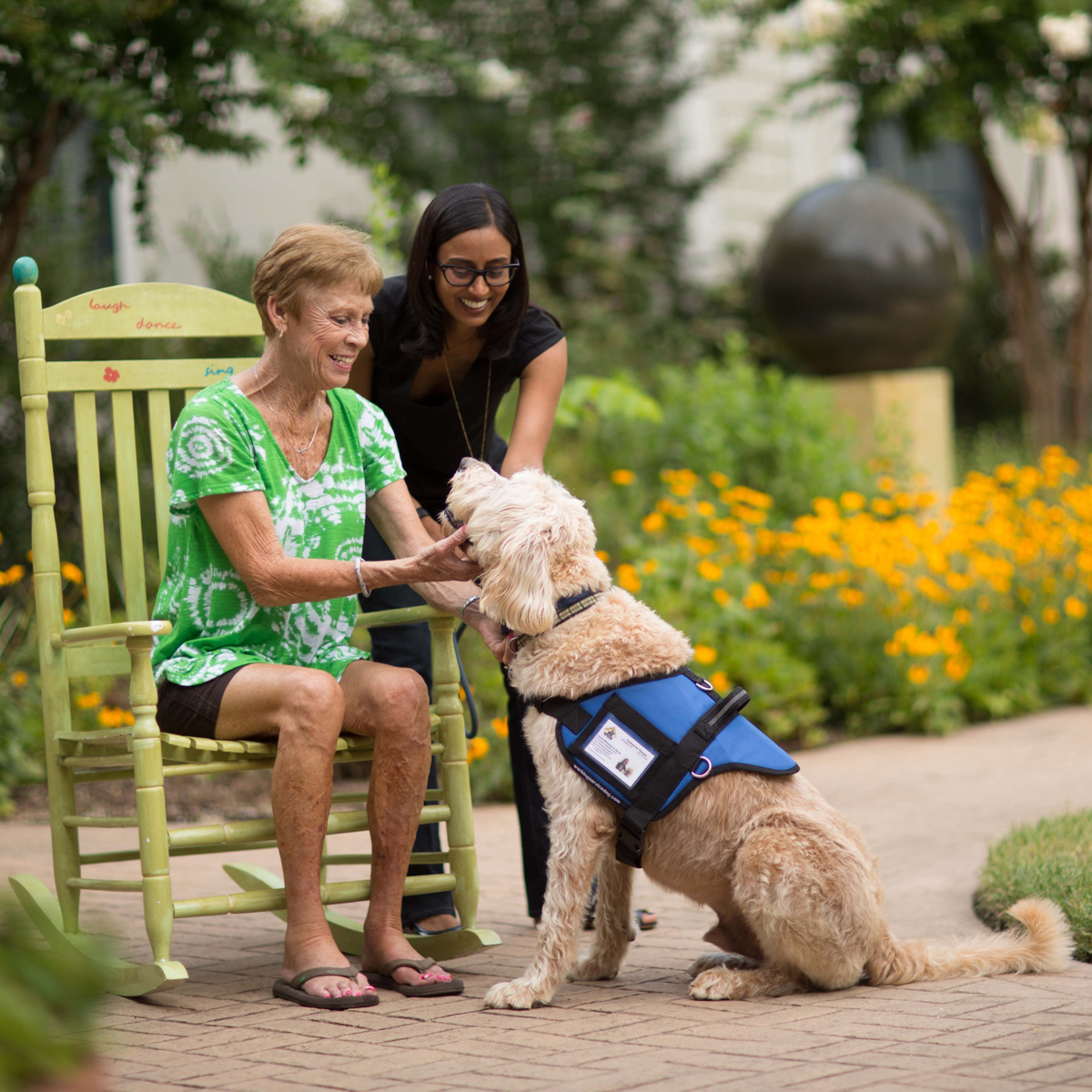 *Photo courtesy of Brian Strickland
Most of our visits have been to the SECU Family House at UNC Hospitals. They offer comfortable and affordable housing for patients and caregivers who are traveling for care at UNC. We typically visit for an hour at a time because it can be a bit exhausting for Biscuit to do more than that. A good approach for us has been to visit and just make ourselves available to patients, family members, and even the staff – they can come see us on their own time, when they feel most comfortable. Some patients are eagerly awaiting Biscuit's arrival while others are pleasantly surprised when they see us.
What do you like most about bringing Biscuit on the visits?
He makes people so happy! Particularly dog-lovers who are really missing their pets at home while they're away for treatment. I can tell it makes him happy to help others, too… I'm really just along for the ride!
What is Biscuit's favorite saying or quote?
Everyone thinks they have the best dog … and none of them are wrong.
— W.R. Purche
Well said, Biscuit!
For more information on how pets can positively impact our health, check out our Spotlight on Pets and Health.  Have you ever participated in or received animal assisted therapy? If so, what did you like most about it?

Community Poll
Have you noticed something that used to trigger your migraine no longer does?