Running Miles for Migraine 2020
I call myself a three-season runner: springs, summers, and falls are beautiful for running. Even in the heat of the summer, there is usually a time of day where it's still in the 70s, and so it's easy to get out there. The winter cold and snow, though, make running difficult in that season.
Signing up for Miles for Migraine
So when the email came in February to sign up for a Miles for Migraine race, I was far from my running groove. I honestly hadn't really gotten back into the groove since I'd had my first child almost 2 years prior. Despite that, I signed up for their longest distance, a 10K, which is a little over 6 miles. I couldn't even remember the last time I'd walked that far.
Running for Miles for Migraine
This wasn't the first time I'd signed up for a Miles for Migraine event. I had a team of friends ready to walk in 2018, but the event was rained out. I've joined walks and runs for other causes such as breast cancer or mental health, and though they were very uplifting and important, I had always craved to participate in something similar for migraine.
Training to run again
I downloaded an app called 5K Runner to help train back up. The app increases your running times gradually, starting with one-minute intervals. As someone with migraine, the gradual training was perfect for me. All I had to do was train 2 to 3 times a week, and in a few months I was running the 5K distance.
Running events start to go virtual
But as I was training, the world was changing and my area was hit hard. In March and April, as stores shuttered and people started wearing masks, Miles for Migraine announced that their Spring events would be virtual. Since my race was scheduled for late July, I figured it still possible I would gather with a sea of purple runners in a few months. But a few months later when Miles for Migraine announced that their summer events would also be virtual, I was not surprised.
Running was beneficial for me
However, running virtually was better than not running at all. I could be my own beacon of purple streaking through the local trail. So I kept training, running longer distances and faster speeds. I was at the point where running felt addicting (in a good way). I was losing weight and feeling fit and happy, despite troubles in the world.
An injury sets me back
A few days before the event, I pushed myself hard to beat my previous speeds. I now know that this isn't the best idea the week of the race! I hurt my ankle, and I was afraid I wouldn't be able to run at all. Luckily, since the event was virtual, I had a choice of days to run it. I was able to run on the last day possible, though in order to not re-injure myself I switched to a 5K.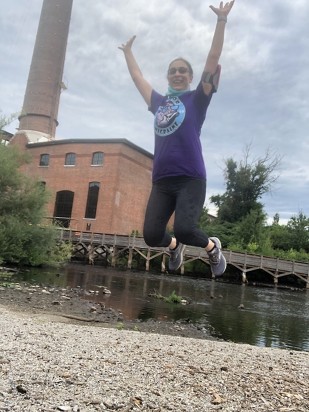 The day of the run brought more than I expected
The day of the run, I posted about it on my social media pages, asking for final donations to my team. I was just a few hundred dollars away from being the top fundraiser for my city, and I rallied my community to try to push me over to the top. Many of my friends and family pitched in, and I hit top fundraiser!
Though the event I had envisioned when I signed up—a 10K amid a sea of purple—wasn't what happened, I was able to hit other goals I hadn't even imagined: I got back in the running groove and was able to help raise awareness and funds for something I care about deeply. Not to mention I got some awesome swag!
This article represents the opinions, thoughts, and experiences of the author; none of this content has been paid for by any advertiser. The Migraine.com team does not recommend or endorse any products or treatments discussed herein. Learn more about how we maintain editorial integrity
here
.
Poll
Have you shared your migraine story with us yet?