Dr. Dawn Marcus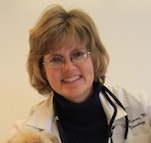 Dr. Dawn Marcus was one of the first physician experts to join Migraine.com in 2010, and she quickly became an essential member of our community. We are deeply saddened that she passed away suddenly on October 19, 2013. She authored many insightful articles which can be accessed here. We also have a tribute to Dr. Marcus available for those who would like to read more about her, as well as some thoughts shared by a few of her friends and colleagues.
About Dr. Dawn Marcus, MD
Dawn Marcus graduated in 1986 from the State University of New York at Syracuse medical school. She completed a residency in neurology at the University of Pittsburgh Medical Center and is a diplomate of the American Board of Neurology and Psychiatry. She has been a faculty member at the University of Pittsburgh medical center since 1990, and is currently a professor in the Department of Anesthesiology. She has treated patients with a variety of chronic pain complaints at the Pain Evaluation and Treatment Institute at the University of Pittsburgh where she developed a Multidisciplinary Headache Program.
Dr. Marcus has authored over 100 articles on the topics of chronic pain and headache, and has given numerous training sessions and invited lectures on the topics of chronic pain and headache in the United States as well as internationally. She has also been the principal investigator on numerous research projects investigating pain epidemiology, pathology, treatment, and women's issues that have been funded by regional or national sources. She has also authored numerous books on chronic pain and migraine, including 10 Simple Solutions to Migraine, for which she won the 2007 Excellence in Media Award from the National Headache Foundation. In 2010, Dr. Marcus wrote an updated migraine book with colleague Dr. Bain, called The Woman's Migraine Toolkit: Managing Your Headaches From Puberty to Menopause. You can follow Dr. Marcus' work at www.dawnmarcusmd.com.
Dr. Marcus enjoys visiting patients under the watchful eye of two furry helpers, her therapy dog wheaten terriers. Understanding how a relationship with your dog can help improve your health and lessen pain complaints led Dr. Marcus to write Fit As Fido: Follow Your Dog to Better Health, published in 2008 and a new book A Doctor's Guide to Dog Therapy and Healing to be released July 2011. You can read more about the healing power of dogs at fitasfido.com.
She has authored several books on chronic pain management for healthcare professionals. See Dr. Marcus' complete library for all of her book titles.
To learn more about Dr. Marcus, visit her website.