Focus on Chronic Migraines
Research and analysis was conducted on migraine on patients' symptoms, treatment experience and overall quality of life.  Patients came from the Migraine In America 2015 online survey, in which over 4,500 individuals from across the U.S. diagnosed with migraine provided an overview of their lives with this disease.
Nearly half (48%) of those surveyed were impacted by migraines 15 or more days a month, being classified as "Chronic."  For the purposes of this research, the remaining 52% of patients were classified as "Episodic"; however, 23% of the surveyed patients may be classified in some fields of thought as "High Frequency Episodic" (impacted 8 to 14 days a month).  Chronic migraine patients were compared to the Episodic migraine patients to seek out similarities and differences between these two patient groups.
Similarities between migraine frequency groups
As expected, there are few similarities between the two groups; those found included:
Age and gender of patients who participated in the survey

Most of those surveyed were female, 96% of Episodic and 95% of Chronic
60% Episodic and 56% Chronic patients were age 45 and older

Having an incident in their life that coincided with the beginning of their migraine (26% Episodic and 25% Chronic), or an immediate family member who also have migraines (71% Episodic and 70% Chronic)
Most started experiencing migraines before reaching adulthood (>18 years of age) (58% Episodic and 61% Chronic)
Time between onset of symptoms and migraine diagnosis (49% went 5 or more years in both groups)
Having identified triggers for their migraines (97% Episodic and 96% Chronic)
Marital status, with 63% in each patient group being married
Comfort level with the healthcare professional they currently see for their migraines (in both groups 77% reported they were comfortable or very comfortable.
Differences between migraine frequency group
Key differences between the two patients groups were most notable in migraine symptoms, disease management, and especially treatment experience and behaviors.
Episodic patients experienced 9.6 initial symptoms on average, whereas Chronic experienced 11.0
Chronic patients currently experienced 19.0 symptoms on average, compared to Episodic with 14.1
5% of Episodic patients do not have other health conditions, whereas only 3% of Chronic do not
Chronic patients have identified more triggers for their migraines (11.3 on average as compared to 8.8 for Episodic patients) and are more apt to take special steps to avoid them (78% as compared to 75%)
Not surprisingly, due to the difference in migraine days a month, there is also a difference in the number of individual migraine attacks a month, with 64% of Chronic experiencing 15 or more and 74% of Episodic experiencing 7 or fewer
68% of Chronic patients experience migraine attacks that typically last more than 24 hours, compared with 55% of Episodic patients
Episodic patients are more likely to have symptoms that are consistent across attacks (38% as compared to 31% of Chronic), whereas Chronic patients are more likely to have symptoms that vary greatly across attacks (17% versus 11% of Episodic)
With higher symptoms and variation, it's not surprising the 40% of Chronic patients use a migraine journal as compared to 27% of Episodic patients
Chronic patients have seen many more types of healthcare professionals over their journey as compared to Episodic patients (6.8 vs. 4.5 on average)
Episodic patients are less likely to be currently seeing a healthcare professional for migraines than Chronic patients (88% vs. 95%), however, Episodic patients were significantly more satisfied with this HCP (63% as opposed to 56% indicating they were satisfied or very satisfied)
Chronic migraine patients visit their healthcare professional more frequently throughout the year than their Episodic counterparts (84% of Chronic have been to HCP 3 or more times, compared to 54% of Episodic), as well as visit the ER/Urgent Care (29% have been 3 or times, as compared to 14% of Episodic)
Chronic migraine patients are more apt to spend more out of pocket on migraine related treatments and therapies (61% compared to 33% of Episodic spend more than $500 annually)
Migraine treatments currently used

Preventive/prophylactic prescription medications – 39% of Episodic patients and 55% of Chronic patients
Abortive/acute prescription medications – 64% of Episodic patients and 68% of Chronic patients
Rescue prescription medication – 31% of Episodic patients and 48% of Chronic patients
"Self-Medication" – 9% of Episodic patients and 13% of Chronic patients
Complementary and Alternative therapies - 28% of Episodic patients and 31% of Chronic patients
Antiemetics – 7% of Episodic patients and 12% of Chronic patients

Patients at some point in their journey have performed the following behaviors in relation to their migraine medication*, however varied significantly in their frequency between the two patient groups:

Avoided using a medication because of cost - 52% of Episodic patients and 64% of Chronic patients
Used a coupon to help pay for an OTC medication - 46% of Episodic patients and 53% of Chronic patients
Used a coupon to help pay for a prescription medication - 33% of Episodic patients and 45% of Chronic patients
Withheld taking a medication to "pare" or "save" for another time - 70% of Episodic patients and 82% of Chronic patients
Avoided using a medication because of side effects - 65% of Episodic patients and 79% of Chronic patients
Stopped using a medication because of side effects - 64% of Episodic patients and 83% of Chronic patients

Chronic patients are more apt to be aware of new treatments that may be coming out soon for migraines (21% compared to 14% of Episodic), as well as having a higher interest level in clinical trials (80% as compared to 64% of Episodic)
Employment status varied between the groups, with 52% of Episodic being employed and 7% of this group on Disability, whereas 36% of Chronic patients were employed and 21% were on Disability
Patients were asked to rate their agreement with statements on a 7-point agreement rating scale (7 = Completely agree), to better understand the impact of migraines on their lives. Average ratings for each patient group are in the below chart, with all being significantly different between the two groups, further illustrating the impact of Chronic migraines on patients' lives and treatment experience.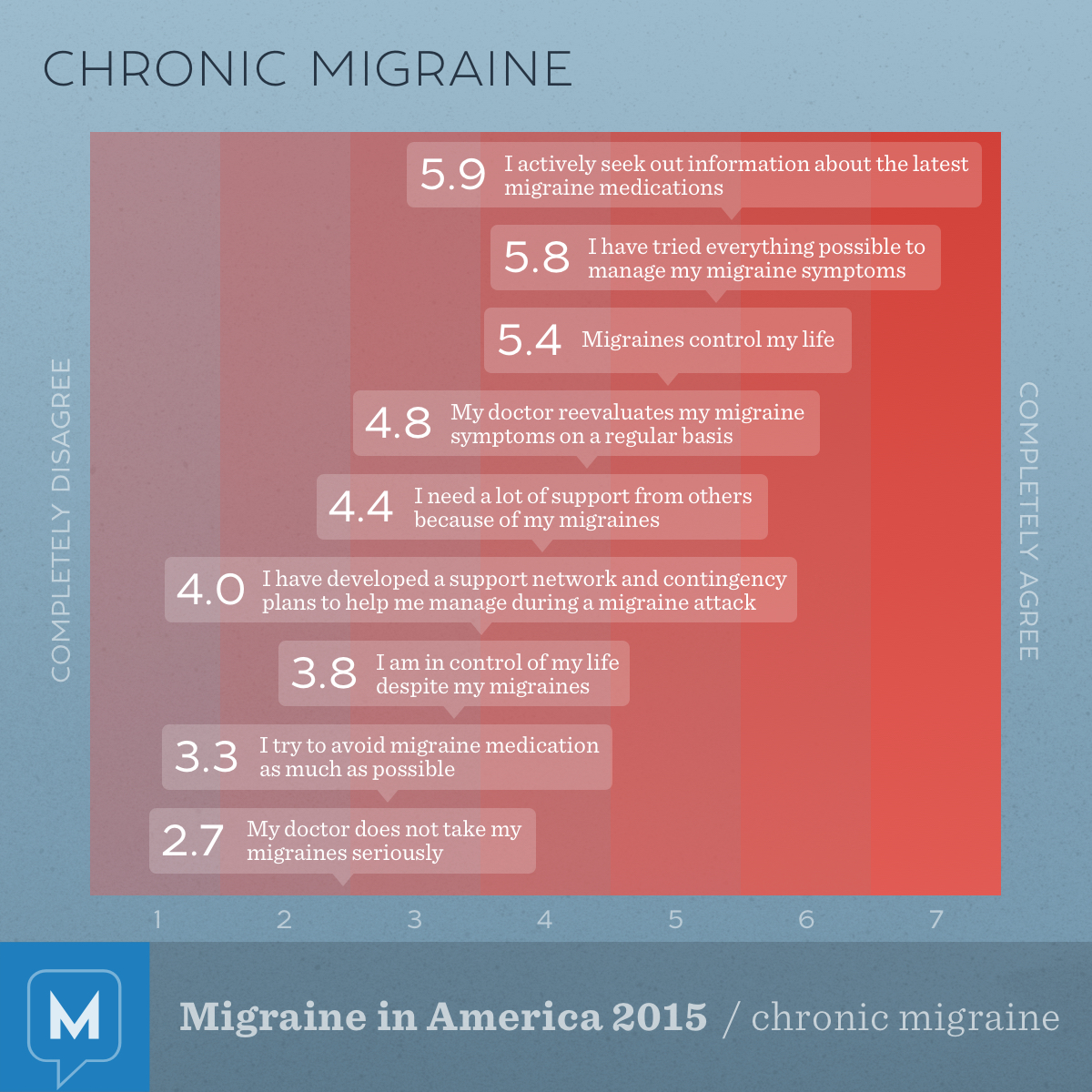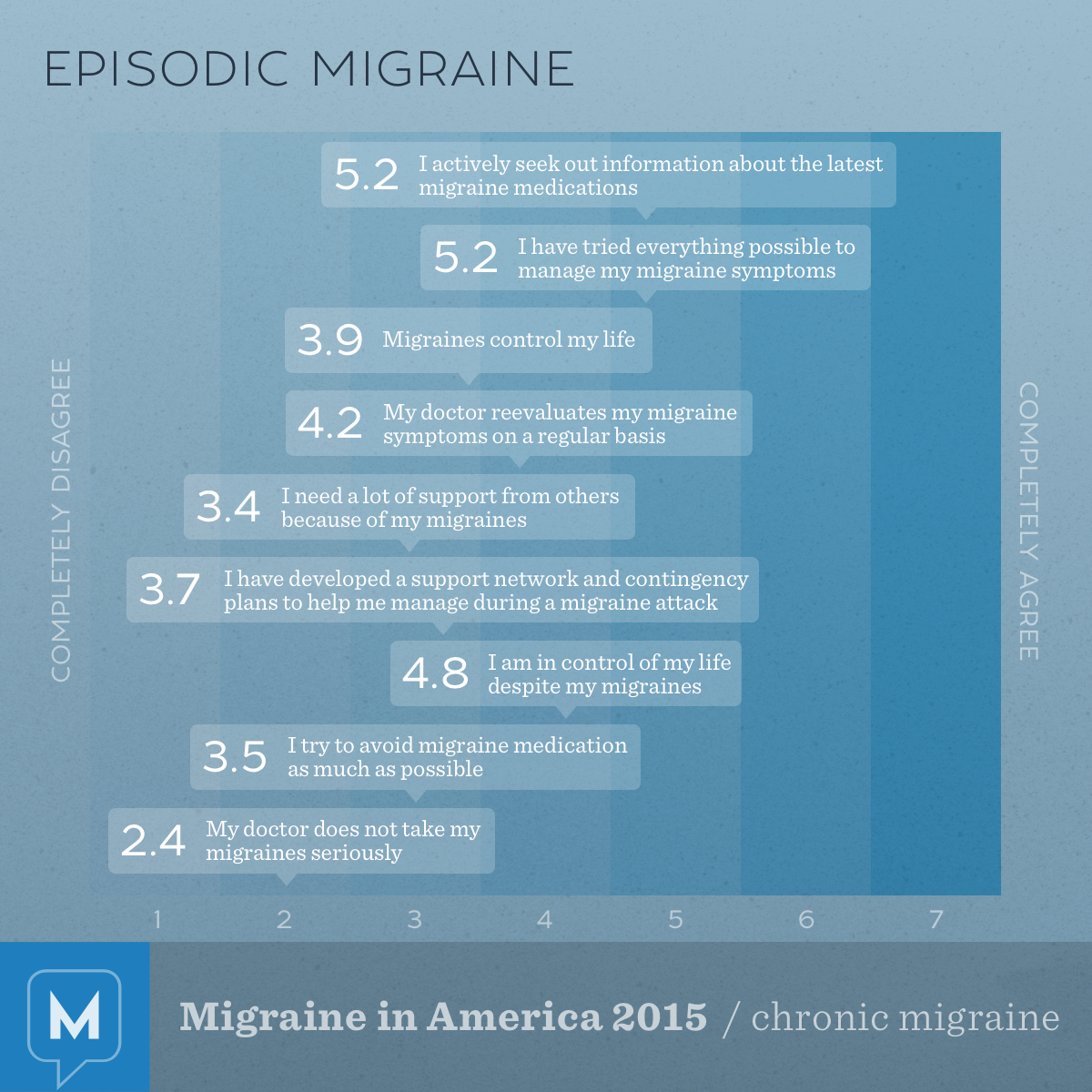 While there are several similarities between patients who have episodic versus chronic migraine, there are many important differences, including number and frequency of symptoms, length of attack, and overall treatment methods employed. Health care professionals who treat patients with migraine should be able to recognize that these differences are important and use information like this to better optimize patient care.
*On a 5-point rating scale of frequency, ranging from Never to Always, patient selected any option except "Never"

Community Poll
When was your last migraine check-up?