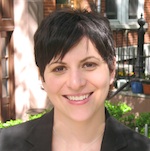 Joanna Kempner is an assistant professor of sociology and a member of the Institute for Health, Health Care Policy and Aging Research at Rutgers University-New Brunswick. Her research focuses on areas where medicine, science, politics and gender collide. Migraine research is a perfect example!
Professor Kempner received her Ph.D. from the University of Pennsylvania. Prior to joining Rutgers, Professor Kempner was a fellow in the Robert Wood Johnson Scholars in Health Policy Research Program at the University of Michigan. She also worked as a Research Associate at the Center for Health and Wellbeing at Princeton University. Her research appears in peer-reviewed sociology and medical journals including Science, Social Science & Medicine and Public Library of Science Medicine.
Professor Kempner has been studying migraine since 2001. Her book, Not Tonight: Migraine and the Politics of Gender and Health, will be published in September 2014.