Migraines knock me flat a few times a year, but that's nothing compared to what my wife Kerrie goes through. She has fought daily headaches since she was 11 and has had debilitating chronic migraine for more than a decade. We've tried all the usual treatments–and many not-so-usual–but recently her neurologist offered a new possibility: light was making her sicker.
Research shows that some wavelengths of light are more likely to cause pain and that fluorescent lights can trigger migraines and cause other issues. Her neurologist recommended we look into a special tint that reduced migraine frequency by nearly 75% in one study!1-5 We were strongly motivated to find glasses with this tint but weren't satisfied with any we found. They just weren't designed with migraineurs in mind.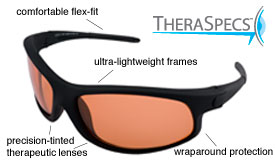 TheraSpecs Migraine Glasses: Created by Migraineurs for Migraineurs
That's when I set out to create TheraSpecs migraine glasses. Designed especially for migraineurs, their frames wrap around for maximum protection and are made of super-lightweight, flexible nylon to minimize pressure on headache-plagued heads. TheraSpecs' precision-tinted lenses can reduce migraine intensity and frequency, relieve painful light sensitivity (photophobia), and protect the eyes and brain from fluorescent lights.
When we saw how effective TheraSpecs were for Kerrie, we knew we needed to make them available for anyone and everyone. The early feedback has been tremendous. This is what some real TheraSpecs wearers had to say:
"I popped my TheraSpecs on as soon as I got the box and the first word that came out of my mouth was "ahhhh! TheraSpecs are a small miracle for this chronic migraineur!" –Julie in Tennessee
"Bright fluorescent lighting normally makes my head explode within the first few minutes… With my TheraSpecs I can take my time! [They] make a huge difference." –Sue in Ontario
"Now I can work all day on the computer without risking a migraine." –Denise in Maryland
"I can honestly say I only take them off to sleep. My eyes feel like they breathe a sigh of relief every time I put them on." –Paul in South Carolina
Learn more and get your own pair (and relief) at www.theraspecs.com.
******************************************************************************************
Hart Shafer is the Founder of the TheraSpecs Company. A note from Migraine.com: The content of this article was provided by our sponsor. Migraine.com does not specifically endorse or recommend the product discussed in this article.
Sources. 1 Good PA, Taylor RH, Mortimer MJ. "The use of tinted glasses in childhood migraine." Headache. 1991 Sep;31(8):533-6 2 Wilkins AJ, Wilkinson P. "A tint to reduce eye strain from fluorescent lighting? Preliminary observations." Ophthalmic Physiol Opt. 1991 Apr;11(2):172-5.3 Wilkins AJ, Nimmo-Smith I, Slater AI, Bedocs L. "Fluorescent lighting, headaches and eyestrain." Lighting Research and Technology 1989 March;21(3) 1 11-18.4 Herz NL, Yen MT. "Modulation of sensory photophobia in essential blepharospasm with chromatic lenses." Ophthalmology. 2005 Dec;112(12):2208-11.5 Main A, Vlachonikolis I, Dowson, A. "The Wavelength of Light Causing Photophobia in Migraine and Tension-type Headache Between Attacks." Headache. 2000 March;40(3):194-9