Eleventh Annual Migraine & Headache Poetry Contest: Call for Entries
Today I'm pleased to share with you the call for entries for the 11th annual Putting Our Heads Together Migraine & Headache Poetry Contest. But make no mistake: The 11th annual Poetry Contest won't just be more of the same. While using poetry to cope with our Headache Disorders is still the focus, there are a couple of new aspects to this year's event.
The deadline for submitting a poem for the contest is May 24, 2013. The winning poets will be announced during the first week of June in conjunction with National Migraine & Headache Awareness Month.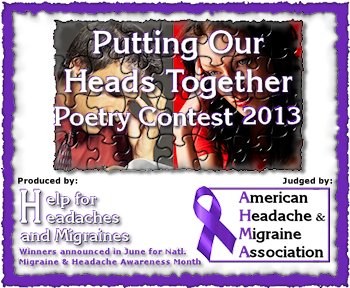 Also new this year will be the availability of a Kindle book that incorporates all the submitted poems. Proceeds from sale of this Kindle book will benefit AHMA. Even if you don't own a Kindle, Amazon makes it easy to use Kindle products through many different computers, tablets and smartphones with free apps.
Here's an overview of the rules. You can read them in their entirety at Putting Our Heads Together:
Subject must be Headache or Migraine related, but may be metaphoric or abstract.
Form: Rhymed, free-verse, any form of poetry, but not prose.
Poetry must be original and written by you. Submission of poetry written by someone else will result in disqualification.
All poems must be unpublished work, never before published anywhere.
Length: Maximum of 60 lines, no more than 80 characters per line (including spaces and punctuation).
Number of entries: Please limit entries to no more than three poems per person.
Age: Open to anyone 13-years-old and older. Poems written by persons under 18 years of age must be submitted by a parent or legal guardian.
"Family-friendly" language required. No profanity or other potentially offensive language.
 Deadline: Midnight, Friday, May 24, 2013.
Get all the information, including the full set of rules, and submit your poems at Putting Our Heads Together.
Okay, so who's in? Please tell us in the comments if you plan to participate this year or have in the past.
This article represents the opinions, thoughts, and experiences of the author; none of this content has been paid for by any advertiser. The Migraine.com team does not recommend or endorse any products or treatments discussed herein. Learn more about how we maintain editorial integrity
here
.

Community Poll
How much has your migraine disease changed or evolved over time?