Enlisting Help to Minimize Holiday Stress
Learning how to delegate your responsibilities, enlist the help of people around you and find creative solutions that allow you to do the things you enjoy during the holiday season can be incredibly liberating. There are some really easy ways to transform the stresses of the holiday season into more manageable and even fun options.
Host a potluck
If you love entertaining, but hesitate to take on an entire meal, make your event a pot luck. Ask each guest to bring a specific type of dish (side dish, vegetable, dessert, etc.) and consider preparing the main course yourself since that portion of any meal can be more difficult to transport. If you only have to worry about providing a main course, the dishes and the drinks, you'll have much less stress to handle.
Your meal could be more traditional holiday foods or you could establish a theme and ask your guests to follow it in selecting their recipes.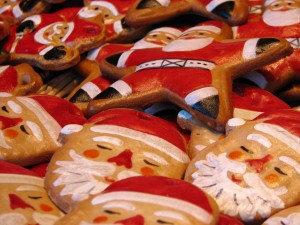 Host a cookie exchange party
Even if you're someone who loves baking, when you live with a chronic health condition it can be far too taxing to take on everything associated with baking a bunch of treats for the holidays. Between buying all the ingredients at the grocery store, getting them home, preparing all the recipes and cleaning up afterwards, it's a lot of work.
By initiating a cookie exchange within your neighborhood, church, book club or other group you can get the variety of holiday goodies you want without all the work. Everyone comes with a big batch of one kind of cookie and shares some with everyone else. You leave with a nice variety without all the stress and hard work.
Put your kids to work
So often during the holidays parents end up feeling like they're doing, doing, doing and must run themselves ragged to please their children. But what kids really want is the opportunity to spend time with you and create memories. And they just can't create those memories if you're sacked out from overdoing it.
Consider getting your kids involved with the extra tasks that inevitably arrive during the holiday season. Younger kids can take on extra chores both inside and outside the house. Older kids can do the same, but also help with errands and grocery shopping. After all, every teenager is dying for an excuse to drive somewhere. Kids of just about any age can help with gift wrapping, decorating the house and Christmas tree and preparing holiday cards to be mailed.
Hire neighborhood kids or local students
For special projects like deep cleaning your house before guests come, decorating for the holidays or completing yard work or snow blowing, enlist the help of kids in your neighborhood or local students.
Not only will you get the help you need, you'll help a young person in your community earn some extra pocket money.
What other ideas can you share for delegating or enlisting help to get things done at the holidays? Please share your ideas in the comments.
This article represents the opinions, thoughts, and experiences of the author; none of this content has been paid for by any advertiser. The Migraine.com team does not recommend or endorse any products or treatments discussed herein. Learn more about how we maintain editorial integrity
here
.

Community Poll
When was your last migraine check-up?