Helping You Help Me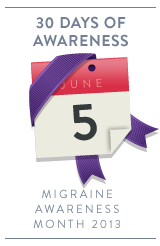 Today I'm using an alternate prompt for the 2013 Migraine & Headache Awareness Month Blog Challenge: Evita: Don't Cry for Me Argentina: We don't want to be pitied, but we aren't always open about telling people how they can help us. How would you like to be helped?
As people living with Migraine we have lots of feelings about the ways in which people approach us about our health and our lives generally. But we aren't always great at asking for what we need or giving people tips on the ways we prefer to be approached with questions or offers of help.
These are some ideas of approaches & offers I find helpful. I think others in my situation would, too.
Could I come over to hang out this afternoon or would another day be better?
Can I bring lunch? What are you craving?
Has coping been a struggle lately?
Can I get you out of the house to go see a movie / get dinner / visit an exhibit or museum / etc?
What do you find comforting?
What has been especially challenging lately?
I'm available if you need someone to drive you to an appointment.
And ultimately, putting anything in my path that makes me laugh is the best way to help me cope.
What ideas do you have to suggest? Please share them in the comments.
Learn more about the MHAM Blog Challenge and other MHAM events by visiting:
June, Migraine and Headache Awareness Month, is dedicated to Unmasking the Mystery of Chronic Headache Disorders. The Migraine and Headache Awareness Month Blog Challenge is issued by FightingHeadacheDisorders.com.
This article represents the opinions, thoughts, and experiences of the author; none of this content has been paid for by any advertiser. The Migraine.com team does not recommend or endorse any products or treatments discussed herein. Learn more about how we maintain editorial integrity
here
.

Community Poll
When was your last migraine check-up?