The Song That Best Describes My Migraines Is...
We asked you for the names of songs that describe your migraine - and you told us! Migraine is different for everyone - and it would seem the songs you suggested are as varied as your migraines.
We've highlighted the top ten responses on the following pages, and included the complete list at the end. If you don't see your 'migraine song' in the list, please add it to the comments!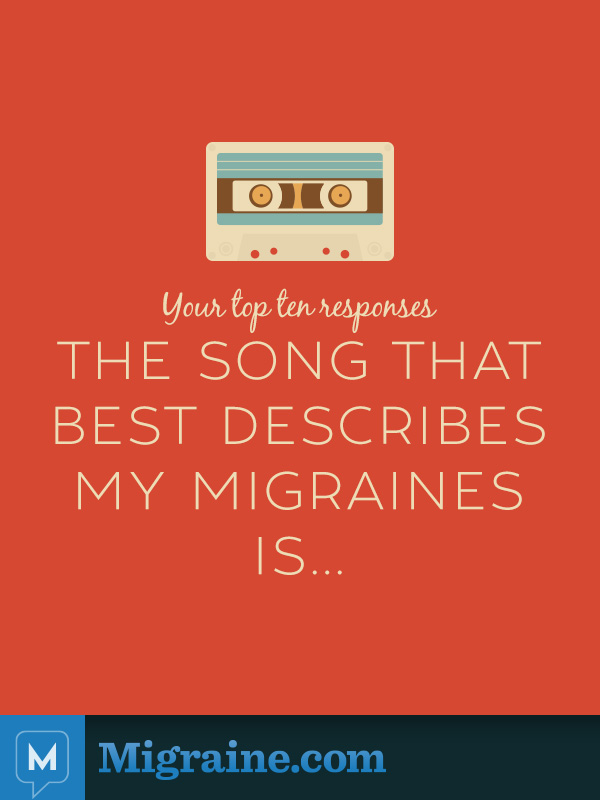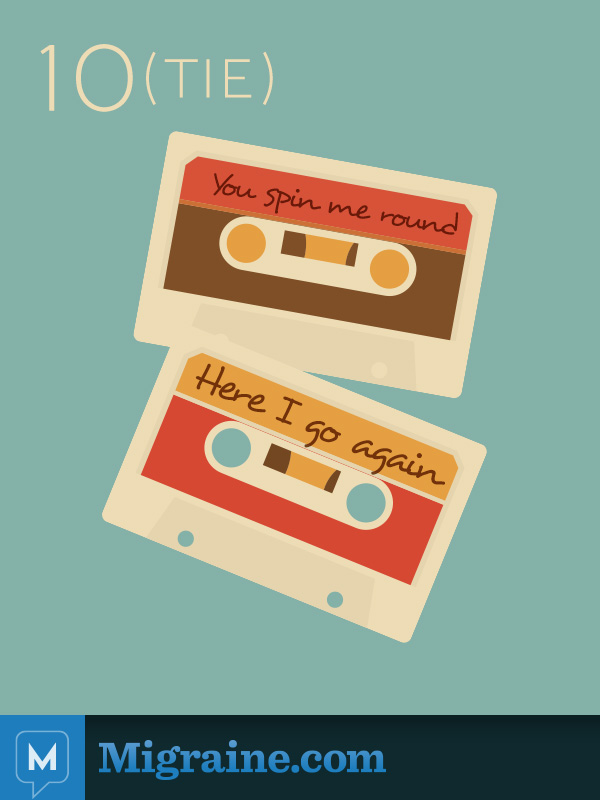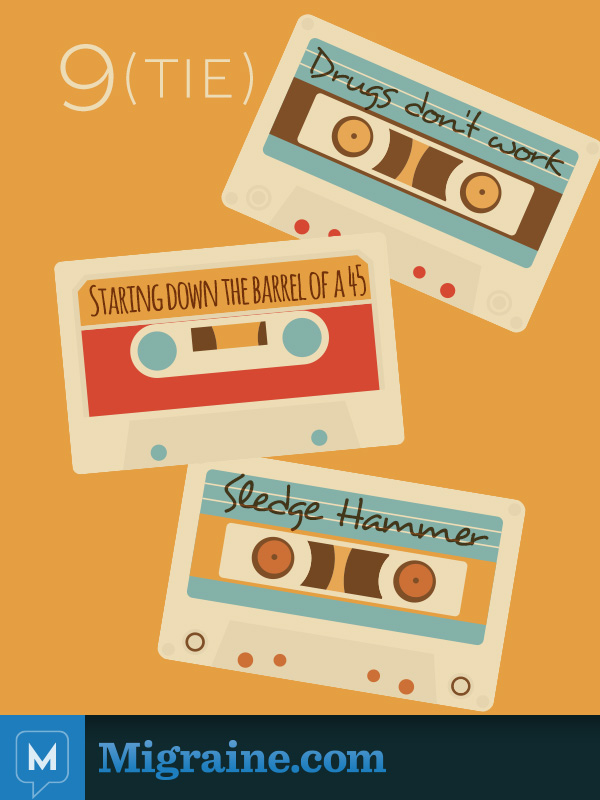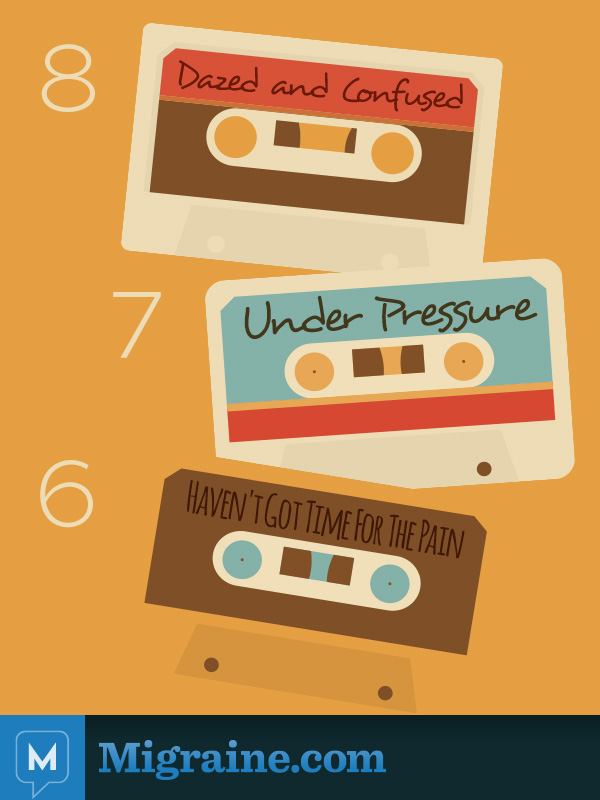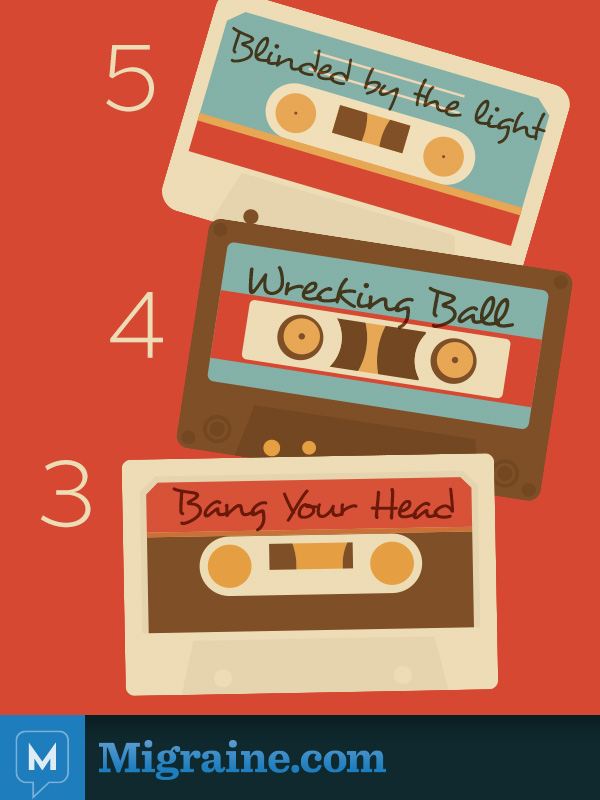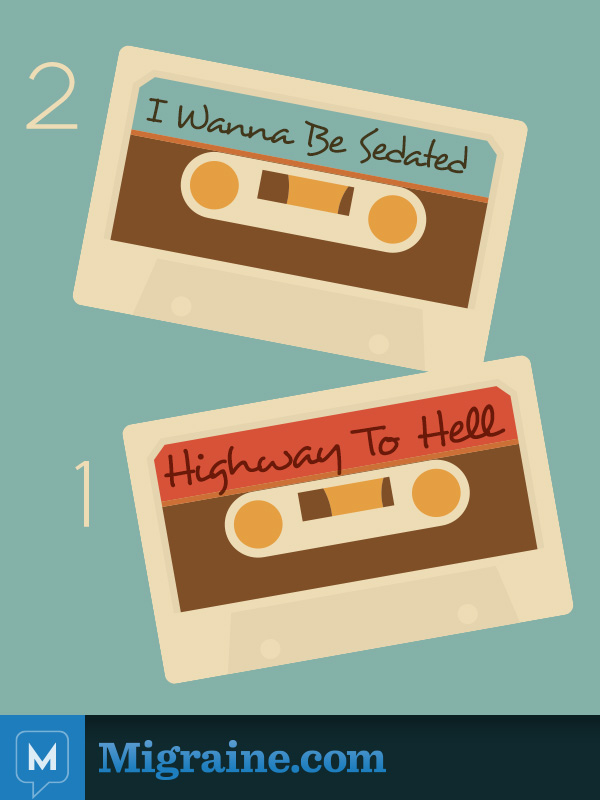 What songs make us think of migraine?
A Drum Roll
A Huge Time Suck
A Pain In The Ass
Always Haunting
And It Goes On & On
And The Beat Goes On
Animal I Have Become
Another One Bites The Dust
Anything But This
Anything Dubstep
Back In Black
Bad To The Bone
Bang A Gong
Bang Bang
Bang Your Head
Beauty From Pain
Been A Long Year
Big Truck
Black Hole
Blinded By The Light
Blurred Lines
Bombs Over Baghdad
Brain Stew
Break Stuff
Breaking The Girl
Broken
Can't Take This
Cherrie Bomb
Clocks
Comfortably Numb
Cover My Eyes
Crazy Bitch
Crazy Train
Cry Out To Jesus
Cure For Pain
Dazed And Confused
Debilitating
Demons
Destruction
Diamonds
Down In A Hole
Drop The World
Drug Me To Hell
Drugs Don't Work
Duality
Duel Of The Fates
Eulogy
Every Breath You Take
Every Storm Runs Out Of Rain
Everybody Hurts
Fire & Rain
Give Me Novocain
Go Away And Don't Come Back
God Hates Us All
Got Me Under Pressure
Great Balls Of Fire
Hate You, F*ck You, Leave Me Alone
Haven't Got Time For The Pain!
He Won't Go!
Head Like A Hole
Head Will Roll
Headache
Hell
Hell In The Head
Helplessly Hoping
Here I Go Again
Highway To Hell
Hit Me With Your Best Shot
Holy Mountains
How Can I Miss You When You Wont Go Away?
Hurt
Hush
I Can't Get You Out Of My Head
I Get A Headache
I Got Ran Over By A Train
I Got You Babe
I Hate Everything About You
I Predict A Riot
I Wanna Be Sedated
I Want A New Drug
I Want To Break Free
I Would Do Anything For Love But I Won't Do That
I'll Be Watching You
I'm Never Gonna Let You Go
I'm On Fire
I'm Only Happy When It Rains
If I Had A Hammer
Insane In The Brain
Inside My Head
It Sucks
It's Oh So Quiet
Just Breathe
Kill The Lights
King Of Pain
Knife
Last Resort
Leave Me Please
Let The Bodies Hit The Floor
Lifeless Dead
Living Dead Girl
Living My Life In A Slow Hell
Living On A Prayer
Lullaby
Lump
"Make The World Go Away!
"
Man In The Box
"Mental Wounds Not Healing, Driving Me Insane...
"
Migraine
Miracle
Misery
Monster, Monster
My Body Is A Cage
Never Ending Story
One
One Step Closer
Operation Ground Pound
Outta My Head
Overcomer
Pain
Pain Three Days Grace
Painkiller
Paint It Black
Paralyzer
Paranoia
Party Up
Pounding
Pressure
Psychotic Reaction
Psychotic Reaction
Reining Blood
Rx Queen
Sad But True
Sail
Sailing Away
Shameless
She Bangs
Shot In The Arm
Should I Stay Or Should I Go
Sick And Tired
Sledge Hammer
Slipping Into Darkness
So You Had A Bad Day
Some Heads Are Gonna Roll
Sound Of Madness
Staring Down The Barrel Of A 45
Story Of My Life
Stranglehold
Super Massive Black Hole
Surrender
Take It To The Limit
The Fighter
The Long And Winding Road
The Monster
The Sun
This Is My Last Resort
This Is The End
Thunderstruck
Time In A Bottle
TNT
Torture
Trigger
Turn Me Loose
Twinkle Twinkle Little Star
U Spin My Head Round Round Right
Under Pressure
Unrelenting
Violet
We Are The Champions
We Gotta Get Out Of This Place
Weak And Powerless
Welcome To My Nightmare
Welcome To The Jungle
What Hurts The Most
White Lines
Why
Worn
Wrecking Ball
You Are Beautiful
You Can Go To Hell!
You Can't Do That
You Dropped A Bomb On Me
You're The Devil In Disguise
Your Time Is Gonna Come

Community Poll
In the past year, has insurance made it difficult to get your migraine treatment?