Aimovig Murdered My Ovaries
Last updated: November 2022
I used Aimovig for the first time in June of 2021. I immediately had a severe increase in energy levels and heart palpitations. I asked my doctor if it could be related to Aimovig and was told no. Don't listen to doctors. They have no idea how this medication works.
Losing my right ovary
On July 28th, 2021, 6 weeks to the day after my first dose, my right ovary threw two cysts and measured a whopping 7 cm. I was sent home from the ER with narcotics. Once GYN saw the notes, I was scheduled for surgery. In surgery, my right ovary disintegrated when it was touched. It had gone necrotic.
I again asked if this was related to Aimovig and again I was told no. I used the shot again on September 16th, 2021. I immediately got a severe headache and developed L-sided pelvic pain. I couldn't get comfortable and eventually went back to the ER.
Losing my left ovary
The ultrasound discovered no blood flow to my left ovary. I was rushed to surgery where my remaining ovary was removed because it had a hole blown in the side of it.
I know this awful drug castrated me. Of course, Amgen keeps a tight lid on adverse events related to this multi-billion dollar drug. As it turned out I had a CSF leak which would explain how the drug crossed the Blood Brain Barrier and affected my body in such a way. Stay away from this toxic poison. The benefits do not outweigh the risks. Not even close.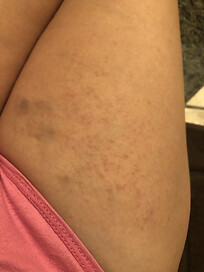 This article represents the opinions, thoughts, and experiences of the author; none of this content has been paid for by any advertiser. The Migraine.com team does not recommend or endorse any products or treatments discussed herein. Learn more about how we maintain editorial integrity
here
.

Community Poll
In the past year, has insurance made it difficult to get your migraine treatment?